If you have been on this blog for a while, you know that I covered numerous Indian destinations from North to South, East to West. Still, every third question I get is about a destination I haven't written about (yet). Guess which one? Taj Mahal.
I've visited Agra several times since it's so close to Delhi, but I always thought there is an abundance of information about the city. That's why, in this post, I will share with you a few ways to reach from Delhi to Agra by train, bus, taxi and a personal car to help you plan this trip in general.
Delhi to Agra by road: tips to plan this trip right
Are you going to Agra for that romantic Taj Mahal view at dawn? Then you should travel to Agra after lunch the day before, so you can spend a night there and wake up early.
Taj Mahal – is THE thing most tourists come to India for. If you are a budget traveler, you need to plan thoroughly the dates, especially if you travel by train. Tickets sell out fast, especially in high season.
Agra is one of the most overcrowded tourist cities in India. Beware of scams on bus/train stations in Agra especially if you are a foreigner. Be suspicious about very good deals, ask local people who don't have a stake in your choice of hotel/tour/transport. Indians are generally helpful and welcoming.
There are many beggars near tourist spots and at the train/bus stations. If you read this and, especially, if you are a foreigner, please don't give money to beggars even if a certain amount is insignificant for you. If you are new to India, you will encounter so many hard-working people leading an honest and modest way of life. Think of them before beggars who sometimes cross the border and chase you.
Delhi to Agra by Train
There are over 60 trains going daily from Delhi to Agra. They start either from H.Nizamuddin station (south-east Delhi) or New Delhi station (central Delhi) and reach Agra Cantt.
Train tickets from Delhi to Agra cost anywhere from 150 INR (sleeper) to 1500 INR. It takes 1.5 – 4 hours to reach from Delhi to Agra by train, depending on the type of vehicle.
I recommend choosing either Chair train or sleeper if you don't mind sitting with a few people on the coach. I wouldn't go with an AC sleeper option as it's a short journey.
You can see them all on the official ticket booking site IRCTC. There are many more train apps in India that allow you to book tickets and more.
How to buy train tickets to Agra?
Online websites. I recommend sticking with IRCTC. If you are a foreigner, you need to register and verify your account. Now foreigners can purchase tickets as well. Yaay!
With a generous commission (400-1000 INR), you can get a ticket from an agent. Agents usually reserve tickets in bulk and have them even 2 days before the journey (unless it's a big festival when all India is traveling – think of Diwali, Holi).
Foreigner quota. In major tourist cities, there is a tourist office at the station, where you can get a ticket reserved for foreigners. There is a certain percent of tickets reserved for foreigners – it is done to promote tourism since general tickets get sold really fast.
How not to buy a train ticket? Coming to the station and standing in general line. Doing it either at New Delhi railway station or Nizamuddin will be one of the biggest regrets of your life.
Read my in-depth post on how to travel in India by train – everything from coach types, reservations, tatkal, methods to book tickets and other useful tips I discovered while living in India.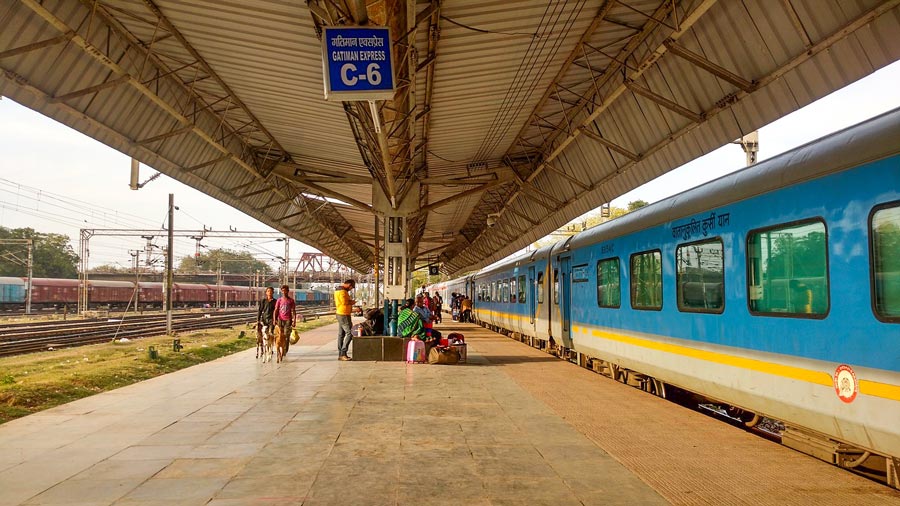 Delhi to Agra by Bus
When there are no train tickets, buses come to the rescue. These tickets you can get even one day before the journey with a few exceptions (e.g. big holidays).
If you want a comfortable ride on a good bus – there is an amazing platform for private buses – redbus.in. There are 90 private buses going daily from Delhi to Agra. The journey takes anywhere from 3 to 6 hours and it costs from 200 INR to 1600 INR.
Agra buses start mostly from East Delhi and, usually, they have a few pick-up points to choose from.
Looking for a more spontaneous adventure and don't mind using open windows as an AC? There is a huge network of local buses that leave every half an hour to Agra mostly from Anand Vihar.
To be honest, I wouldn't recommend taking a local bus in this case. As much as I enjoy riding public transport just everywhere in India, Anand Vihar is a highly man dominated station, overcrowded and overwhelming, especially if you are a solo woman traveler.
If you are new to India and new to South Asia in general, I don't recommend starting your experience this way.
Since you are planning to visit Agra, check out my post about places to visit in Agra beyond Taj Mahal.
Delhi to Agra by Car
They say "if you can drive in India, you can drive anywhere". Whoever invented this phrase is not exaggerating. Driving on Indian roads is a next level quest. It's amazing how an Indian brain catches all that chaos of reverse direction, pedestrians, animals, rickshaws on the same road. It's not clear how it all co-exists and works out at the end.
If you are not a confident driver, start driving lights from Goan villages or other less populated places. If you take Delhi, you might get exhausted before even leaving the city.
On a positive note, once you leave the capital, there is an amazing Delhi – Agra Highway, which you can cross in 2 hours or so.
How to rent a car from Delhi to Agra?
The company and option depend on your budget and commuting preference. Basically you have the following options:
Rent a car to Agra which you will drive. Companies to consider: Zoomcar, Revv.
Rent a car with a driver for the whole trip. My friend did a day trip for 6k INR both sides and all way around Agra. Note: it can be cheaper or more expensive, depending on the company/individual driver, car model, commodities. Any prices in this post is just to give you a general idea.
By the way, I've covered a super detailed post what money can buy you in India: from backpacking to luxury travel – a breakdown of travel costs in India for accommodation, food, transport, and other travel expenses.
A personal driver is somewhat similar to a taxi service. There is as well a cab from Delhi to Agra. Companies to consider: Ola, Uber. Costs start as low as 10 INR/km.
Alternatively, you can take a train/bus till Agra and hire a car/rickshaw/taxi in Agra to take you around.
Delhi to Agra by taxi on a budget?
Feeling like traveling with comfort on a budget? You can either take a shared taxi or opt for a BlaBlaCar. The second will cost you on average 500 INR one-way.
I recommend reading my in-depth guide to Indian transportation. I included there main market players, different ways to commute within the city and around the country. To sum up – everything I wish I knew before coming to India.
Delhi to Agra one day tour
You can visit as well Agra as part of the day tour. There are many companies that offer tours from specialized agents to bus companies like Redbus.in. The tours usually start from 800 INR and can reach up to 4000 INR for foreigners if they include entry fees to the sites. Note: Taj Mahal entry itself costs 1000 INR.
What else? Of course, there are also flights between Delhi and Agra. It seems as if I have been avoiding mentioning this. To be honest, considering Delhi traffic and commute to/from the airports,  it's mostly not the fastest way to reach.
What about you? What else would you advise for people planning to travel to Agra from Delhi?