Goa is usually associated with long sandy beaches, big and loud parties, bright clothes and hippies. Though these all are true characteristics of Goa and many people escape there for a chilling lazy holiday, this state has a vast history and heritage.
Today we will talk about Velha Goa or Old Goa that used to be a capital of Portuguese India and Panaji – the modern capital of the state and how to spend one day exploring this part of North Goa.
One day itinerary for Old Goa and Panaji
Here is an itinerary sketch that covers the highlights of this area of Goa. You can use it as a base to build a plan according to your interests.You can start your day with a breakfast at Confeitaria 31 De Janeiro (31st January Bakery). It is one of the oldest bakeries in Goa making lives of numerous customers sweeter since 1930. The bakery is inside of the lane with colorful houses in the heart of Fontainhas or Latin quarters. Though this bakery was on my list, I've stumbled upon it accidentally.
Note: I've tried several items they've displayed and couldn't understand: what's so special about this place, the sweets are so typical. Then I found out that many of their cakes are not displayed in the small shop area. This I've learned from their permanent customer, who was taking 5 kg of the special bakery from them.
I thought that ought to be good if he orders in such quantities. God, he was right. Ask for rum&plum cake – it's their specialty and one of the Goan delights. I liked it so much that took half kg with me on the way back.
Also if you are eating non-vegetarian food, try their chicken rolls. They are quite oily but so good.
After the breakfast explore the small and colorful streets of Fontainhas till the weather gets hot. If you are on a bike, you can park it on that street leading to the bakery for free and continue on foot.
Fontainhas – an old Portuguese quarter in Panaji
A charming district otherwise known as a Latin Quarter shows a different side of Goa beyond beaches. Just a several centuries back it was a place of coconut plantations and the main capital used to be in the Old Goa (Goa Velha). It shifted to Panaji back in the 18th century due to the outbreak of plague.
The colorful houses, narrow lanes, majestic villas still keep the history and the atmosphere of the past. One thing that is impossible to skip is the brightness of the color. During the Portuguese rule, there was a law which mandated the residents to repaint their houses every year after the monsoon season. Nowadays it has transformed into tradition kept by local people of the area.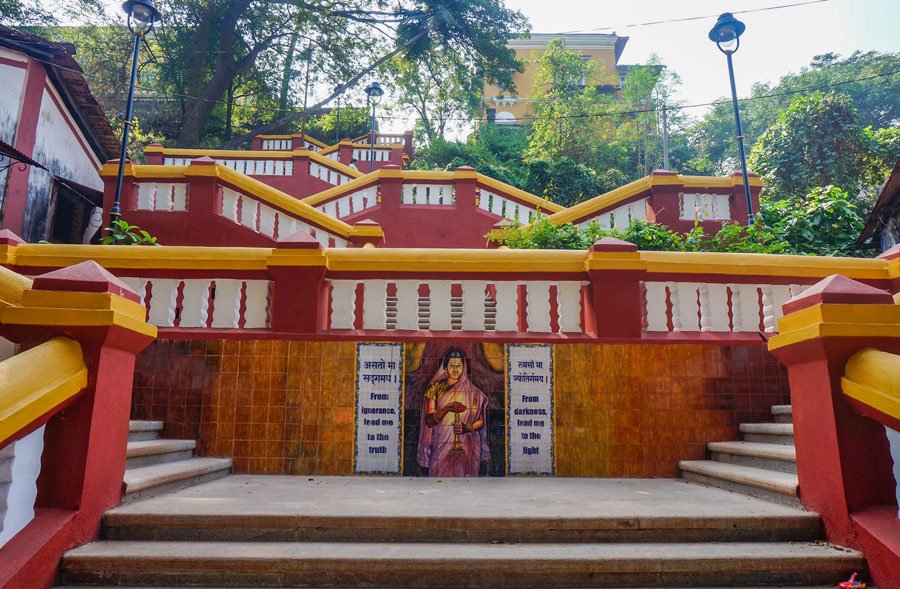 Fontainhas lies between the Ourem creek and Althino hill. The name of the area was called after the fountain at the foot of the hill. A few highlights of the area:
Fountain
Rua 31 de Janeiro
18th June street
Rua de Ourem
Wishing well
St Sebastian Road
Chapel of St. Sebastian
Street art
Interesting fact: There are two famous streets named after historical dates: Rua 31 de Janeiro (31st January Road) and 18th June Road. The first date relates to Portugal's independence from Spain which dates back to January 31, 1640. The second one signifies the independence of India from Portuguese rule (18th June 1946).
Nowadays, Fontainhas is still a residential area. While some of the houses belong to the families for generations, others have been converted into the guesthouses and cafes due to the charming atmosphere of this part of the city.
Fontainhas has been a UNESCO Heritage Zone since 1984. It takes around 1-2 hours to roam around the area by foot or around half an hour by bike/car.
After exploring the area head to the Our Lady of the Immaculate Conception Church – probably one of the most famous churches of Goa.
Our Lady of the Immaculate Conception church
The church is located on the hilltop and oversees the city of Panjim. Initially, the church was built as a chapel in 1541 to serve the needs of the Portuguese sailors. Later on, with the expansion and development of Goa, it was rebuilt as a proper church in Baroque style. The church conducts mass in English, Konkani, and Portuguese every day.
Every year on 8th December it hosts one of the major Christian festivals for three days. During this time, there is a special market functioning nearby and festive celebrations in the evening.
Take lunch in one of the numerous cafes of the neighborhood and head to Velha Goa to explore the Churches and convents of Goa.
The architecture and heritage of Old Goa (Velha Goa) – places to visit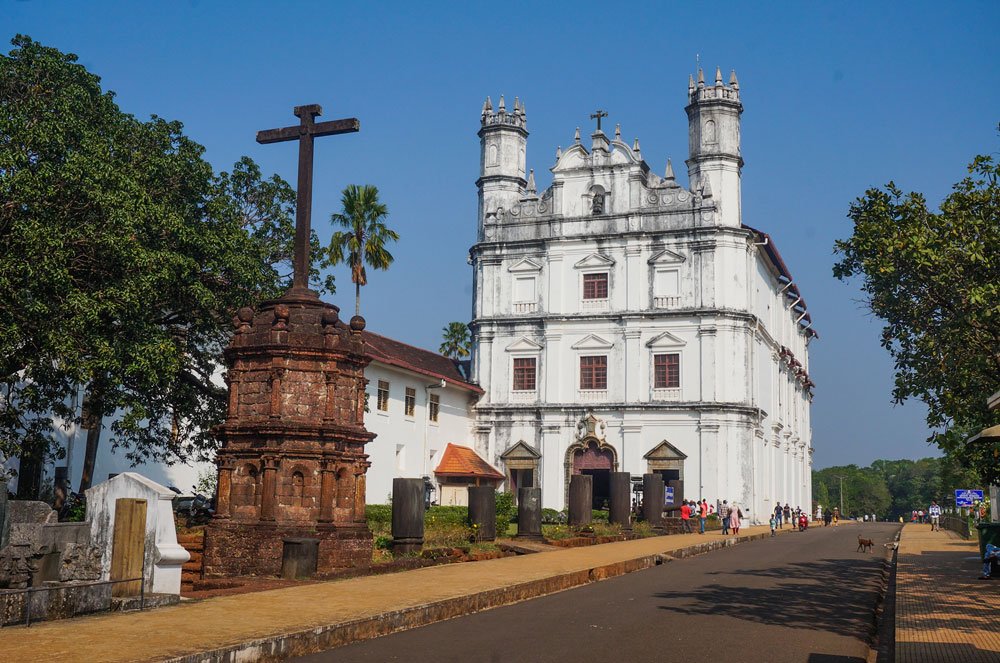 If you like culture and architecture, I recommend visiting Old Goa area. In India, you can see how past co-exists with the present, how people of different religions and cultures live and work together. It's a very diverse country and Old Goa is just one of the examples confirming it.
Goa Velha is one of the districts, where you can find more about Christianity in India, its history, and meet modern Christians nowadays. The Churches and Convents of Goa were included in UNESCO heritage sites in 1986. There are several places to visit in the area, while Bom Jesus and Church of St.Francis of Assisi are the most popular sites.
Read also: Things to know before visiting Old Goa sites
It takes around 2-3 hours to explore Old Goa if you intend to visit the churches from inside. Afterward, I've headed for a sunset to Dona Paula village.
Dona Paula – a scenic sunset from the top
Dona Paula was a fishing village and you will find several beaches there (popular and offbeat as well). In my opinion, the highlight of this area is a viewpoint surrounded by water from three sides. From one side you can see the sun sinking into the sea, from the other – a view of Marmagoa Port.
I really liked the walking area near the sea till I've seen graffiti near the stairs to the viewpoint Kmoon people, there are artistic neighborhoods where street art looks great and there are historic monuments, where it is irrelevant!
There are several legends about the origin of this place, though, all of them are about the tragic love story.
Practical tip: The main road to Donna Paula viewpoint has often jams because it's narrow and it can handle only certain traffic. If you are on a bicycle/bike – you can take left after leaving the parking lot. There is no proper road, but it's a popular route for bikes that try to avoid high traffic. Just within 1 km or so, you will get to the main road.
Practical information
The most practical way to explore all the above-mentioned places is by bike. If you don't drive, there are also state buses going from Panjim main station to Old Goa, though be flexible in time. It takes around 40-45 min to reach by bus.
Try to finish your day by 6 p.m. if you have to come back to North or South Goa. I started to the South around 6.30 and at times was stuck in a jam.
I've visited numerous places in Europe, though still liked Old Goa and Panjim. In my opinion, spending one day in the places mentioned above is worthwhile. If you are fond of history and architecture, you might enjoy these destinations too.

One of the heritage homes in Fontainhas, converted into hotel
In Fontainhas there are public properties (e.g. cafes, guesthouses) and private (homes of the residents). It's quite easy to identify one or another. Please don't come with the camera to the windows or click people on the balconies without their agreement. The residents also want some privacy.
Plan a trip on weekdays to avoid crowds and traffic.
Wear comfortable shoes so you can walk around and explore the sites.
Viva Panjim is one of the famous restaurants for Goan Sea Food in Fontainhas area.
Though Goa is known as a more chilled area of India in terms of dress code, I recommend dressing modestly (covered knees and shoulders), especially for Goa Velha. It doesn't matter if you are a religious person or not, the outfit is just a small sign of respect towards another culture.
Different areas of Goa host cultural festivals all around the year – you can find the calendar here.
What about you? Would you be curious to explore history and heritage of Goa?