Traveling by train in India is one of the most learning and fascinating experiences, which shows you some of the hidden corners of the country. Some of the rail tracks go near the sea, some through the rice fields, other across unknown towns – ever-changing landscapes.
It's hard to imagine how huge and diverse this country is from the outside world. Travelers who come to India for a short period of time get to see some of the famous tourist spots like Taj Mahal, Jaipur, Goa, Varanasi. But every Indian state has its own "Taj Mahal" with jaw-dropping architecture and/or picturesque nature. Of course, it's not possible to cover everything in one trip. This is where Indian Railways come to the rescue!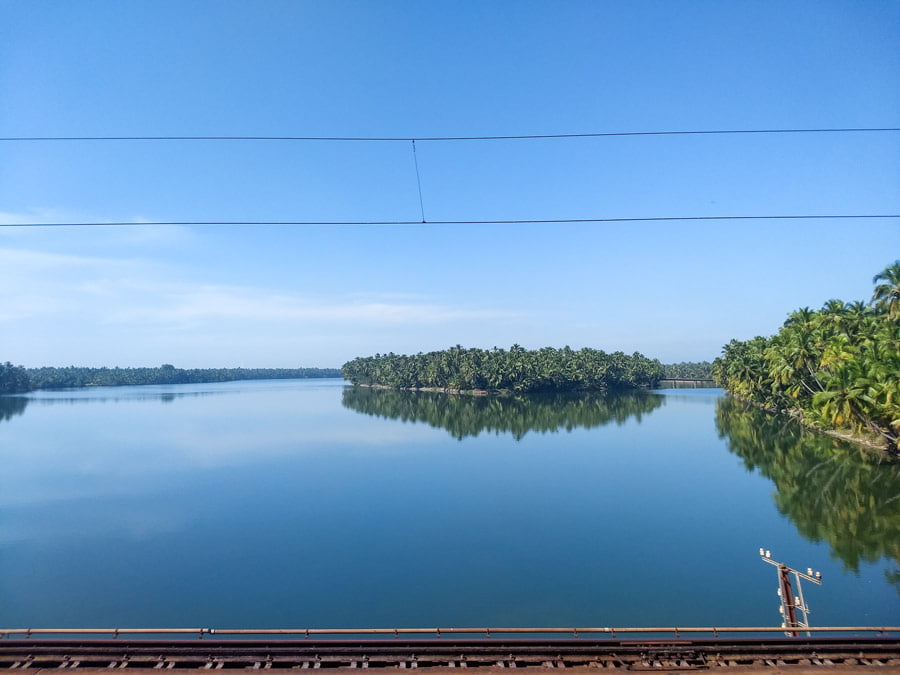 Let's talk about stats. Indian Railway transport over 23 million passengers every day. There are 14300 trains and over 7000 stations across the country. I hope at this point, you've got the massive coverage of the train network in India.
Now the opposite side of the coin. Traveling by train in India might be one of the most confusing experiences. Trains might get delayed, you might be suspicious about the food, and crowds at the stations might be overwhelming.
In this post, I would like to share with you how to travel by train in India and make your experience better. During my stay in India, I've traveled from reserved 3rd AC to general unreserved class, got tickets on quotas, TATKAL and through the waiting list. I will go through all the terminology later. Here are the specific questions I will be focusing on in this post:
Indian train classes and what they mean
How to travel in India by train?
Quotas and reservations in trains
TATKAL – so important that it's worth a separate point
How can foreigners buy train tickets in India?
How to choose the "best" train?
How to board the right coach on the train?
Traveling by train in India solo – is it safe?
What to take on your train journey in India?
I need to travel by train in India, but there are no tickets…
Last tips
Indian train classes and what they mean?
Some Indian trains can be really long (over 20 coaches) and they are split into several classes. Let's go through the main classes from more to least expensive (I'll be talking about simple trains here).
First AC (1A) – Air-conditioned compartments with doors. There are compartments with 2 and 4 berths. Sleeping set (blanket, pillow, and bedsheets) provision.
Second AC (2A) – written on the coaches AC 2 Tier. Opened compartments, yet there are curtains for privacy. Sleeping set provision.
Third AC (3A) – written on the coaches AC 3 Tier. Open compartments, no privacy, 6 berths in compartment plus 2 side berths. Sleeping set provision.
Sleeper Class (SL) – open compartments, as a rule, no doors in the coaches so the wind is blowing from all the sides. No sleeping set provision, shutters instead of windows.
Unreserved (general) class (UR) – an unreserved coach with an unlimited number of people (felt like for me). Big Indian family types, where everyone gets together after a few stations and shares food, water, stories, political problems, etc. I liked this experience, though wouldn't recommend it for India first comers. No provision of anything, though an alternative way to reach a destination when there are no tickets.
AC Chair Car (CC) – reclining comfortable padded seats in an air-conditioned compartment. No beds provision, only sitting.
Second Sitting (2S) – As a rule, wooden benches with a few padded parts. No air-conditioned compartment, only fans. Sitting only. Unreserved seats with a few exceptions (e.g. Shatabdi).
How to travel in India by train?
India is not a country where you show-up on the railway station, book a ticket, board the train and have a happy journey. If I really need to go somewhere unplanned on a short distance, I do show up at the station and buy a general ticket without a seat for Sleeper or 2nd Class. Nevertheless, all long journeys you need to plan around two weeks in advance. During big holidays like Diwali and Holi, I recommend planning one month in advance.
Time is very important factor mainly for 3rd AC and Sleeper as these tickets are the hardest to get. If you don't mind to splurge for 2nd AC or higher, you will mostly get seats.
Why tickets get sold so fast? Well, the main reason is 1.3 billion people living in India. Sometimes, people book tickets in several classes with a hope they will get confirmation in one at least.
IRCTC.co.in – a mega platform for Indian rail network management. Here you can browse trains, find information about quotas, prices and lots of other useful info. On the other side, it's one of the least user-friendly websites. It throws you out of the system if you are inactive for five minutes, it doesn't have a proper mobile version of the site and has a very sensitive captcha verification system. Nevertheless, this website can handle 250 bookings per second (take your time to comprehend this number), so people keep using it.
Indian railways booking opens 120 days before the journey and you are free to choose your destinations. Further on, I will review a few other options for ticket booking if you don't know where you will be in 4 months.
Cleartrip and Makemytrip are more user-friendly, though they charge additional small commission.
Take a look at my list of recommended apps for traveling by train in India.
Quotas and reservations in Indian trains
Because of the high traffic of passengers in the country, the government has reserved a number of tickets for certain categories of people.
Ladies (LD) – I've met only once a person traveling by this quota. It's available just on the certain trains.
Physically Handicapped (HP)
Foreigner tourist (FT) – India definitely wants foreigners to travel around the country, though it comes for a price.
RAC (reservation against cancellation) – this is a type of Indian railway reservation which ensures you can travel by train, but not necessarily you will get your personal berth. If there are some cancelations on the train, you will get a berth. There is just a certain number of RAC tickets. After they finish, you will be waitlisted.
General (GN) – this is the main quota of tickets present in every train which anyone can book.
Tatkal – a quota of tickets that gets into the system a day before the train journey. I have dedicated a separate point to it later in the post.
Waiting list (WL) – it is not a reservation at all. It just means that you are in the online waiting queue. If there are passengers on the same train who cancel their tickets, you will move up on the waiting list. If the list is cleared, you will get a confirmation with the seat. From my experience, if you are within 25-50 waiting list not on a popular train which is hard to book, most probably you will shift up within one week. You can check your status by entering your Indian railway PNR(Passenger Name Record) number.
There are plenty of other quotas for parliament officers, railway employees, high officials and many others. But hey, these people will not be reading my blog to learn how the train system works in India. The main quotas and reservations related to travelers are mentioned above.
TATKAL – or 2nd chance to buy a train ticket
TATKAL is basically a quota of tickets that are released into the booking system one day before the train departure. The AC class ticket booking starts at 10 a.m. and sleeper at 11 a.m. You should be really fast in introducing the data because from my experience within 4-5 minutes tickets on the good trains just vanish.
Tatkal charges 10 to 400 INR per ticket (in addition to initial ticket price) depending on the class and type of ticket. There is also a Premium Tatkal, which has high charges but it guarantees you a seat on the train.
How can foreigners book train tickets in India?
IRCTC – From previous points, you already know about this website. You can also book tickets long time in advance on foreigner quota, though it is available only for 1st and 2nd AC and are quite costly. More information here.
Beyond IRCTC, there are several other websites like Cleartrip or Makemytrip, which are definitely more user-friendly, though they charge commission and sometimes don't display all the trains.
Check also the list of other train apps in India.
Tourist quota at the station – some big stations in India give a possibility to book tickets based on the foreigner quota. For that, you have to enquire the tickets in a special counter on the station itself. Currently, foreigners can benefit from such tickets in New Delhi, Mumbai, Bangalore, Kolkata, Chennai, Ahmedabad, Jaipur, Jodhpur, Varanasi, Agra, Secunderabad, Vasco da Gama. More information here.
Agent – if you are willing to shed a few hundred rupees commission for the ticket, take agent's help. I still recommend browsing IRCTC to get an idea about the ticket price. 200-400 INR commission per ticket is common. I've met a foreigner who was charged 900 INR commission (we figured it out after I checked IRCTC). That's the price of two long-distance sleepers O_O.
Note: even if a few hundred rupees don't matter for you, please make a research and bargain a fair deal with the agent, otherwise some of them get an impression that foreigners are rich and can afford to throw big bucks.
How to choose the "best" train in India?
Of course, the best trains are express trains like Shatabdi and Rajdhani, but ain't no money for booking them every time. Just to give more insight:
Rajdhani – superfast AC trains that connect Delhi to capitals of the other states. These trains offer sleeping facility on the berths.
Shatabdi – superfast AC sitting trains between major cities. These trains offer only sitting facility.
The reality is – other trains do get late, sometimes for more than ten hours. It happens mainly because of the number of trains. In the smaller stations – there are just two rail tracks and, basically, if one train screws up, all other have to change the schedule. Nevertheless, you can avoid this.
Before booking the train, take the train number and check its review. I normally check the trains on Indian Rail Info. There you can find reviews from other users about cleanliness, punctuality, food, safety and other areas of the journey experience.
Basically, if most of the users are cursing the train for being late – I don't book it. At the same website, you can see the itinerary of the train and some other useful info. Check also useful apps that make train travel in India better.
How to board the right car on the train?
After booking the ticket, save your train number. When you reach the station inquire from which platform it leaves. In the bigger cities, you can see electronic tables at the station near each coach with its type: B1, B2, S7, etc. You can use online websites like Indian Rail Info. You can introduce your train number there and see the structure of the train and its compartments.
Check out the number of your coach (e.g. S1 – 3rd, S2 – 4th, etc). On every station I've been so far (even in the small towns), there are numbers of the train compartments along the platform. Find yours. Alternatively, ask the station manager or a policeman.
Traveling solo by train in India – is it safe?
The short answer is yes, but… Out of my 10 train trips around 8 I take solo. I do enjoy traveling by train in India, especially in Sleepers (not a fan of AC). Here are a few tips I would advise for a first-time traveler:
Take time to connect with your neighbors especially on long journeys. Don't worry, they will initiate conversation themselves especially if you are in less touristy areas. Local people might ask some quite personal questions. It's common in India, they are just curious. On long journeys, some people will be offering you food if you are alone. In India, there is a sharing culture which has its pluses and minuses.
Learn to say "NO". In India, as in many other Asian countries, there is a huge problem with personal space. Sometimes local people travel with extended Indian families who get together during the day or people with general tickets come to take seats.
Permanent agglomeration in compartments is not ok and be confident about your space. In this terms, I find upper shelves great (TOP Introvert choice). There you can be as much social or antisocial as you wish.
Check out what you eat. If you are new to India, it makes sense to give your stomach time to adjust to Indian food. I buy local food as well as take IRCTC food and so far so good, but I wouldn't start doing that from the first day. I've recently discovered IRCTC canteens on some stations and they have good VEG & NON-VEG food for quite a cheap price. People even cook there in white caps. I've also ordered twice food in the train itself from IRCTC, though I didn't like it.
Keep an eye on your bags especially at night. The problem with luggage security occurs because at the station anyone can enter the train (starting from vendors to random people). Though my experience has been good so far, two of my Indian friends traveling mainly in expensive (2AC) compartments got robbed.
I need to travel by train in India but there are no tickets…
If you are a foreigner refer to the section how foreigners can book tickets in India. Solutions below will also work for you as well, though I don't recommend them if you are visiting in India for the first time. Are you willing to pay money? If yes and you are not in a big city, you need to approach the station manager and strike a deal with him.
There are always about 3-5 tickets extra per coach that get reserved. Plus, there is always some extra space when required. Train managers can check the lists when people are boarding and maybe match different seats for you. I've done this once, though it costs almost twice of the normal ticket price. This scheme might not work during big holidays like Holi and Diwali.
If you are not willing to pay money and need to commute to short distance – take an unreserved class ticket. There are unlimited people, but that's a solution for many people for lack of railway seat availability in India. Alternatively, try to take a general ticket for sleeper class at the station – for some trains it's available. You will not get a seat, but at least you will reach a destination you want.
If you have to travel a long distance, remember, there is a huge network of both state and private buses. Maybe check them out as well. They are almost always available even 1 day before the journey.
What to take with you on your train journey in India?
It's not a packing list question, but some items I found particularly useful during my train travels.
Confirmation of your ticket. You don't need a print-out, but e-mail, SMS – some digital confirmation will work. There should be your 10 digit PNR number and status CNF(confirmed).
ID card which can confirm your identity and your ticket.
Sanitizer and/or wet wipes
Toilet paper or water – on long journeys, especially in Sleepers the water can finish in the washroom. Whether you use water or paper, keep it with you.
A book or some other activity that can occupy your time during the journey. Though some states have a great network coverage in many places your phone will be out of the internet.
Food – If you have certain food preferences or allergies, you need to care of your food in advance. Everything will be chili, spicy and fried at the stations.
Earplugs or headphones – in addition to crying babies, snoring neighbors and the train sounds you will be hearing from time to time random food sellers as early as 4 a.m. with "Chai, chai, chai" or "Panibotel, Panibotel".
Sleeping bag – if you travel by Sleeper, you need something to cover yourself at night, especially in the northern part of India in winters. It gets really chilly. I would say freezing…
Warm clothes – if you travel by AC cars. Even in +40 outside, Indians like reaching Antarctic feel in temperatures.
Last tips about traveling by train in India
The IRCTC website has the site maintenance daily from 23.30 to 00.30 IST. During this time information and services are not available.
In bigger cities, it's hard to figure out the place by station name: Anand Vihar(New Delhi), Andheri (Mumbai), Howrah (Kolkata), Borivali (Mumbai), etc. Check railway station list to know where you have to get off. In big cities, it can be especially confusing.
Carry always your passport or ID during the train journey in India as railway people can ask it during the check-up.
Forgot water or something else? Don't worry, almost on each station there are plenty of vendors selling all types of weird stuff from toys to gadgets and food, so you'll be able to buy what you need during the journey unless you are traveling on fast trains which don't stop regularly.
Track when your destination comes. Noone announces stations on the train, so if you missed your stop – sad for you…
As surprising as it might be, the upper berth is the best place to book. The middle berth is the worse as you are totally depending on others and on lower berth people come sometimes with general tickets and there might be limited sitting space. My personal preference – upper side berth between 10-50 seat numbers if we talk about Sleeper.
On all big stations, there are cloakrooms where you can leave a bag for 15-20 INR/day.
There are dustbins in every compartment which you should use instead of the window

(I'm looking at you, Indians)

Be prepared to go out of the train in advance. On small stations, the train makes a few minutes stop and you need to be straightforward to get off from the train before passengers and sellers start getting in.
There is a thorough check-up procedure on big stations (e.g. Delhi) at the entrance. Reserve extra time in your schedule.
Enjoy train experience to the max!
How was your experience of traveling by train in India? What else would you share with the first-timers?