"Welcome to our village" – shouted a cheerful group of 8-year-old kids. "Here is your entrance gift" – told a girl with a smile handing me a few fruits. I was amazed by this hospitality gesture. Today, you will see many happy kids running through the streets of the village after the classes.
Nevertheless, it was not always the case. The elder generation feels the pain of families split by the border. Some people have their relatives in Jammu & Kashmir area, some on the other side of the border.
"I've never seen my elder brother. He is established in Lahore for a few decades and started his family there. Now I'm 35, I am the only one left with my parents on this side of the border. Sometimes we talk on the phone when we catch the cellular network, but these calls always have a sad outcome with tears. We do hope politics get settled so families of both countries can be reunited".
This is a common story in Turtuk – the last village on Indian-Pakistan border that is home to 2500 people. It got quite extensive media coverage from local news to BBC, Matador, and other channels, yet it's hard to find practical information about this destination.
Although this post will also give you a brief introduction into the history of the place, its main goal is to shed light on interesting local activities in the village, places to stay, local food to try and other practical tips to help you plan this trip.
Introduction to Turtuk
Why I recommend staying in Turtuk over a day trip?
Accommodation in Turtuk
Balti cuisine – where to try
Places to visit in Turtuk
Turtuk by bus from Diskit, Hunder
Introduction to Turtuk
Baltistan used to be a separate kingdom ruled under the Yagbo dynasty several centuries back. Later, during the British rule, many kingdoms in South Asia were united under one empire. Yet, in 1947 partition tore apart the countries and left families on both sides of the border. During that time Turtuk was claimed by Pakistan together with Gilgit Baltistan area. Roughly a two decades later, in 1971 war, Turtuk and a few neighboring villages were annexed to India.
While the whole of Ladakh is a predominantly Buddhist area, Turtuk residents are following Islam as the main religion. It is a village where you can experience a totally different culture expressed in the way people look, behave, dress. Some of the villagers are descenders from central Asia which adds a further cultural mix to the place.
The main language of communication among local people is Balti. It's a mix of Old Tibetan and Persian languages. Despite Turtuk is a small village, it is visually divided into three parts. The upper village is the oldest part where you can see heritage homes that have been there for centuries. The lower village was expanded later.
Turtuk was open to local tourists in 2010. By 2013, foreigners also were allowed to visit it. Till date, this is one of the most culturally unique areas which attracts daring explorers from different parts of the world. Since it is the lowest altitude village in Nubra, you will find much greenery and plants there!
Why I recommend staying in Turtuk over a day trip?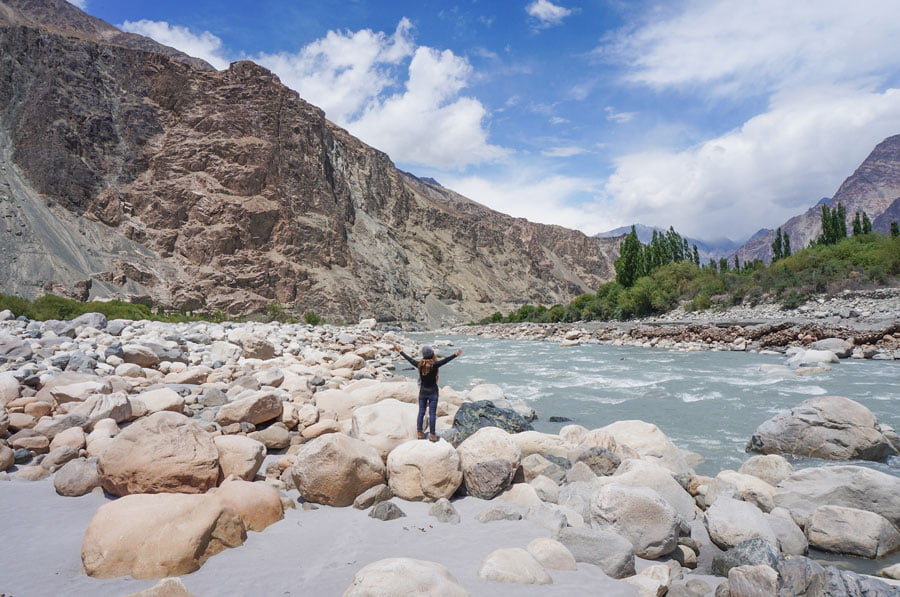 Tourism is the livelihood of many villages in Jammu&Kashmir. Here you will find very warm-hearted and hospitable people, but at the same time, some may go too far to get their cut. There are commercial places, like Hunder sand dunes, where some guesthouse owners will recommend doing a day trip to Turtuk and staying overnight at their place in Hunder.
You can fall into this trap in any commercial destination. Srinagar tour organizers will recommend you day trip to Pahalgam over Aru Valley for some biased security issues (SPOILER ALERT: these issues don't exist). To avoid confusion and misinformation, I recommend taking advice from local families who don't have a stake/interest in your final decision.
Turtuk is a blend of cultures. You can find here people of Aryan descent, Tibetan, Balti, Kashmiri, and many others. If you want to get a feel of this place, I recommend staying at least a day there.
Places to visit in Turtuk and activities to explore
Turtuk is a place to connect to people and listen to their stories. Nevertheless, there are also some interesting places and activities which will give you a broader overview of the history and cultural background of the village:
Balti Heritage Home in Turtuk
It's one of the heritage homes where several generations have lived for centuries. It's built in an old style – low-height roofs (tall people, get ready to bump your head a few times), very small window to avoid cold air coming in during winters, storage rooms in the basement. You can see several arms, dishes, royal gifts, dresses, furs dating 400 years back inside the house.
Museum entrance cost: 50 INR per person. There are 4 small rooms which you can explore in 10 minutes or so. Nevertheless, there is an extra value if any of the family members can explain to you what you see. There are presents from kings of the land, some old technology of cooking and several other interesting facts.
Note: During summer, the tours are handled by Wassin in English & Hindi. He studies in Pune but comes home for summer vacations to guide the visitors around the home. He can answer just any question about the purpose of different historical objects and events of the village.
Balti Heritage home is in the upper part of the village. You can ask local people for directions or here are the coordinates: 34.842821, 76.831581. Also, there is a rooftop, where you can try Balti cuisine.
Balti museum
This is another heritage home converted in a museum. Here you can learn the history of the whole dynasty, see the maps of the village during different centuries as well as the livelihood items that were used a few centuries back.
There is no entry fee to Balti museum, though donations are accepted. It is situated in the area beyond the wooden bridge. Ask the local people or here are the coordinates: 34.846944, 76.823682. There is just one room and a yard, thus the tour takes around 20 minutes.
Stroll through the village streets and discover smart architecture
The village is constructed in a way, that there are open water canals supplying water to home owners. If you get lost, you can always follow the stream to reach one of the bigger roads. There are a few open "natural freezer" points, where you will feel chills even in hot summers.
The stones and streams are located in a way to maintain cold temperatures. One of such freezers is near Bagdoor guesthouse here (34.844151, 76.827618).
Turtuk Gompa and viewpoint
This is the Gompa of the village from where you can see breathtaking views of the whole valley overlooking mountain peaks. It takes around half an hour to reach here from the bridge.
There is also a waterfall if you trek 2 km up the hill. It's relatively close to the Gompa. I recommend taking advice from the local people according to the situation. For instance, if there is no snow during winter, the waterfall will be small.
Visit local experts (apricot factory, shawl makers, wood carving)
Turtuk is famous for apricots. Not many know about this village, yet its products and fruits were exported from here to both Pakistan and India. Many families make various apricot products in their basements for winter.
I accidentally stumbled upon a proper home factory run by Mr. Tsarma. It's in the lower part of the village, here (34.846413, 76831236). Apricot seeds, oil, jam, juice and numerous other products you will find there. I found it interesting (and yummy).
There are also wood experts, shawl makers. They are simple villagers, so you will find an aunty or uncle creating products just inside their garden.
Talk to school kids before the classes
The classes usually start around 10 a.m. Before that, you can see kids playing different sports in the yards. They speak English & Hindi and most probably will be happy if you join for a few throws in a game or just talk to them.
There are also fort ruins once inhabited by Brokpa people. Nowadays it's another viewpoint of the village. There are many forts and palaces in Ladakh, though some of them are turning to ruins, unfortunately.
Following religious traces, there are several mosques, one of the oldest (16th century old) is not far from Balti museum. This one is very simple, yet it's a special place for locals.
Walk along the river
After the water levels decrease throughout the summer in the river, there are some natural beach areas formed. No high expectations for swimming or sunbathing – it's too cold for that plus the current is very strong. Nevertheless, the area along the river has some scenic views.
Drive till the border
If you came this far through all Nubra Valley to Turtuk, maybe you would like to drive 10 km further to the border point? If you come by bus, there is a possibility to hire a local driver who will take you to the border post and back for 500 INR.
Accommodation in Turtuk
As of now, there is little to no presence of information online regarding accommodation in Turtuk. While it seems scary to take a leap of faith and come to the border village (almost), there are plenty of options available. Basically, there are three types of accommodation in Turtuk:
Camping tents (e.g. Turtuk Holiday resort – phone: 01980 248 103). They are on the main road and charge 3000-4000 INR per night.
Guesthouses – Ashoor Guesthouse (main road, 700-1000 INR/night, phone: 01980 248 104), Maha Guesthouse (upper part of the village, phone: 01980-248040)
Homestays (Sang sang 1000 INR per room for 3 people), Khan Homestay, Bagdoor Homestay (700 INR/night with dinner), Himalayan Point (near friends café – 500 INR with dinner per person).
There are many more options, above are just the ones I stumbled upon and the prices I managed to find out. Many places called guesthouses are basically a few extra rooms in the home of the local villagers remade for the visitors. Note, the prices may vary depending on the season.
When I asked a local person how many homestays are there, he chuckled and told that every third villager has converted his house into the homestay.
Though I do recommend homestay experience over other accommodations, there is no English-speaking one for the moment. If you are a foreigner with no knowledge/understanding of Hindi, I recommend choosing Ashoor guesthouse. It is managed by Mr.Ibrahim, who is very helpful and caring.
He understands and speaks perfect English and will be able to cover many questions you might have. Another advantage, this guesthouse is at the end of the main road, near the bridge. Most of the homestays are in the upper area of the village and you have to climb there by foot as there are only narrow pedestrian streets, where car/bus will not take you.
Where to try Balti cuisine in Turtuk?
There are quite a few cafes in the village serving Indian food, so you will always find a place for lunch. Nevertheless, I recommend trying something local: Buckwheat pancake with dry fruit or apricot chutney, Thathuk (soup), all noodle dishes – you name it. What are some popular places to try Balti cuisine?
Balti heritage house
Friends Café
Balti kitchen – this is a seasonal café that might not work in low-season time.
Tip: Friends Café is a great place for breakfast which looks so calm and alienated, but I don't recommend coming for lunch. There are many day-trip families arriving, so it will be filled.
How to reach Turtuk by bus from Diskit and Hunder?
If you want to reach Turtuk from Leh, you need to come first to Diskit – the main city of Nubra Valley. Though Turtuk is just 90 km from Diskit, it takes 3.5 to 4 hours to reach there by bus. There is just one daily bus going from Diskit to Turtuk. It starts at 2.30 p.m., reaches Hunder at 3 p.m. and Turtuk at 6.30 p.m. The bus starts from the local bus stand in Diskit near the market.
The fare is 110 INR one way. I recommend reserving bus tickets from Diskit in advance. It is a local bus (five people on the driver types). Though there will be always people hopping on and off in every village, the bus will be full all the way. If you get a seat – you won!
You can hire a private cab, but expect to pay around 3000 INR one way. Private vehicles reach Turtuk within 2.5 to 3 hours depending on the road traffic.
Other useful information about Turtuk
The electricity comes in Turtuk daily from 7 to 11 p.m. as in other villages of Nubra Valley. As per 2018, there is no Wifi, but BSNL and Reliance are working on connecting this village to the world's network.
Please take care of your plastic. Every morning you will see locals cleaning the areas around their houses and it's very sad to see chips packets after the visit of day-trippers. If you see the village in the morning, it looks so clean and peaceful.
Don't take pictures without people's permission.
Best time to visit Turtuk is from May to October. By the end of May, everything is blossoming and green. In July there is an Apricot season, in September, the leaves get autumn colors and create a fairy-tale look. Choose the time according to your preference.
Reality-check – it's a simple village, where you will get basic facilities. If you are into luxury/all-inclusive tourism, this trip might not meet your expectations.
You can cover most of the places mentioned in the post in half-day together with the viewpoints. The other half you can stay in one of the cafes and enjoy the picturesque view, or sit near one of the fruit gardens.
I've stumbled upon a video by Wandering Minds that gives a feel of Turtuk, its people and breathtaking views.
Turtuk is one of my favorite villages in India. I hope my post will inspire more people to visit it and help you plan a trip to this unique place!