Raj Bhavan tour might not look attractive at the first sight from the information you can find online. There are several famous newspapers that wrote about it, but mainly from the point of beauty and maintenance of the place. For me, this experience was primarily about learning about governance, taxes, economy, administration, and history of Mumbai. It structured some of my knowledge I gained about Mumbai in a few months of living there.
Also, I see it as a useful experience for aspiring IAS officers. If you are an Indian citizen willing to build a career in a public service sector, visiting Raj Bhavan can give you some insight into this activity and motivation. Our group asked our guide hundreds of questions and he entertained them all and kindly answered.
Raj Bhavan was one of the highlight experiences for me in Mumbai, that's why I've decided to write a separate post about it. Here are some specific questions I'd like to focus on:
What does a Raj Bhavan visit look like? Highlights
How to visit Raj Bhavan in Mumbai?
How to reach Raj Bhavan in Mumbai
Other useful information about visiting Raj Bhavan
What does a Raj Bhavan visit look like?
There are four Raj Bhavans in Maharashtra: Mumbai, Nagpur, Pune, Mahabaleshwar. Raj Bhavan in Mumbai has an area of 50 acres and employs 230 people. It has been opened to visitors by current governor only a few years back with a goal to share more information with the public and bring more transparency into governance process.
In just one visit, you can relive the history of Mumbai from Bombay Presidency which included a big part of Western India, Sindh province (nowadays Pakistan) and Aden (currently Yemen) during British Raj to the formation of Maharashtra with Mumbai as its capital city. Raj Bhavan was the first place where the map of Maharashtra state was presented to the public.
There is a visiting group of 10-20 people which travels with a guide to important points of the Governor's residence by electric vehicle and by foot. The tour covers several areas, here are some of the most memorable highlights:
Visit the halls where important functions are held
The tour starts with some general history of Raj Bhavan and visiting official premises where the Governor meets President, Prime Minister, foreign diplomats visiting Mumbai. You will be guided through several halls and get to know about special features of their architecture and what kind of events are held there.
The furniture, fans, mirrors and some lamps date back to the British Governance era. These details of interiors with some modern elements unite the history of the past and current days.
Did you know? Raj Bhavan has become the Governor's residence since 1885.  Back in 1665, the Governor appointed by the East India Company resided at the Bombay castle (Fort area). Afterward, the residence was shifted to Parel. After the outbreak of Bombay Plague, the residence was based in Malabar Hill. 
See the skyline of Mumbai at the sunrise
After the history tour through impressive interiors, you will be invited to the sunrise point, where you can see Mumbai Skyline, the sea and sun slowly rising above it. This is one of the most beautiful sunrises I've ever experienced.
As you might know, Raj Bhavan is surrounded by sea from three parts, so there will be beautiful views every now and then.
Visit Devi Mandir where religious functions are held
Located behind the heritage buildings of the complex, it's a very small temple dedicated to a nameless goddess. Every year in July – August it gathers thousands of people at an annual jatra(fair). This was the only day when the residence was opened to the public until recently. Sidenote: On the way to the temple, there is a 10000 years old rock overlooking the sea.
Explore a peacock conservation area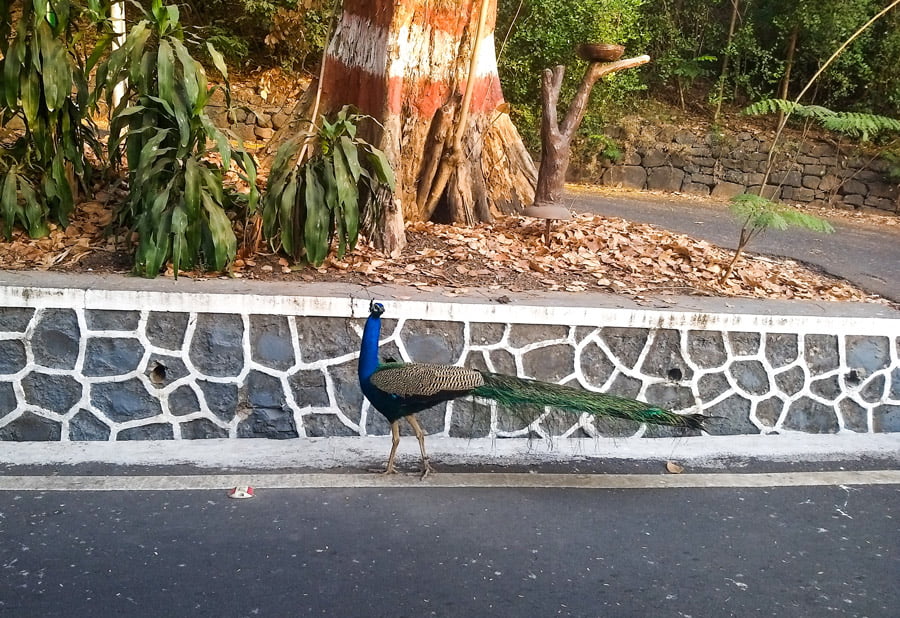 To all nature lovers –  there is a special conservation area for peacocks. You will be able to see a few of them freely roaming around. There are around 25 peacocks and it might be the only place you can see them in such a hustle and bustle city as Mumbai.
Also, there is a family of mongoose that regularly receive food and care from the staff. These are the animals I've noticed, but our guide told that there are also various birds living in the green territory.
Live the slogan of Atithi Devo Bhava
The formal part of the tour ended in the garden singing the national anthem of India. After this, the hosts offered tea/coffee with biscuits to all the guests and discussion continued in an informal environment. During the whole tour, the organizers were very polite and courteous.
While our group was in the garden, there was an unplanned visit of C. Vidyasagar Rao – the governor of Maharashtra. He stopped for a few minutes to greet everyone and ask for the feedback.
Note: if you would like to meet the Governor, please check his schedule. Our group was lucky to briefly meet him during the visit.
The last but not the least, there are some actors and public leaders living in the same area. From the words of our guide, the film actors like Jackie Shroff and Tiger Shroff pay a visit at times as they live in the same neighbourhood. They are in friendly relation with all staff of the governor's residence.
How to visit Raj Bhavan?
If you would like to visit Raj Bhavan, firstly, you need to book an appointment online. I recommend registering at least two weeks in advance before the desired date as confirmation might take time. Generally, the booking is available one month in advance. You can register up to 10 accompanying people with you.
There is a symbolic fee for processing your application – 25 INR. Remember which ID proof you mention in the application as you will need to carry it (original + a photo copy) with you on the day of the visit.
How to reach Raj Bhavan in Mumbai?
Raj Bhavan is located in Malabar Hill in Mumbai. The nearest local train station is Grant Road and Charni road (Western Railways). Both stations are around 3.5km away from Raj Bhavan. From Grant Road you can hire a cab, it shouldn't cost you more than 50 INR.
If you start from Navi Mumbai, you need to catch a local train around 4.30 a.m. if you want to make it on time. The cab from Navi Mumbai will cost you around 500 INR.
Raj Bhavan Mumbai pictures: is photography allowed?
Yes, but you will need to be ethical about it and consult your guide. There are some spaces where you can take pictures. Please don't click everything here and there as it might close opportunity for others in future to take any pictures.
Note please that professional cameras and videography is not allowed. You can carry your mobile phone though.
What to take with you to Raj Bhavan Mumbai?
Try to take with you minimum stuff during the visit – phone, water, confirmation of appointment, wallet, ID proof. There is a bag scanner at the entrance. Though there are small lockers (confirm which stuff you can leave there), better to avoid this extra check-up and procedure.
Other useful information about visiting Raj Bhavan
You can visit Raj Bhavan from October to mid-June. It closed for visitors in summers during monsoon season since there are heavy rains and winds.
Try to reach around 6 a.m. at the Upper Gate of Raj Bhavan. They start on-time at 6.15 a.m. Late entries after 7 a.m. are not permitted as it's a huge territory and the visitors travel by electric mini-bus.
The tour lasts 2 – 2.5 hours depending on the number of questions. Raj Bhavan is open from Tuesday to Sunday.
I recommend dressing smart-casual. Jeans, shirts, t-shirts with decent prints are fine. There is no dress code as such, but this is a place where are held official meetings, so shorts and tops might not look appropriate.
I hope this post provided an in-depth information about Raj Bhavan in Mumbai. It was one of the most memorable experiences for me in this city. I don't know for how long it will be open to the public, thus I highly recommend visiting it.
What about you? Have you ever visited a Governor's house? What was your experience?