Less than a decade ago, there were two main challenges for solo backpackers in India – accommodation and socializing. Despite numerous budget guesthouses, choosing a stay involved a certain compromise – it could be the quality of services, location, infrastructure to name a few.
If you are new to India, you can still visit offbeat Indian destinations in certain areas (East Indian states, North-East) to get an idea of how budget tourism looked like not so long ago.
In the past few years, hostels in India have immensely improved experience of solo travelers. You can feel the difference if you visit a popular destination – take Rajasthan. It is an authentic, hospitable, culturally rich state which has so many reasons for an increasing number of tourists every year.
During my last visit to Jaipur, I shared a room with 3 people for 200 INR (3 USD). It was near a metro station in a good area, hosts helped me with information about locality and I spent an evening at the roof with other people watching the warm colors of the sunset. To sum up, it was a great value for money for me as a solo traveler.
That motivated me to feature some of the interesting hostels in Rajasthan. Here you will find both big hostel chains and small ones that I discovered during my stay in India. In no particular order, here are the options!
Bunkstop Jaipur
Bunkstop was started in 2015 as a youth-centric hostel for backpackers and adventure tourists. They give the option of mixed dormitories, female dormitories (called Fashion Bunky!) and private rooms. Tariffs start here from 350 INR for dorms and 1200 INR for private rooms.It has most of the European hostel facilities of common kitchen, personal lockers, free wifi and multiple common areas with the variety of games and books to enjoy.
To savor the views of the Pink City in the evenings and mornings, their terrace seems to be a perfect place. They also have tied up with bike Rental Company, where you can hire a vehicle starting with a bicycle to a bike for a day.
Where: Jaipur
Hostelavie
Hostelavie is a boutique chain of Hostels around India. Besides the standard kit of hostel services, they also run destination exploration activities in some locations. For instance, if you stay in Jaisalmer, they can organize a trip to the Thar Desert.
Hostelavie does feature unique interiors. From one hand, they are keeping traditional Rajasthani elements, while adding modern accents and funky colors. Royalty on a budget.
Where: Udaipur, Jodhpur, Jaisalmer
Moustache Hostel Jaipur
Moustache hostel has game rooms to play, gardens to relax, a community kitchen for the guests who love to cook along with the basic requirements of high-speed Wi-Fi, hot shower, lockers etc. They also provide a travel planner in case you are not decided where to go and what to visit. The dorm prices start from 700 INR for Delhi hostel, and from 450 INR for Jaipur Hostel. These hostels are very well located in the heart of the city in good areas.
Where else you can find Moustache hostel: Udaipur, Pushkar, Jodhpur, Jaisalmer, Jaipur
Crashpad Jaipur&Jodhpur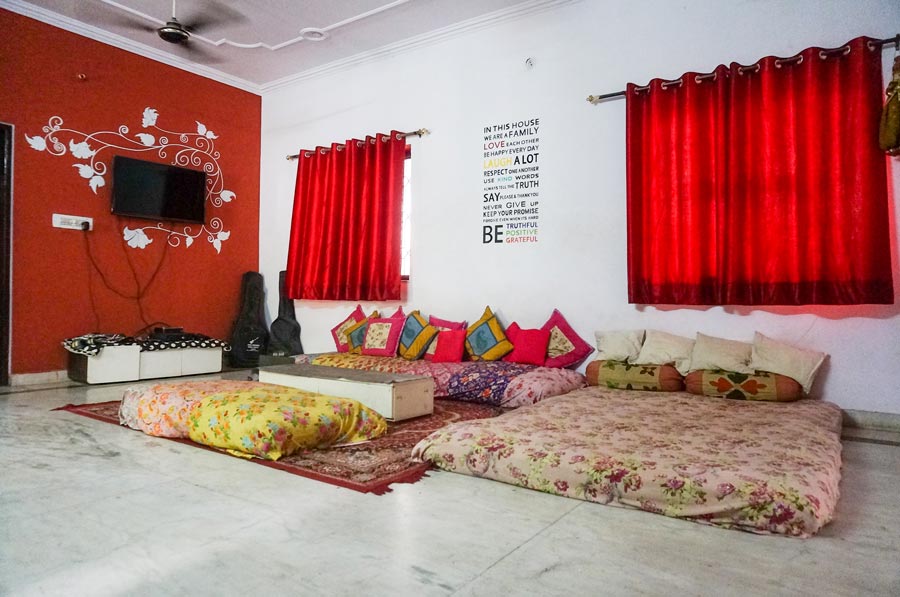 CrashPad came up with a new term which is a combination of both a hostel and a hotel – a Hostotel. It claims to be India's first chain of hostotel, offering a clean environment as a hotel and cheerful as a hostel. They found a unique and interesting way to brand them. So 10 points for creative marketing to them.
It started in late 2014 and has its hostotels in Jaipur and Jodhpur as of now with plans to expand to Udaipur, Pushkar, Agra, Goa and beyond India as well. More than 70% of the visitors coming to Crashpad are foreign tourists, making it a perfect hostotel for solo international travelers.
Crashpad has the amenities of a fun hostel and a comfortable hotel. Free wifi, common kitchen, board games and library are part of this hostotel. Their Jodhpur Hostotel also offers Village Safaris, taking guests on a village tour, showcasing life and culture of villagers of Rajasthan. A plus point for sharing the local culture :).
Bunkyard Hostel Udaipur
Would you like to stay in a hostel with a lot of character? Then Bunkyard is a hostel for you. One of the things that sets this hostel apart is a beautiful wall art in every nook and corner of the hostel.
They have got one of the best reviews from almost all the guests who have stayed there. Tariff for their dorms start at 450 INR and they also offer private rooms. They have all the fun things for a hostel – common rooms, community kitchen, café, free & fast wifi, and most of all quirky graffiti all around. Also, the location of the hostel is quite amazing, with the view of the lake.
Where: Udaipur
Zostel
Credit for bringing hostel culture to India has to go to Zostel. Since the coming of Zostel, the trust of backpackers has increased in hostels in India. The tariff for dorms is also reasonable starting @ 350 INR in some of the hostels.
Zostel is not only in Rajasthan but in all of India and has recently gone international. In Rajasthan, it has got the deepest penetration with hostels in Jaipur, Jodhpur, Jaisalmer, and Pushkar. Though competition is coming up in Jaipur and Jodhpur, it is still one of the top choices for Jaisalmer and Pushkar if traveling alone.
Where: Udaipur, Pushkar, Jodhpur, Jaipur
Backpacker Panda Hostels Udaipur & Jaipur
Backpacker Panda already has their hostels up and running in Udaipur & Jaipur, and have plans of launching in Jodhpur as well. Beyond Rajasthan, they have a pretty famous hostel in Goa as well.
They have European-style hostels, with 24-hour reception, large common areas, a game room and a community kitchen. Dorms start @299 INR, which is very reasonable, especially for a solo traveler. They also have a nice rule for a group booking for a maximum of 6 people. This gives a possibility to a solo traveler to gain a community feeling in a hostel because big groups generally take the entire common room to their ransom. They also provide cycles on rent in Udaipur for riding around the lakes and slowly imbibing the beauty of nature.
Where: Udaipur, Pushkar, Jaisalmer, Jaipur
What about you? Do you know other interesting and budget places to stay in Rajasthan? Has any of the hostel/guest left a special memory in your experience?
Disclaimer: I'm NOT paid by any of these hostels and I've included them in the list by my own choice and initiative. Some links leading to profiles, reviews, prices are affiliate. These links give you more information about the property and come at no cost to you if you use them.