I've been dreaming of visiting desert for years. Once I got the opportunity to come to India, I thought it's the right time to make it happen. In this post, I'd like to share the challenges I've faced, an authentic Jaisalmer desert safari and also a checklist to consider before planning your trip to the Thar Desert in India.
To my surprise, when I started searching online for different companies organizing desert tours in Jaisalmer, the price was from 4000 INR (~55 USD) for a night in a camp reaching 20.000 INR (~270 USD) for posh hotels. Given the fact I was earning a local Indian salary, even 4000 INR sounded beyond my budget, not mentioning the road and living expenses required to reach the desert. Another important factor for me was the authenticity. Nowadays the deserts are so developed that you can have there almost anything. You can even choose a room with the air conditioner and WIFI.
Jaisalmer is a relatively small city. If you stay a few days there, you might get an impression that everyone is somehow connected. The desert seems to be one of the biggest selling experiences in the city, thus there will be someone approaching the visitors and offering Rajasthan desert safari tours almost on every street.
I've talked to several locals and got an interesting offer from my guest house manager who also knew a person organizing local treks for small groups under the open sky. That sounded like a real adventure compared to the camps with private rooms and WiFI. So I've chosen the local trek.
What to expect from a local camel safari in Jaisalmer?
Basically, it will be a small group of adventurers heading to the desert with no fixed plan about the program. Of course, you would like to know the budget. I paid for a night and 1.5 days around 2000 INR (~30 USD) after a negotiation. That time the price seemed to be reasonable. Depending on the choice of your experience: with the night stay or without, with the organized tour or the local trek and many other factors it can start as low as 500 INR (~ 8 USD) for an evening only and reach thousands of INR at the posh end. Let's go back to the local trek price. What was included:
Transportation from the center of Jaisalmer to the desert and back (~ 2 hr in total). In my opinion, transportation was the biggest component of the cost since there was no group transportation where you can share the costs.
Mattress – any desert stay in Jaisalmer should include a mattress, or better several of them to protect from the cold at night.
Food & water – here I was grateful to the guest house manager who has informed the locals about my allergies and also susceptibility to some spices. In the end, the food was still quite spicy. Nevertheless, after more than one year in India, I did appreciate his effort to make it taste milder. We arrived in the desert after lunch. We had snacks and later in the evening a tasty traditional dinner cooked on the fire. In the morning, we had a healthy breakfast. There were plenty of products and fruits provided by the guesthouse, though we decided to leave them to the local villagers.
Camel per person – meaning, everyone had an individual camel that was a good experience both for a traveler and a camel.
Meeting Thar Desert people in a Thar village
This was another reason why I've chosen to go with the local tour. I'm generally more interested in a cultural tourism rather than visiting popular sites. Beware, this village can give you both astonishment and a shock. You will see the life of people in Thar desert as it is: barefoot kids who live in the houses if I may call them so, without doors or windows and still, they aren't complaining or unhappy.
During my visit, they invited us for tea. My heart was sinking into the emptiness because the media focuses on poverty and sanitation of the villages. As a result, the visitors are scared not only of the villages but generally to choose India as a travel destination.
Someone needs to write about these people, their hospitality and simple boys who sing Bollywood songs not worse than Arjit Singh and play cricket with a simple thick stick imagining they are part of the decisive match. Those memories will stay in my mind forever…
Looking for more interesting experiences in Rajasthan? Check out Chand Baori – the biggest step well. 
Since there are two main ways I know as of now to experience the desert, I tried to identify the advantages and disadvantages for each to emphasize the differences.
The advantages of the organized Thar desert camping tour
The tour is organized: you know the schedule, what will happen and when and everything is taken care of for you. Basically, you just need to come.
There is a sense of security as there are many people around you.
Proper living conditions if you are used to the basic comfort.
There is a cultural show that you can join.
The disadvantages of the organized tour
You are in a very "developed" desert. The fact that many tents provide you with the proper bed, chef for cooking, charging points and some even with Wifi takes a bit from the authenticity of the experience.
There is a significant number of people around you.
Note that you can also choose just an evening program and come back to the city if you don't want to spend the night in the desert.
The advantages of a local desert trek
A great choice for the adventure seekers.
A limited number of people. We had 6 trekkers and 3 local people with us. Closer to the evening, there were 2 jeeps that crossed the neighboring dune and disappeared.
You can actually reach the dunes where you are the first person to make the steps and change the natural pattern.
The feel of the desert: watch that beautiful sunset and the sunrise, listen to the fire crackles in silence, sleep under the open sky so you can look for the constellations in the starry sky till the sleep will take over.
You can participate in the cooking food process and learn some local specifics.
There is no connectivity so you can finally enjoy talking to people like in good old times.
As there will be few people, you might be lucky to note some Thar desert animals. As a rule, they are scared of big crowds. I've seen two chinkaras.
The trek might include a visit to a local village. I've visited quite a few villages in India and they give a closer look to a different reality that is also part of India.
The disadvantages of the local desert trek
Conditions – it is not fair to name it as a disadvantage, but if you can't imagine yourself sleeping in the open air with just a small group of people around without phone connectivity and access to the internet for two days, this might not be a good choice for you.
Lack of the activities in the evening – I felt I was taken back to my childhood times when we used to enjoy talking and spending time with real people before we made it to the social media. As with the first point –  it was an interesting experience for me as I like connecting to people. If you can't imagine yourself without the internet and planned activities for 2 days, I would reconsider this choice. 
Essential questions to ask from the Thar desert tour organizers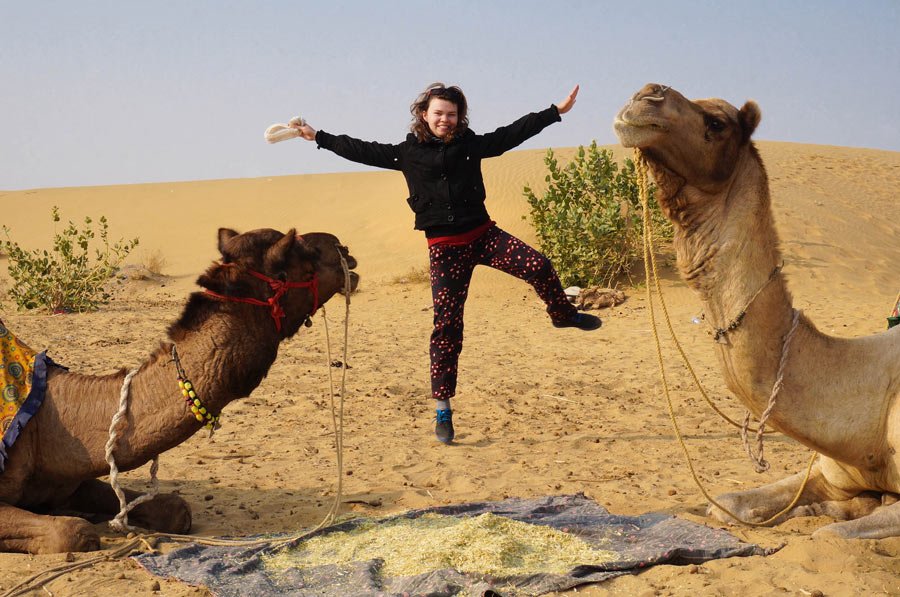 Irrespectively which way you choose to explore the desert, I put up a list of important questions to clarify with the organizer and avoid stressful situations in the future.
How long is the Jaisalmer desert tour?
If you go with a local desert trek, it can last from two days to weeks. You need to clarify how far is the camping spot from the car dropping point. That part you will need to ride on a camel and to be honest, it looks fancy on in the movies. The Thar Desert weather is hot and quite uncomfortable if you ride more than 2 hrs. I was enjoying more watching the camels eating while I was on the ground.
Does everyone get a camel or will you need to share?
It's quite challenging to ride a camel alone. Adding another person will be not comfortable for both you and the camel.
Thar Desert Food and other facilities
To be honest, every trek should include mattresses, food and water by default. Considering local specifics, do confirm these details for your peace of mind. You might also want to ask what food will be provided (if you have allergies) and how many times.
Which sand dunes in Thar Desert are you visiting?
The most famous dunes are Sam Sand Dunes, though there are also many other open for the visitors. Read about them to have a general idea.
How to reach the Thar Desert and who provides the transportation?
Who is responsible for arranging the transportation from Jaisalmer till the Thar Desert, when and how much it will cost.
Thar Desert packing list
Wear light clothes – if you arrive during the daytime, it will be quite hot irrespective of the month. Give the preference to the cotton clothes.
Sun protection things – a scarf to cover your head; sun crème – if you are a white person with a sensitive skin, take at least UV 30+; sunglasses.
Warm clothes (really warm). Well, not that warm which you pack for skiing, but consider that the Thar desert temperature can drop at night to 0 +5 degrees. Take 2 pairs of warm socks as well. If you feel cold, you will be counting seconds till the morning will come.
Opened shoes: sandals, flip-flops, etc. As you imagine, sand will be getting everywhere.
Wet wipes since you will not have access to the shower.
Torch. There will be stars in the sky, but in case you need smth in the night and you go on a local trek, there will be no light.
Read also how to prepare a trip to India.
Is it ethical to ride a camel on a desert safari?
Nowadays there are many debates happening around ethical tourism. While it is true that elephant tourism should stop being an attraction, there is a totally different situation with horses and camels.
Elephants are wild animals with nature being their natural ambiance, but camels and horses are domestic animals. Nevertheless, unlike cats, these animals require much more care and resources. There is a quid pro quo between a camel and its owner – the owner takes care of the camel and in exchange, the camel helps in transporting goods between the desert villages and attracts an additional income from tourism.
As a part of my experience, I talked to villagers about camels and tourism. According to Isaac one camel costs around 20000 INR (roughly 350 USD). But talk about this sum when your salary is 3-5k INR per month out of which you need to take care of your family too. Isaac was saving money for 8 years to buy a camel. Once you own a camel, you need to buy many accessories and products to maintain him. The camels require special food which is quite expensive as well.
Overall, it's an expensive investment, that's why the villagers take a good care of them. In my trek experience, the villagers brought a separate bag with food and amenities for camels. Every now and then, they were petting the camels and making sure that they are comfortable.
You as a tourist can talk to the trek organizer and ask specific questions such as, how the camels are treated, to whom they belong, how many camels they own and where they stay. Answers to these questions will give you a peek into the reality of camel tourism and whether you should go for it or no.
Of course, you can opt to walk to the desert by foot for several kilometers, but I don't know how enjoyable it will be. Alternatively, to some parts you can come on a jeep (but let's talk here about the pollution of the desert, shall we?).
What would I change in the next desert safari in Jaisalmer?
I think if I took another desert experience, I would still go with a local trek. Maybe I would bargain a bit harder to share the transport and cut the Thar Desert Jeep costs. Also, remember, Thar experience is awesome, but there are also many other historical and cultural places in Jaisalmer. Don't miss them.
Have you been to the Thar Desert? What other tips would you share with the first-timers? Also, would you go to the local or organized trek? 🙂