Step wells are the wonder of ancient architecture which can be found all around India. There were around 3000 step wells built in North India, many of them in the states of Rajasthan and Gujarat as they both are bordering the desert. Rajasthan was actually built in a desert.
Chand Baori is one of the oldest and biggest wells in the world. Located in Abhaneri – a small village in Rajasthan – it often gets overlooked by the travelers. Partially, maybe because of the lack of information. That's what I'm trying to change.
Well, it's quite a journey to reach Chand Baori by public transport. Of course, you can hire a personal taxi for 2-3k INR from both Agra and Jaipur, but it's an exorbitant amount for many people traveling solo.
This post is for those willing to visit this Indian architectural marvel on a budget. There is no direct transport, thus you will need to make a few interchanges. Never fear, I'll share all you need to know in this post.
Note: I'm writing about Jaipur route since I've started from this city and it's a bit closer than Agra distance wise. You can start as well from Agra. The itinerary will be the same except the starting point, thus this post will remain equally useful for you. I would also like to give you an overview of the village, so here are specific questions I will focus on.
Places to visit in Abhaneri
Jaipur to Chand Baori by bus
Jaipur to Chand Baori by train
Places to visit in Abhaneri
Abhaneri is a small village in the Dausa region of Rajasthan. It is located between two famous tourist places: Agra and Jaipur and can be a half-day getaway from both cities.
There are two main attractions in Abhaneri: Chand Baori and Harshat Mata temple. Many people bypass the temple, although it's just nearby the complex. Here is a brief description of why you need to consider visiting both the places.
Chand Baori history and facts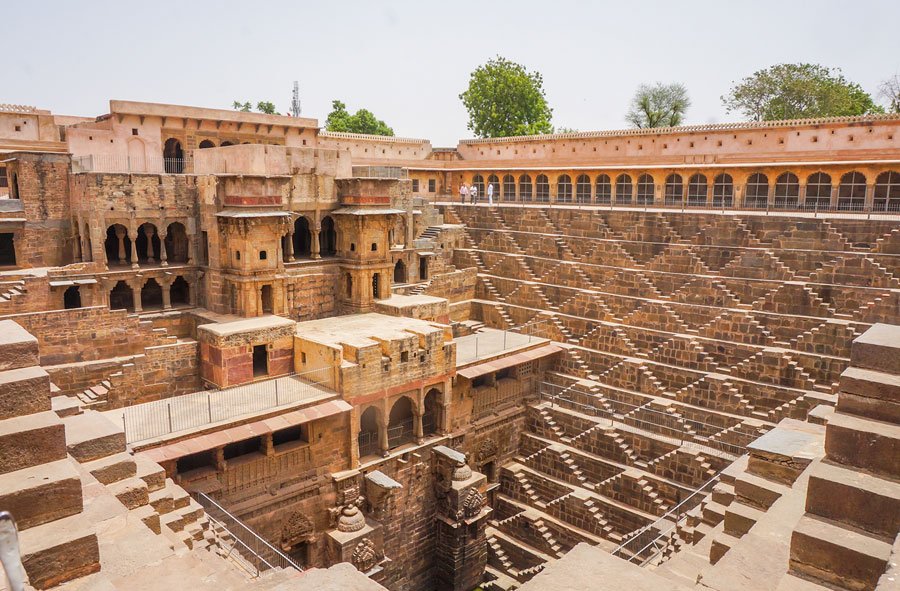 Chand Baori is the largest and deepest step well in India. It has 13 storeys and 3500 narrow steps arranged in a symmetrical order. Built by King Chanda back in the 9th century, this well provided the access to water for the villagers till modern systems came into place. You can imagine the scarcity of water in the desert.
Due to its unique structure, the temperature at the bottom of the well is 5-6 degrees cooler. During hot summers it used to be a place to escape the heat.
Nowadays, the well is not functional anymore. Yet, it attracts architecture enthusiasts and tourists from both India and abroad. Until recently it was allowed to descend the stairs, but due to the complicated structure, the access to stairs was closed. Chand Baori also got short features in a few movies, the most famous one being The Dark Knight Rises by Christopher Nolan.
Harshat Mata Temple, Abhaneri
It is a very old temple with stone carvings in the same complex with the step well. This temple was built between 7th and 8th centuries. According to the locals, this temple has a connection to the name of the village. Harshat Mata is the goddess of happiness who spreads light and joy to others. That is why the initial name of the village was Abhanagri (city of brightness). It was mispronounced over the centuries and transformed into Abhaneri.
Despite this temple was damaged and partially destroyed throughout the history, it looks well maintained. You will also see the stones with intricate carvings in the territory that used to be part of the temple centuries back.
Interested in ancient temples? Check out Somnathpura temple in Karnataka.
It took me around one hour to visit both the temple and a well. But hey, I like to read the history, take pictures. Both places are quite small though.
Jaipur to Chand Baori by bus
If you decide to go by bus from Jaipur to Chand Baori, you will have the following itinerary: Sindhi Camp (Jaipur) – Sikandra – Gooler – Abhaneri. I will break it into parts for your convenience.
Jaipur to Sikandra by bus
Sindhi camp is the bus stand in Jaipur, where you would want to be to get this bus. There is a metro station with the same name there, which will take you right to the bus stop if you take the exit from the gate number one. Once you are at the bus stop, ask for the buses that go to Agra.
There are regular local buses that leave for Agra from platform number two in Sindhi Camp. Most probably, no one will know about Abhaneri, so confirm that the bus stops in Sikandra. The ticket from Jaipur to Sikandra costs 75 INR and it took me 1 hour 45 minutes to reach.
Fun fact: I found about this route by chance. I boarded the bus where the driver had promised to take me to Bandikui (the nearest town to the step well). The moment we reached the outskirts of Jaipur, he informed me that the bus will stop in Sikandra and then I can take some other transport to my destination. 
Despite he kept repeating the name of the stop I couldn't understand due to local pronunciation (Jokes apart: have you ever tried asking local people to spell something for you?). The moment my brain, captured by panic, started regretting my poor life choices, the conductor told that my next stop is in Dosa region (My genuine love for dosa – south Indian food – helped me find out the exact location on the map. It's actually Dausa). For your convenience, all the points are marked on the map below.
How to reach from Sikandra to Gooler?
Sikandra looks like an important stop. At the junction where the bus will drop you there is a local market. Once I reached there, I got verbally "attacked" by auto drivers trying to convince me that the only way to reach Abhaneri is by auto rickshaw. Spoiler alert: It's not!
Just in case you hire a personal auto, they charge 300 INR for the return trip (Sikandra – step-well – Sikandra). If you decide to return to Jaipur from Bandikui, the journey Sikandra – step well – Bandikui will cost you 400 INR.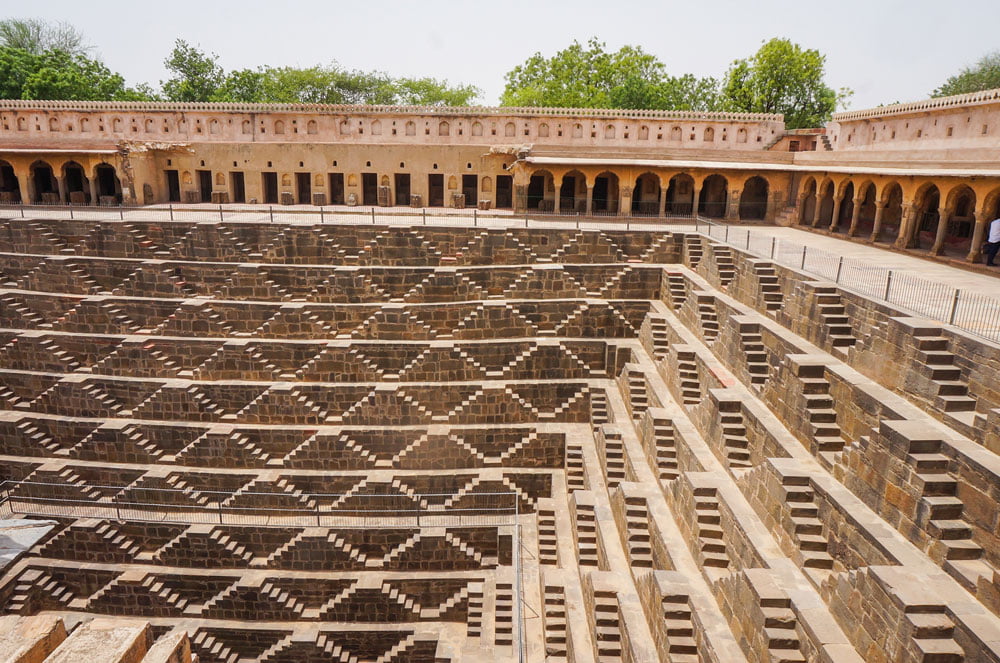 Never fear, there is a budget option as well. There are regular minibuses going through Sikandra to Gooler every 20-30 minutes. Gooler is just 3.7 km away from Abhaneri step well. The minibuses are "5 people sitting on the driver" type, but they cost 10 INR and take 10 minutes to reach.
If you are a foreigner, most probably you will raise curiosity and smiles from local villagers in the bus. Apparently, they are not habitual seeing solo travelers commuting in a local way.
Gooler to Chand Baori
If you come to Gooler by bus, tell them you are going to Abhaneri (which most probably will be obvious to them). They will drop you at the junction near a roundabout with the statue monument. Cross the main road and look for autos.
Here you have two options. Either you can take a personal auto – they charge 100 INR for the return trip (Gooler – the step well – Gooler). You can as well go for shared auto option, but it may take time to gather the crowd. In this case, one way trip will cost you 10 INR only.
If you go with the most budget options, one way trip from Jaipur to Chand Baori by public transport will cost you 95 INR and it will take you roughly two hours.
I know this sounds like too many interchanges. If you want the least hassle budget option from Jaipur, choose the bus route described above.
Unless you booked your train tickets in advance, you will need to stand in the queue in the train station to get an unreserved ticket in general compartment. It might be an additional hassle, but read it further in the next chapter.
Jaipur to Chand Baori by train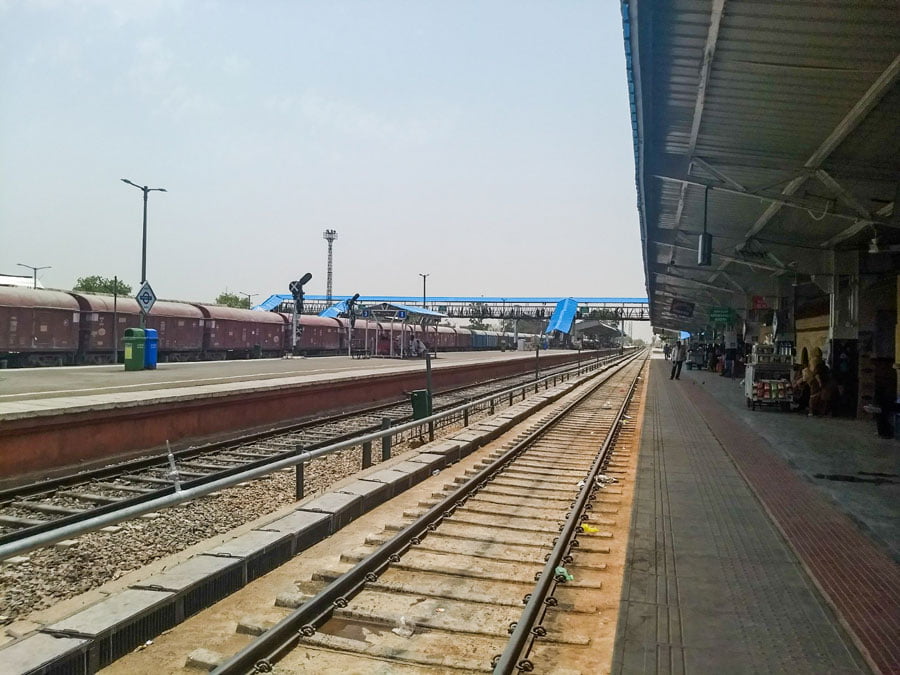 If you prefer a train over buses, your itinerary will be the following: Jaipur train station – Bandikui – Abhaneri.
Unless you have booked tickets from Jaipur to Bandikui, I recommend going there by bus and coming back by train. If you are a foreigner, you might know that train travel in India requires more thorough planning. If you are an Indian, you know the queue length at the train stations.
I recommend coming back by train from Bandikui if you are willing to experience the train journey. If you haven't done your booking on IRCTC in advance, you will need to buy an unreserved ticket at the station, which costs 65 INR. Find General coaches – as a rule, these are first two and last two in the train. If you get a seat – you have a good karma, feel free to grab it. If not, the area near the door is my personal choice.
Bandikui to Chand Baori
Once you reach Bandikui there are several ways to go to Chand Baori. You can take a personal auto that will charge you 300 INR for a return trip. If you decide to go by public transport, your itinerary will be Bandikui – Gooler – Chand Baori.
There are two ways you can go about it. Opposite the train station in Bandikui, there is a shared jeep station. You can take one that goes in the direction of Sikandra till Gooler. It will cost you 15 INR and take roughly 15 minutes.
You can also wait for the minibus which goes every 20-30 minutes. It will cost you 10 INR and take also 15 minutes to reach. From Gooler you can take either a personal auto (100 INR return trip) or shared one (10 INR one way) to Chand Baori.
Other useful info to visit Chand Baori
There is no entrance fee to the temple and step well. Donations are accepted in the temple.
Best time to visit Chand Baori is October to March like any other place in Rajasthan. This state gets really hot during summers (it's in the desert, remember?).
If you are planning to visit the temple – cover your shoulders and knees. Though it's a tourist site which is less strict towards the dress code of the visitors, shorts and tops wouldn't be appropriate.
There is no charge for photography and some symbolic fee (25 INR) if you want to film videos. Psst, foreigners, come here before there will appear 200 INR tickets.
Once you reach Chand Baori, a few people might approach you both outside and inside the complex to offer guiding services. They ask 100 INR per person. I didn't go with a guide, thus can't comment about this service. There is a brief history of the place on the placard near the entrance.
Thanks for reaching this far! I tried to make this post as explicit as possible. Hope you didn't get confused in the directions! If you know any other alternative ways to reach this step well, feel free to share!
Back to you – which is your favorite stepwell in India?