Nubra Valley still remains one of the most underexplored areas of Ladakh. Though tourism developed recently there with the shifting of the line of control beyond Turtuk village, tourists are yet to explore the beauty of Nubra.
Unfortunately, Nubra Valley is often just a stopover for people visiting Khardung La (one of the highest motorable roads passes) and some get highly disappointed that they can't do it as a day trip from Leh. As a result, some people stop in Hunder, the Desert of Ladakh, for the night and head back to Leh next day. But there are many more interesting things to do in Nubra Valley.
In this post, I'd like to give you a general overview of Nubra Valley as a destination, suggested itinerary, internet availability, connectivity and other useful details to help you plan your trip.
Best time to visit Nubra Valley
Nubra Valley altitude and acclimatization
Permit for Nubra Valley
Places to visit in Nubra valley and itinerary
How to reach Nubra Valley from Leh?
Accommodation in Nubra Valley
ATM in Nubra Valley
Phone calls and Internet in Nubra Valley
Other useful tips
Best time to visit Nubra Valley
Best time to visit Nubra Valley is from mid-May to mid-September. During these months the weather is pleasant (in the context of high-altitude mountains).
The valley blossoms in spring with numerous apricot orchards. If you come during the summer months, there will be fresh fruits and vegetables almost in every garden.
I don't recommend comparing the temperature in Nubra Valley you see online to other places in India. On a cloudy day with a strong wind (even if it's +15 outside), you will be waiting to reach your guesthouse and hide under the pile of blankets. 
There are some pictures of people in T-shirts or light shirts in Khardung La on the snowy background. Personally, I do not know the time when you can feel comfortable wearing light clothes in the area (beyond Insta, YOLO and other similar scopes. I promise, you will not regret down the line if you prioritize HEALTH first). I strongly recommend packing warm clothes and some wind protection even if you plan a trip to Nubra Valley in Summer. 
If you are looking for better deals, you can visit Nubra in a low season – mid-April to the end of May, September to mid-October. Despite less touristy feel, the weather during these months will be quite chilling.
Outside of summer months, the weather in Nubra Valley is uncomfortable to extreme cold.  When it snows, Khardung La Pass is closed – as a rule, from November to April, making it impossible to reach Nubra Valley by land.
Read also: Best time to visit India – a guide to Indian seasons
Nubra Valley altitude and acclimatization
Many people underestimate the importance of acclimatization in the mountains and it ends up spoiling their vacation. Everyone is limited in time, but don't let it impact your health. On my way to Nubra Valley, I saw three people vomiting at the highway. It was not because of bad food, but the AMS symptom.
This info doesn't have the goal to scare you. Most probably you will not feel any mountains effect if you do proper acclimatization.
In a nutshell, it doesn't matter whether you come to Leh by flight or by road. If you come by flight, you'll need to spend 3-4 days with a light head to adapt to the altitude. You can spend the same time, by gradually gaining altitude on the road.
The average altitude of Nubra Valley is 3050m or 10000 ft. It's much lower than the city of Leh. But: to reach Nubra Valley, you need to pass the almighty Khardung La which is one of the highest motorable roads in the world. The journey is quite tiring, thus I recommend starting it in good health!
Nubra Valley Permit
You need a Protected Area Permit (PAP) to visit Nubra Valley. I've seen several sources online, telling that Indians don't need permits, but I'm yet to meet an Indian who crossed the check-post without one. An exception is people with residence in Jammu&Kashmir state.
If you are a foreigner, you can only get a permit in the tourist agency in Leh. All you need to provide them is your passport. The agencies charge from 600 INR to 1000 INR which include the cost of the permit and commission. The maximum duration of a foreigner permit is one week.
Indians can apply for the permit by themselves in the DM office (opposite to J&K Bank on Fort Road). There is an application form which you need to fill online. The permit for Indians costs 550 INR for one week, but Indian citizens can be allowed to get a permit with a validity of up to 3 months. There is a daily environmental fee (20 INR), so the final cost of the permit depends on its duration.
Indians who want to avoid the queues and documentation can opt for a travel agency service for 700 INR. In this case, only Aadhar or other identity card is required.
Solo traveler permit in Ladakh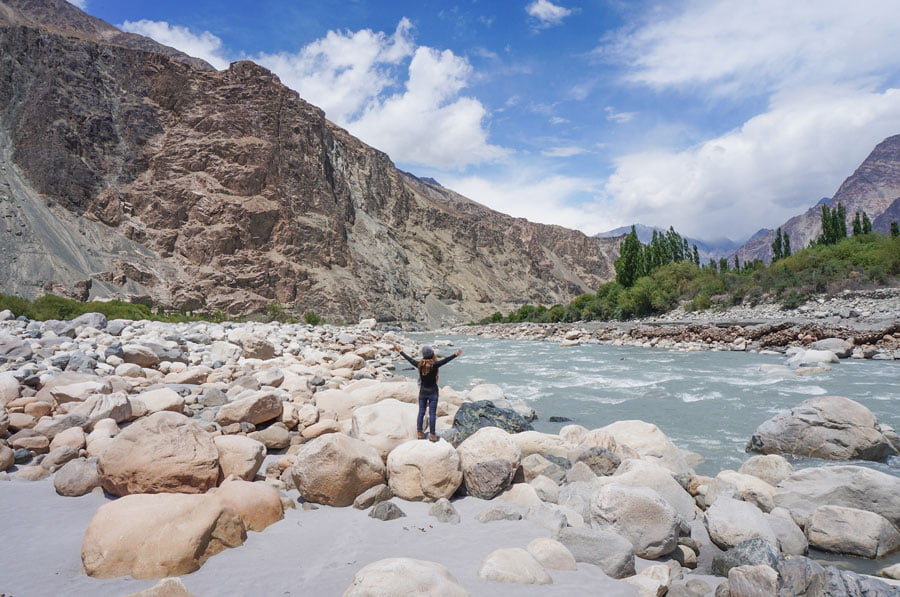 Dear foreigners, you can't travel solo (on papers) to protected areas. Indians can travel solo – lucky you! I was visiting Nubra Valley during the low season, so it took me three days to find another foreigner to make a permit. If you are there during high season, it shouldn't be a problem to find someone faster. Some of the things I did might sound weird, but they eventually worked out.
I visited the top 4 hostels in the central area and talked to the foreigners there and left my contacts at the reception.
The biggest agencies are in the area of Fort Road. I visited seven of them and left my contacts there as well.
I was trying my luck with foreigners who were sitting alone in the cafes or roaming on the streets. (One of the biggest challenges of my life – go introverts!) I did eventually found two foreigners who were heading to Pangong lake a few days later.
Note: It doesn't matter to which protected area of Ladakh you are heading. There are agencies who will make permits for all the areas you need for the same price.
Important note: Make two photocopies of your permit and keep original with you. You will need to submit a copy at South Pullu – a check-post before Khardung La.
Places to visit in Nubra Valley and itinerary
If you really want to explore Nubra Valley beyond getting your photograph clicked at Khardung La, I recommend reserving minimum 4 days for this trip. Here are some of the highlights you can consider adding to your itinerary:
Diskit – a gateway to Nubra Valley
You will cross Diskit a few times irrespective of your itinerary as this is the main town in Nubra Valley. Beyond its administrative role, you can find a few tourist sites: one of the famous Buddhist Monasteries of Ladakh region is here and a huge statue of Maitreya Buddha. I recommend staying one day in the town if you would like to get a feel of the place.
Read more: An introduction guide to Diskit
Hunder – sand dunes in the mountains
Hunder is by far the most famous and touristy place of Nubra Valley due to Bactrian double hump camels that can be found only in this area and Hunder sand dunes surrounded by mountains. There is also a Buddhist monastery, but the whole tourist attention has been taken by desert itself.
Turtuk – the Northernmost village in India
Turtuk – a village with a complex and diverse history. Here you will meet people who look Kashmiri, Ladakhi, Balti, Central Asian and other interesting mixtures. You can meet people whose ancestors lived on the same land and houses for hundreds of years. Beyond cultural and historical aspect, the village can boast with picturesque views and apricot orchards all over the territory!
Read: Why I recommend staying in Turtuk over a day trip?
Sumur & Panamik – a lake and hot springs
Panamik is another popular tourist town due to the hot springs. From Panamik you can hike as well to Yarab Tso lake. Sumur's famous site is a Buddhist monastery. There are also ruins of a palace, where the kings used to live (it is believed so).
Overall, if you spend a day in each of the places mentioned above, you will need around 4-5 days for Nubra Valley sightseeing together with the road. If you have less time, choose according to your interests!
How to reach from Leh to Nubra Valley?
The road from Leh to Nubra Valley leads through Khardung La Pass. You can opt for a bus, shared jeep service or your personal vehicle if you are on a road trip. The distance between Leh and Diskit is 116 km, though upper parts of the road near the pass are not in the good condition, and you will usually find traffic jam at the Pass. These two factors increase the length of the journey by a few hours.
As a rule, it takes 6-8 hours to reach from Leh to Diskit (main city). During the tourist season, there are daily buses going from Leh Bus Stand (near Polo Ground) to Diskit at 7.30 am sharp. The ticket costs 250 INR.
Alternatively, there are shared jeeps that leave from the same area near the Polo Ground. They charge 400 INR, but they leave once all the seats get filled. Try to start early from Leh (before 8 a.m.) to avoid crowds and traffic jam at Khardung La Pass.
The overall route from Leh to Nubra is the following: Leh – South Pullu – Khardung La – North Pullu – Khardung Village – Khalsar (here is a split of the road to Warshi and Turtuk. If you come by public transport, you will go to Diskit in Turtuk direction) – Diskit.
The vehicles usually make a stop mid-way in the village of Khardung – a short drive after Khardung La Pass. You can grab some basic snacks and food there.
Accommodation in Nubra Valley – where to stay?
With tourism development, there are new accommodation options appearing every year. You can find in Nubra Valley hotels, homestays,  luxury guesthouses that fit different budgets.
As of now, I haven't heard about any hostels in the whole valley. If you are a solo budget traveler, your best bet is finding a homestay. You can get them within the range 300 – 800 INR per night.
It is a way better decision to group up in Leh with fellow travelers and find better deals together. Here are some options for two/or more people:
Budget stay in Nubra Valley  (<1500 INR/night per room)
Mostly, these options will not be available online and you will need to talk to the local families on spot.
Diskit: Sonam Guesthouse – I was staying here and can't recommend this family enough with whole my heart! They truly created a homey atmosphere with common dinner, evening gatherings in the living room, garden, and conversations about the valley and beyond.
Turtuk: Ashoor Guesthouse – a lovely and helpful host. If you are a foreigner, this is a great opportunity to talk about anything and everything about the local lifestyle and culture in English with Mr.Ibrahim.
Hunder: You will find many accommodation options in Hunder as this is the most tourist spot in Nubra valley. Personally, I haven't stayed here as I've chosen less popular areas according to my interests.
If you decide to stop in Hunder for the night, I recommend the main part of the village if you like quiet and more local ambiance. Goba Guesthouse is the option to look into – check out their prices and reviews.   
Mid-Range stay in Nubra Valley (1500 – 3000 INR)
Goba Guest House | Olgok Guest House | Lotus Eco Resort
These online options are in Hunder since it's more developed as a destination. In my destination posts about Nubra Valley (Diskit | Turtuk), I mentioned the names or contacts of places I found. If you would like to connect to them personally beyond online platforms, check them out directly.
Splurge (3000 + INR/per room)
There are numerous tents and villas you can find online as well as on spot in the villages. Nevertheless, I couldn't find enough reviews and feedbacks to recommend something in this category.
Phone calls and Internet in Nubra Valley
As of now, your best bet for phone calls in the area is BSNL. That's the network local people are using in Nubra Valley. My Airtel connection disappeared just after crossing Khardung La.
There are several ways to get internet in the valley, but most of them are in Diskit or Hunder at the most. There is an internet café in Diskit at a distance of 5-minute walk from the bus stand. It is also close to the ATM.
Alternatively, you can take one of the guesthouses/homestays that have an internet connection. Consider, that electricity is available in Nubra only from 7 pm to 11 pm daily. Out of these hours, you might not get internet unless the house has a generator to supply the electricity in off hours.
Also, during storms and strong winds, there will not be internet anywhere no matter what guesthouse owners will tell you.
If you are planning extensive travel in India, I've written also a comprehensive post about getting a SIM Card in India in different states and situations.  
ATM in Nubra Valley
There are two functioning ATMs in Nubra Valley. One is near the military camp in Pratapgar, another is in Diskit. I checked the ATM in Diskit (coordinates: 34.550542, 77.54622), and it had cash. Nevertheless, I strongly recommend taking the required amount of cash from Leh and keeping these ATMs for an emergency.
Petrol Pump in Nubra Valley
There is a hand operated petrol pump in Diskit. According to local people, it's functioning. Same as with ATM, I recommend getting enough fuel from Leh and use this one only in case of emergency.
Other useful Nubra valley travel tips
If your next destination is Pangong Tso, you don't need to come back to Leh, but can make a way through Shyok(village).
Nubra Valley is clean and every village has a certain initiative to maintain it. I strongly encourage to eat local fruits instead of snacks and take a reusable water bottle. In many places, you can refill water just from the source.
According to local people, the original name of Nubra Valley was "Ldumra" which means the valley of flowers. Despite the region is surrounded by dry mountains, most of the families hold farms and gardens.
I hope this post gave you a good overview of Nubra Valley in Ladakh and a base to start planning your trip!