If you are into architecture and history and plan to visit Bangladesh, your best bet will be Western Bangladesh, where is the highest concentration of heritage places. Another destination for architecture lovers is Sonargaon – the medieval capital of Bengol, but let's leave it for a different story.
Today, I'd like to talk more about Rajshahi division specifically and day trips you can take around – Puthia temple Complex and Natore palaces. You can visit both towns within one day and, from my experience, I recommend planning the itinerary in the following way: Rajshahi – Puthia – Natore – Rajshahi.
Though many tour agencies will suggest taking cars for this trip, there are good intercity buses connecting these towns. Here are the specific points I will focus on:
How to reach Puthia from Rajshahi?
What to do in Puthia?
How to reach Natore from Puthia?
What to do in Natore?
How to reach Rajshashi from Natore?
Where to stay?
Last tips
How to reach Puthia from Rajshahi?
You can catch a bus from Rajshahi to Puthia and Natore from the Station Road at Bhandra bus stop here: 24.374826, 88.621958. There will be plenty of buses (of course all in Bangla), but people will be going out of their way to help you and point at the right bus.
It takes roughly 40 minutes to reach Puthia by bus and you need to pay to the driver 30 Taka. The bus will drop you at Puthia Bus Stand. From there you can take a shared e-plank (if I may call it so) for 10 Taka till the Temple Complex. It's very convenient that all touristy points are focused in one area. Just communicate the plank driver you are going to the temples and he will drop you at the beginning of the complex.
Places to visit in Puthia
Puthia, also known as the town of temples, has the highest number of Hindu heritage sites in Bangladesh. The temples were built by Puthia Raj Family after the 16th century. This family was known for their philanthropic activities.
Historically the area of West Bangladesh, as well as some places in West Bengal in India, have numerous terracotta temples which are masterpieces in themselves. If you love details, it's possible to explore the temple designs for hours since there are so many different carvings on the bricks.
After Indian subcontinent partition in 1947 because of the religious factor, Puthia became part of East Pakistan then (nowadays Bangladesh). In those days, due to political riots and disorder, many properties were confiscated. That forced the royal family to migrate to India.
Nowadays, some of the temples are closed behind the fence, nevertheless, you just need to ask local citizens and they will call the guard to open it for visitors. You can also notice, that there are several canals in Puthia – they were built by the Raj family to protect the town.
Puthia temple complex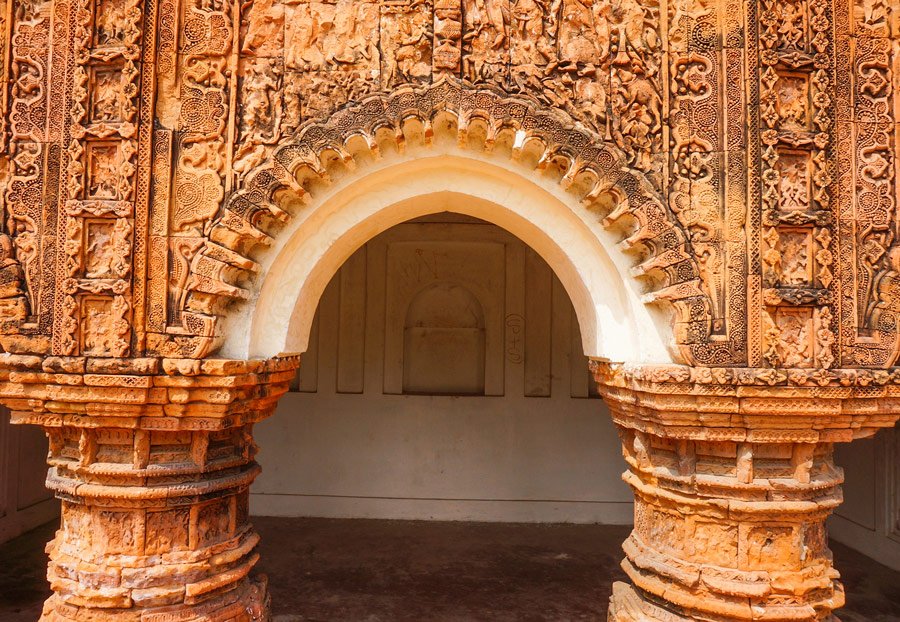 If you have a FOMO (Fear of Missing Out) syndrome because of the number of places mentioned below – don't. All the temples are situated in the same area and you will not miss any of them:
Boro Gobinda Temple (Pancharatna)
Chotto Gobinda Temple
Jaganath temple
Bhubaneshwar Shiva Temple
Dol Temple
Bara Ahnik Mandir
Chotto Annik temple
Puthia Rajbari (Palace)
It is a palace situated within the heritage complex. Despite the jaw-dropping architecture and details, it is in a poor condition. Although there are visible restoration works from the front façade, at the backyard, you can still see some missing structures and no proper maintenance. Currently, parts of the palace are used as a college.
How much time to spend in Puthia?
Despite I've mentioned so many sites it took me around two hours to explore the temple complex and the ruins. This time doesn't include food breaks or transport. It might take you less time if you are not into details, photography and climbing weird corridors for the view.
How to reach Natore from Puthia?
Natore is another heritage town in Rajshahi division. Bangladesh can win the prize for the diversity of transport and Puthia is one of the examples. All the transport options will be available from Puthia bus stand (24.371469, 88.841333) where the driver from Rajshahi must have dropped you. You can again take a shared plank from the temple complex (10 Taka) till Puthia bus stop. From there you can take a bus till Natore – they go on an hourly basis.
There is also a shared open van option, which I would recommend. They leave more frequently and move faster due to smaller than the bus size. It takes 30 minutes to reach from Puthia to Natore and the ticket costs 20 taka.
Tell the driver you go to Natore Rajbari – people don't understand palace and some drivers will not even know Raj Bari. If you are lucky with the driver, he will drop you at the intersection very close to the palace. Otherwise, he will drop you at the regular bus stop, from where you can take e-cycle for 20 taka till the palace.
Places to visit in Natore
Natore is mainly known for its Rajbari (palace), where the Royal family used to reside. There is a huge area with several ruins and a few ponds. Unfortunately, it has been getting plenty of irresponsible tourists and due to its scenic surrounding, part of it has been transformed into the picnic spot. Some areas are quite dirty and sometimes you will encounter drawings on the buildings.
It is visible that the main gate has been recently restored and there is currently some restoration work happening in some of the buildings. As I've mentioned in one of the posts, Bangladesh is on an initial stage of tourism development, so it will take time for Government to take proper control over the tourist places and develop the culture of respecting heritage sites.
You can reach Natore Royal Palace on e-cycle from the bus stop. The ride will cost you 20-30 taka depending on the type of the cycle. The entry fee to Rajbari is 20 taka for everyone. Overall, you will spend around one hour there.
I believe this place can become a hit for architecture lovers, once it is brushed up and there are proper fines for littering.
How to reach Rajshahi from Natore?
There are buses every hour leaving from the bus stop in Natore to Rajshahi. The journey takes 1.5 hour if you are traveling in the evening – mainly because of the traffic in Rajshahi and several bus stops in the city. The ticket costs 50 taka and you can either pay money to the driver or buy a ticket from the table outside. The bus stop in Natore is here – 24.41276, 88.996543.
Where to stay?
I talked to local Bangladeshis in both Puthia and Natore during exploring the towns. I honestly would recommend staying in Rajshahi. I've had a meal in a Dhaba (street type café) in Puthia and the owner told he owns a hotel in the area and offered me to stay there if needed. Nevertheless, that looked to me like a family extra room homestay.
There are many more options in Natore since it's a bigger town and there are also several trains that connect Dhaka to Natore, though my recommendation stays the same – of staying in Rajshahi.
Rajshahi is a big city with multiple accommodation options for any budget. The city is well connected by rail and road to Dhaka, Khulna and other major destinations in Bangladesh making traveling easier. Plus it is within one hour from Puthia and Natore which cuts traveling time.
Last tips
Try to start your day no later than 9 a.m. if you plan to move by public transport. You will need some buffer time to understand how things work unless you speak Bangla and are familiar with traveling in Bangladesh.
Book the tickets to your next destination only after you clarify with accommodation in Rajshahi. Usually (except holidays), it's possible to find tickets for bus and even some trains next day itself.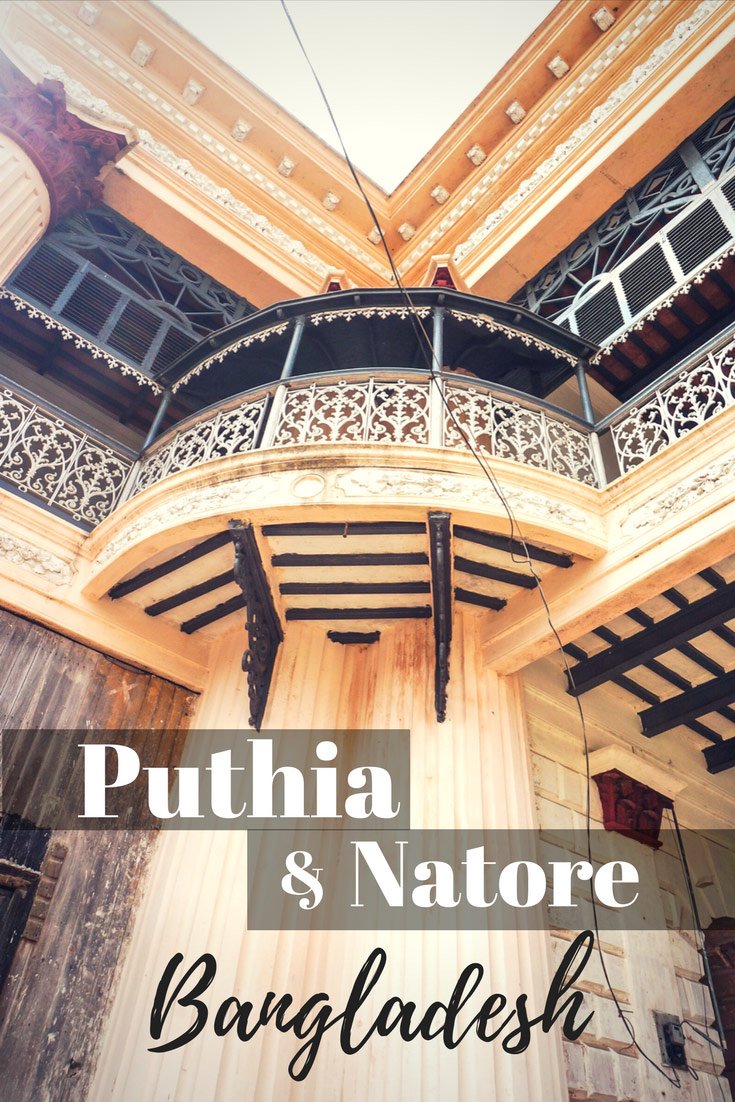 Both you and I know there is a scarcity of information about traveling in Bangladesh. If you have any questions about this trip, feel free to drop a comment or a feedback on your experience afterward! I'm always happy to hear from you)