India is a very photogenic country! You can find interesting visual content just everywhere, though Munnar woke up a perfectionist in me long time dormant in the organized chaos around. It feels so satisfying to photograph tea that I ended up with 200+ clicks of plantations only, but wait, there are also hills and other stuff I'm willing to share. In this post, I will be focusing on practical tips to give you an overview of this destination from my experience and help you plan a trip to Munnar.  Here are the specific questions I will talk about in this post:
Best time to visit Munnar
How to reach Munnar from Kochi and Ernakulam?
How many days to spend in Munnar?
Where to stay in Munnar?
Cafes I liked in Old Munnar
Getting around Munnar – by public/private transport
Two days in Munnar – what to do?
Tea factory visit – is it worth it?
What to bring from Munnar as a souvenir?
Best time to visit Munnar

Munnar is mainly a natural destination, where you can explore the perfectly grown tea plantations, trek in the Western Ghats and enjoy beautiful hill views.
According to local people, the best time to visit Munnar is from September to May. I would say January is uncomfortable at night. I was sleeping in a hoody, sleeping bag (for +15 degrees) and under a warm blanket. During the daytime, it's quite hot in any month of the year.
How to reach Munnar from Kochi and Ernakulam?
Travelers go to Munnar from Ernakulam or Kochi as a rule, due to good transport connectivity. Plus, Ernakulam is usually the first point of arrival to Kerala for many people.
There is a bus going from Fort Kochi Bus Station (Near Chinese Fishing Nets) to Munnar at 7.30 a.m. daily. It's an AC bus and the ticket costs 300 INR. Considering some buses in Kerala have the habit to leave 5-10 min earlier, I would recommend showing up 20 min in advance at the station.
Alternatively, you can take a bus from Ernakulam. For that, you need to catch a ferry from Kochi to Ernakulam. There are regular ferries starting with 5 a.m. It will cost you 4 INR. Advice for guys: make deals with ladies for ticket buying. There are two queues here for some reason and of course, ladies' queue is X times faster. Everyone is allowed to buy up to 3 tickets.
Once you arrive in Ernakulam, there is a bus stand 1.5 km away from the ferry station. The auto will charge you 50 INR to reach there.
In Ernakulam, there are regular buses (every 40 min – 1 hour). You can check the schedule on official Kerala Bus Service website. The AC bus costs 250 INR and non-AC bus 99 INR. The journey takes around 4.5 hours.
Practical tip: In Non-AC buses, there are no glass windows. Though there are shutters, you can close only yours and there will be wind circulating around the bus. It was freezing going by bus around 9 am in January in the hills. Dress accordingly. Other months are warmer according to the local people. BUT: if you travel after 11 a.m. you feel like burning in the bus.
You can also go by bike, though I wouldn't recommend doing so unless you are a confident driver. There is a serpentine road to Munnar and I would describe the driving style in India as extreme.
How many days to spend in Munnar?
Munnar is a destination where you can relax and be with nature. There is no specific time limit for that. I would recommend not less than two full days – this will be just enough to get a general feel of the hill station and visit main attractions.
I've spent three days in Munnar. One of my friends planned initially two days, but he liked it so much that he decided to stay for one week.
Where to stay in Munnar?
The hill station is divided into two parts: Old Munnar and Munnar town. Munnar town is a happening area with all the shops, markets, cafes, guest houses, schools. I've been to this part of the town several times and it was always very noisy and jammed. Moreover, it almost doesn't have a pedestrian area which makes walking around not that enjoyable.
I definitely recommend visiting Munnar town, though I'm happy I've chosen to stay in Old Munnar because I was looking for a quiet place surrounded by nature. It's more expensive than Munnar town, though, in my opinion, it's the best value for money.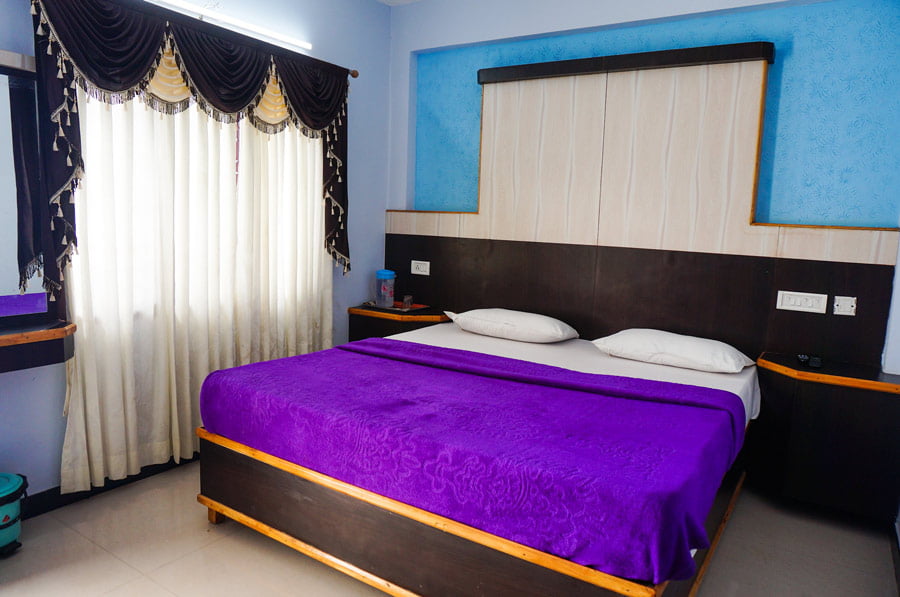 I've rented a room with friends for 1200 INR (~20 USD) per night in Hill Crest. It was overlooking tea hills from the balcony. As a hill area, Munnar is a bit more expensive in terms of food & lodging than other tourist places in Kerala. The guest house workers were helpful with questions and requests.
To sum up, if you are looking for budget options and happening area – choose Munnar town. If you want a quiet stay far from honking and close to tea plantations, choose Old Munnar.
Where to eat in Old Munnar?
As I was staying in Old Munnar, I was mainly eating there. From the cafes I've explored, I can recommend SM Restaurant, Kurinji Café and Bakery, Taste the Brews. First two are mid-budget range restaurants. They make good lunches and dinners. An average price per meal per person is 150-200 INR. Taste the Brews is a Western-style bakery/café. They serve nice breakfasts and teas.
There are plenty of local cafes in Old Munnar. They have a nice tea. I've checked out three of them. Food is ok, though they don't save on chilies to keep you hot :). I've spent around 60 INR for breakfast there.
Getting around Munnar
Depending on your budget, you can rent a bike, auto rickshaw, go by car or move around on the state bus.
The common price for hiring an autorickshaw for the day is 600-800 INR. They have a printed program with places for different days. Most of them will offer you a brochure with the following options:
Mattupetti direction: Rose Garden, Forest Honey Bee Hive, Photo Point, Elephant Park, Mattupetti Dam, Elephant arrival spot, shooting point, echo-point, Kundala Lake, Top Station.
Marayoor direction (in some local booklets Coimbatore direction): Tea museum, Nyamakad waterfalls, Eravikulam National Park, Anamudi Peak View, Luckom waterfalls, Sandalwood forest, Chinnar Wildlife Sanctuary.
Cochin direction: Blossom Park, Pothamedu View Point, Spice plantation visit, Attukad waterfalls, Dream Land Fun Park.
Thekkady direction: Lockhart Gap & Rock Cave, tea plantation view, Chinnakal Waterfalls, Anayirangal Dam view, Spice plantation view.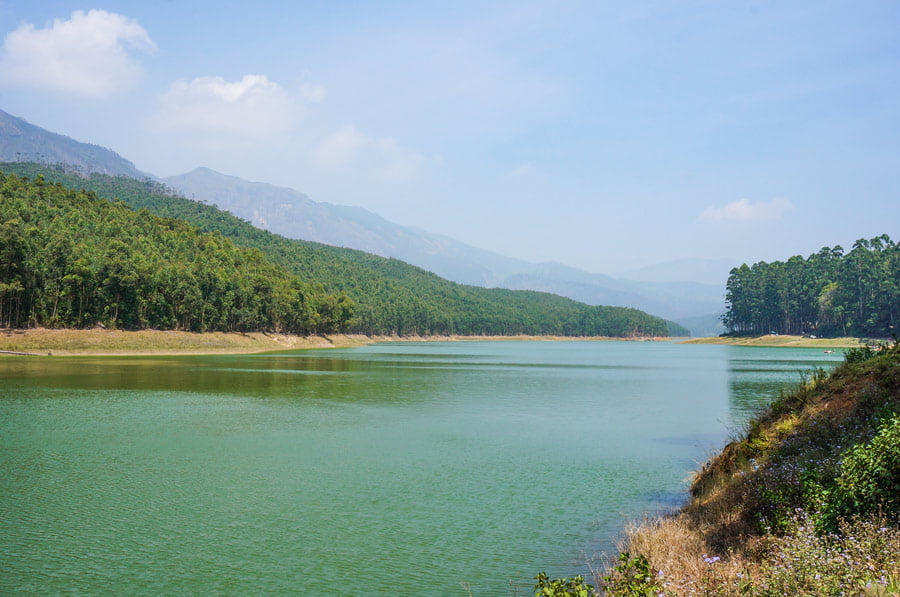 Each of the directions above takes almost the whole day unless you will just check out everything fastly.
You can rent a bike, though it is not a great idea in January at least. I thought I will freeze while going by local bus in the morning to the top station. To commute by bike you will require some special warm clothes and gear. I've seen only two people going by bike on the route to the Top Station. Cars are way more popular.
There are buses from Munnar town here (10.087195, 77.060969) to Top Station. They usually start at 9 a.m. and leave every 1-1.5 hour, though in Kerala buses might leave 5-10 min earlier. I had a few cases when I had to credit my European punctuality for coming earlier. The bus to Top Station costs 40 INR and reaches there within 1 – 1.5 hour.
You can travel from Old Munnar to Munnar town by bus. The ticket cost is 7 INR.
Two days in Munnar – what to do?
There are plenty of viewpoints and activities in and around Munnar that it's hard to prioritize them if you search on the websites like Tripadvisor. In fact, there are four main directions (see above) and all the points are situated on the way. From my experience I would advise:
Top station or Mattupetti direction – in my opinion, it's one of the highlights of Munnar. Located 35 kilometers away from Munnar town, the Top Station covers numerous natural sites – Echo Point, Mattupetti Dam, Kundala Lake, Tea plantations – you name it. Out of four directions mentioned above, I have prioritized this one as it has various points on the way – lakes, plantation views, tea factory, mountain views, etc. Plus it is easily accessible for a person traveling on any budget. It took me almost the whole day to explore this route given the fact that I've started at 9 a.m.
I recommend starting with Top Station and then covering everything else on the way back. The clouds start gathering after 10 a.m. People who came at 11 in the morning saw just viewpoints surrounded by clouds. The entrance to Top Station main viewpoint is 50 INR for foreigners and 25 INR for Indians. They have a dual pricing even here.
Munnar is also home to the highest peak in South India – Anamudi(2695m, 8842 ft). You can see it from Eravikulam National Park. It's a Coimbatore or Marayoor direction if you decide to take a tour. This was my second priority after Top Station, though I didn't make it to the park during this visit because of lack of time. The guest house manager advised reaching there early morning to avoid long queues. There is a whole sightseeing package to Marayoor direction which you can plan out in one day. Nevertheless, I've done a few other activities instead.
Trekking. Trekking is an eye-pleasing experience in mountains/hills and Munnar is no exception. Almost every guesthouse advertises trekking in Munnar. You will see plenty of tourist boards with contacts. The prices are common and some include meals and/or snacks:
Sunrise trekking – 600 INR
Soft trekking – 450 INR
Full Day trekking – 900 INR
I've stayed with a few people who took the sunrise trekking and they told that the guides share interesting insights about the history of tea plantations in Munnar, spices and overall about the area. They offer various popular and offbeat treks to the hills and hilly lakes.
I've done a half day trekking (~6 hours) with other travelers who have been to Munnar before. Whichever your budget is, I recommend trekking experience for the views!
To sum up: I would spend one day visiting different natural points in one of the four directions mentioned earlier. I have shared the logic behind choosing Mattupetti direction above. The second day I would go trekking in the hills, visit tea plantations & temples and explore Munnar town.
Explore Munnar town. This is the happening area of Munnar with different temples, shops, cafes and other interesting stuff. If you are a fan of the home-made stuff, you will find many interesting things here. If you are a sweet tooth, you will be surprised to discover hundreds of varieties of chocolates in the shops.
Can I visit tea plantations in Munnar?
Of course! That's one of the reasons you planned a trip here, no? Plus, photographing tea is so satisfying. BUT: most of the tea plantation area is private. There are signs where you are not supposed to go.
Nevertheless, there are several temples within the tea plantations. There are no signs there as it's not possible to forbid people going to the temple.
I wouldn't recommend going alone to the tea plantations. Firstly, you can get lost – it's an embarrassing argument, but it has happened to me. Secondly, on the way to the Top Station you see the boards asking to drive carefully as there are elephants and tigers in the area. Of course wild animals try to keep away from people as far as possible, but farmers living in the villages around top station told they spot animal foot prints sometimes in the morning.
Tea factory tour in Munnar – is it worth it?
There are numerous tea factories in Munnar. If this is your first visit to tea plantations, this experience can add an informative background to what you see around.
I've visited Ripple tea factory as I was traveling by bus and it was on the way to the Top Station. It was an interesting experience overall with its pluses and minuses.
What I liked about the tea tour:
The tour costs 100 INR and includes a guide for 2-3 people who explains in details the process of tea-making. You can literally see every stage through the big glass windows from the corridor.
They firstly show you a video (~8 min) with general introduction, statistics about tea plantations in Munnar, how it grows, etc.
You can ask the guides as many questions as you want
What I didn't like about the tour:
Pictures are not allowed – I'm a visual person and photography for me is a way to capture and remember information even when there are no words. It's also much easier to share my experience with you through specific examples.
Two types of tea for sampling – there was green and black tea – leaves and dust – 5 INR per cup. While in the shop were a few quite expensive teas I wouldn't dare to buy them as I really would like to know what I'm taking.
Please note, this is a feedback for a specific tour of Ripple Company. Other tours around Munnar might have other pluses and minuses. For instance, KNDP Tea museum has many good reviews.
What to bring from Munnar as a souvenir?
Tea – to be honest, I can't recommend specific tea from Munnar. I've sampled a few local teas and they felt usual for me. Maybe there is different tea for export. I got a gift abroad – tea "made in India" – that was wow! Since then I couldn't find a similar taste.
Coffee – this can be a topic apart. Despite being one of the states that grows coffee, you can find a good coffee in the cafes around. You can get good prices for green coffee though.
Chocolates – definitely! While all the shop shelves around India are filled with Cadbery, MARS and Nestle, there are hundreds of varieties of local chocolates in Munnar – fruit & nut, chili chocolates, white/black/milky – you name it. I've tried 8 varieties and loved them. I recommend buying them from the chocolate shops rather than universal street shops.
Spices – good choice! Most of the souvenir shops are filled with fresh spices which grow on the hills of Munnar. Many local companies in Munnar offer a tour through the hill of spices.
Home-made cosmetics – this is another popular product section in the shops. You can find face masks, shampoos, scrubs, essential oils and other natural products for decent prices. Evaluating their ingredients is not my expertise, though short term of validity might mean they are not that chemical.
What else?
Take warm clothes. It's a hill station that gets chilly at night especially in January.
Commute by transport between Old Munnar and Munnar town. There are no sidewalks as such that makes the road experience not that pleasant.
What about you? Have you been to Munnar? Would love to hear your experience in this hill station!