Dal Lake is one of the most breathtaking places in India. It covers a significant area of Srinagar and feels like a small town within the city itself. There are local families who live on the lake, rowing their personal boats and running their shops of all kinds from groceries to pashmina and saffron. All this makes Dal lake a very lively place when summers come to Kashmir Valley
Staying in a houseboat on the Dal Lake can be one of your most memorable experiences in India if you do it right. In this post, I will give you an overview of the houseboats in Srinagar as a whole, share my experience and other useful information to help you choose the right experience for you. Below are the questions I will focus upon.
What is a houseboat in Srinagar like?
Factors to consider while choosing a houseboat in Srinagar
Cheap houseboats in Srinagar
My houseboat experience
Places to visit in Dal Lake
Other useful information about houseboats in Srinagar
What is a houseboat in Srinagar like?
The houseboat, as a rule, looks like an apartment. Think of it as a combination of a hotel and a homestay. A houseboat has one to five bedrooms, a kitchenette, a bathroom with toilet (it can be attached to each room), a living (common) area and a small balcony overlooking the lake. I've seen a few houseboats with rooftops.
Interiors are usually inspired by Kashmiri style – woven carpets, wooden furniture, some bed and table covers are hand-made by artisans. Exteriors mostly represent meticulous woodwork done by local craftsmen.
According to my local sources (boatmen), there are 800 families living in the Dal Lake area and each family owns one or two boats. Since staying in a houseboat became one of the sought-after experiences in Srinagar, there are also companies and corporate structures that set up their boats as well. Many of the boats were made back in the 1900s.  Even though the lake is huge, there will be almost always a houseboat within your sight.
Factors to consider while choosing a houseboat in Srinagar
The houseboats in Srinagar are static. They stand on the lake and don't move. Unlike Kerala Backwaters where you have a chance to cross the large channels on the houseboat itself, the main transport through Dal Lake is Shikara (small boat with a roof) or a simple boat.
Location of the houseboat
Dal Lake is the most famous place to find a houseboat. Nevertheless, there are also options in Nigeen Lake and Jhelum River. I recommend crossing out the river options if you would like to be surrounded by water and scenic views.
Dal Lake is huge in size! While there are many houseboats near the main gates of the lake, it's a very hustle & bustle area with markets, shops, and the main road just within a sight reach. If you like loud and happening places, you will get the options for different budgets in this area.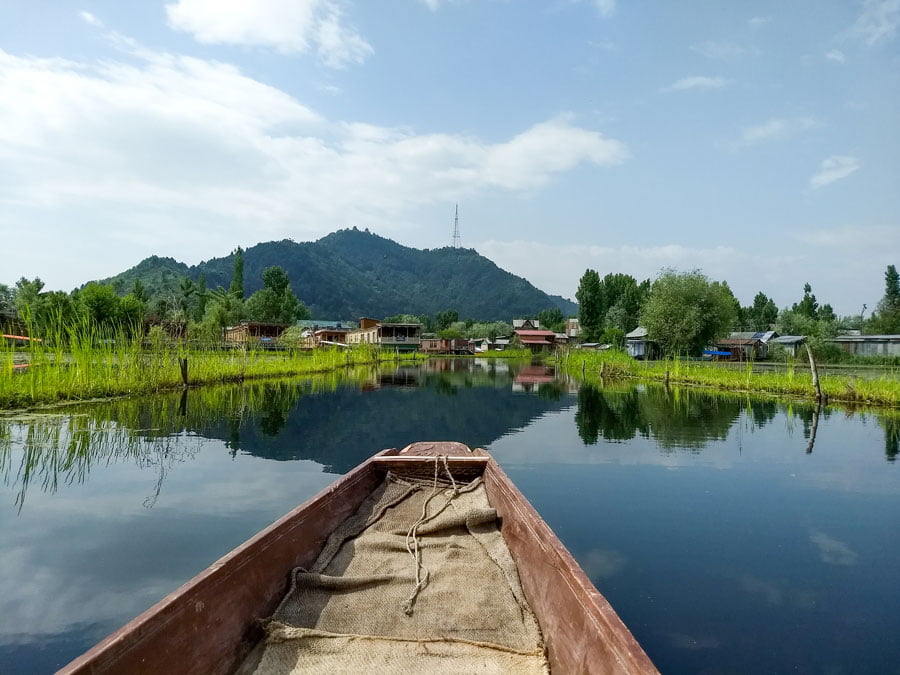 If you are looking for peace and privacy, search for the options inside the lanes of Dal Lake and a bit further from the main gates. Another alternative is Nigeen Lake, which is much smaller in size. It is connected to Dal Lake through canals.
Your location will also define your mobility as you will need to commute by boat or shikara to the houseboat. In some parts, boats are not available on spot, so you will need to plan your transport in advance.
Position of the houseboat
If you are choosing a houseboat for the scenic views, I recommend ensuring that the windows of your bedroom do not overlook other neighboring boats. The boats can be located with windows facing the lake & shore or in-between of other boats.
Type of the houseboat in Srinagar
There are different types of the boats (budget, mid-range, luxury) as well as the areas where they are parked. These are the two main factors which will define price. Usually, the houseboat rate in Srinagar ranges from 300 INR to 10000 INR per night. Do bargain for better deals.
There are also different sizes of the boat. If you are traveling with a big family, maybe it makes sense to book a boat with 3-4 bedrooms so everyone gets enough space. If you want privacy and peaceful experience choose boats with one or two rooms in less popular areas of the lake to minimize risks of noisy neighbors.
Also, some of the boats are owned by a family, while other by a company/group. If you would like more of a homestay feeling, do ensure that a family's house is in a close proximity to the boat.
You can read more about the prices and types of boats on the official website of Kashmir Houseboat Owner Association.
Food & Water
Is it available on the boat? How much does it cost? Is it vegetarian or non-vegetarian? As a rule, the houseboats that are located far from the shore provide food for the guests. In any case, I recommend double-checking this information before finalizing the deal.
Usually, each boat is located within a reach to a homestay, so the owners do supply drinking water to the guests.
Facilities at the houseboat
Ask if there is a constant electricity connection and hot water if you might need these (yes, it's too cold for cold showers in Kashmir). These don't come by default in all the places. There was one electricity cut for a few hours during my stay.
If you need to stay connected, talk about it to the houseboat owner in advance. Some areas of Dal Lake don't have internet in general, in some places I even caught a decent 3G connection.
What does a houseboat price include?
Even if you get a very attractive deal, ensure it doesn't include any hidden costs. Here is a list of questions I recommend looking through:
Is food included in the price? If yes, how many meals and what those meals include?
What about transportation? If a boat is far from the shore, is it your responsibility to find shikara for transportation or the owner will arrange/cover the costs of it?
Is any cultural program included? If the price for the houseboat is too high per day, sometimes it includes a shikara ride around the lake.
Is the internet available on the houseboat? If yes, does it come at an extra cost?
Read also: Do you usually tip for travel services? Read my take on tipping in India. 
My houseboat experience in Srinagar
I stayed in Good Faith houseboat. Like many other houseboats, it is not available online as of now. Here is its location (34.096486, 74.846449) in case you would like to check it out on Google maps.
Pluses of staying in Good Faith Houseboat:
View – I liked that from this houseboat I had a view of the lake and there were no other boats in front. In the main part of the Dal Lake, you will see the houseboats are docked next to each other, so you will have a view of someone else's boat from the bedroom.
Food – here I tried one of the best foods of Kashmir. It's so homey, healthy and tasty.
Caring owner – every few hours there was homemade Kashmiri Kahwa (traditional tea) on the table. In the morning Hamid was informing about the situation in the city and suggestions on where to go and not to go.
Minuses of staying in Good Faith Houseboat:
Commuting – it takes around 15-20 minutes to reach to the main road from the boat. If you go to Srinagar city twice a day, it's 1.5 hours of commuting. Yes, it's a scenic lake, but still.
Lack of flexibility – if you decide to go to the shop in the evening or leave early morning, you need to plan in advance. There are no ready available boats on spot, you need to call a boatman in advance if you want to go somewhere.
I paid 1000 INR per day including breakfast and dinner, but I've stayed a few days. The prices might vary depending on the season. Talk to Hamid directly if you are interested to stay, here is his mobile number: 096227 79208.
Looking for other unique experiences in Kashmir? Check out Aru Village.
Places to visit on Dal Lake
Srinagar has many breathtaking sites, so does the Dal Lake. If you decide to spend a night on a houseboat, don't miss exploring the lifestyle and the sites of this place. Here are a few of my favorite picks:
Char Chinar – it is a small island within the Dal lake. The way to this island is picturesque as well as the view from the island itself.
Shops on the water – there is a famous Dal Lake water market every morning around 6.30 a.m. Also, there are all types of shops available on the lake. Do visit some to explore the life on the water, though I wouldn't recommend shopping anything beyond grocery items. Most of Pashmina and souvenir shops target foreigners, so you can expect mostly tourist prices there. If you would like to buy souvenirs, I recommend checking the main market near Dal Gate and Old Srinagar.
Waterlily garden – during its season (June), you will see a huge area of the water covered with lily flowers. It is on the way to Char Chinar.
Other useful information about houseboats in Srinagar
Kashmir is a popular honeymoon destination and Dal Lake is promoted as one of the key attractions. Don't let marketing strategies confuse you. I've met quite a few solo travelers staying on Dal Lake because of the unique experience it offers.
One of the incomes of houseboat owners is organizing tours for travelers. A boat owner usually has a network of taxi drivers, shikara boatmen, guesthouses in neighboring towns, etc. Make your own research before booking anything. I found all these services quite costly. There is public transport going just anywhere in Kashmir, so if you are on a budget, ignore additional services offered by boat owners.
High season for Kashmir is April to June (before the monsoons) and September – October. If you travel in other times, you can expect discounted rates.
There are people who regularly clean tilt from the lake. In my opinion, Dal Lake is one of the best-maintained lakes in India.
Tourism is a livelihood for many people in Jammu&Kashmir. Despite all heartwarming hospitality you will encounter, beware of tourist agents/property owners who might have a stake in the choice of your itinerary. Take advice about Srinagar in Srinagar, but don't get trapped if some agents/homeowners will be advertising day trips from Srinagar to other towns & villages over staying there for some security issues. Usually, they do it to make you stay longer at their properties.
Don't leave your plastic in the boats on the lake. Take it with you back to the shore. That's what most of the local people on the lake do as well.
Hope this post will be helpful while choosing a houseboat in Srinagar. If you had this experience before, what other tips would you share?