Nepal is a country that left an immense impact on me – maybe that's why I'm on a mission to share my experience that might help other people to visit this country as well. Moreover, if you are starting your journey from North India, Nepal is easier to reach than you might think.
No doubts flight is one of the fastest and most convenient ways to get there. In addition to the direct flights from Delhi and Mumbai to Kathmandu, you can get connecting flights to these airports from all major cities in India: Varanasi, Jaipur, Lucknow, Indore, Bhopal and many others.
Nevertheless, flights might not be affordable for everyone budget wise. That's why this post is about a road trip to Nepal on a budget. I'll also share some tips and tourist scams you might meet on the way, so you can be all prepared!
Ways to reach from India to Nepal by road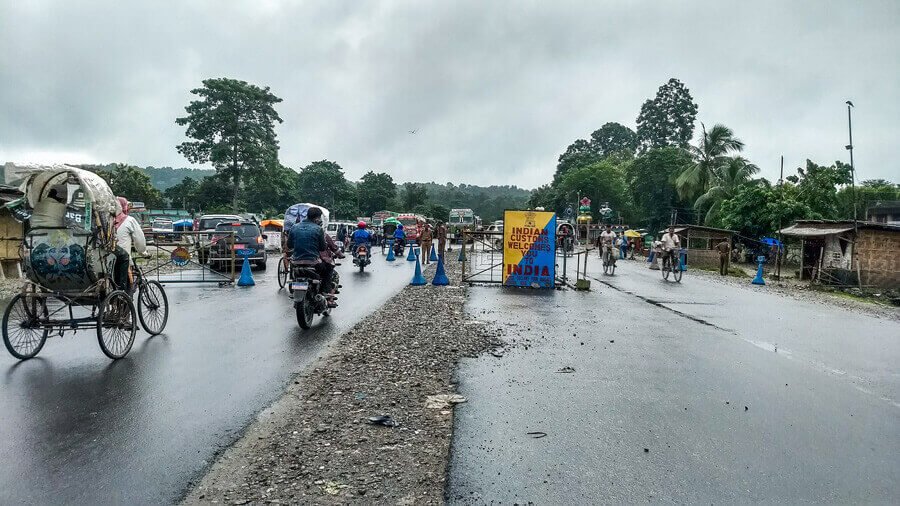 Nepal has numerous borders with India which you can cross. If you are a non-Indian citizen going by road, there are the following borders available for you:
Northeast India to Nepal via Karkarbhitta
Bihar to Nepal via Birgunj
Uttar Pradesh to Nepal via Sunauli or Nepalgunj
Uttrakhand to Nepal via Bhimdatta
Most of the tourists come through Sunauli or Birgunj border points. In this article, I will be mainly focusing on going from Uttar Pradesh and Delhi to Kathmandu.
India to Nepal by train
There is a project in progress that aims to connect East India to Kathmandu by train via Raxaul border. It is expected to launch within a few years.
As of now, if you wish to cover the maximum distance by train, the nearest railway station to Nepal from North-East India is Siliguri, from Bihar – Raxaul and from Uttar Pradesh – Gorakhpur. Nevertheless, it also matters which places you would like to visit in Nepal.
How to reach from Delhi to Nepal by road
If you prefer a direct route, there are two buses from Delhi to Kathmandu: Shina Tours AC and Non-AC seater buses. They cost 2700 INR (~42 USD) and 2275 INR(~35.5 USD) per person accordingly and both take around 30 hours to reach if on time.
For me, bus journeys longer than 10 hours sound like a challenge since there are moving restrictions and time limitations for stops.  If you are willing to commute by bus, I would suggest Varanasi – Kathmandu route, since it's almost twice faster and cheaper. There is a Kathmandu SEVA AC Volvo bus that takes 21 hours and costs 1500 INR (~23.5 USD).In addition to this, you will get to explore one of the most spiritual cities of India, Varanasi.
Note: You can find tickets at redbus.in or at the station.
Delhi to Nepal by train and bus via Sunauli border
There are several ways you can reach from Delhi to Nepal border, I will be talking about train + bus combination as I find it the most practical. Our itinerary will be the following: Delhi – Gorakhpur – Sunauli – Belahiya. Sunauli also happens to be one of the most popular borders.
Note: Belahiya is the name of the place in Nepal which is also mentioned on my Nepali visa. The border is also sometimes referred as Siddharthnagar (Bhairahawa), which is, in fact, the name of the district. I thought it's good if you know different names.
Dress tip: Sunauli is a very dusty town, where drivers play Bhojpuri clips in some buses. Dress more conservatively and practically.
Distance from Delhi to Nepal via Sunauli border
Though the nearest Nepal border from Delhi is Gadda Chauki (Bhimdatta), I would suggest rather choosing the route according to the places you wish to visit in Nepal. For instance, if you are planning to go to Pokhara, Kathmandu or Chitwan, it is much better to enter through Sunauli border. For Kathmandu, Birgunj is also a good choice. Overall the distance from Delhi to Nepal via Sunauli:
Delhi to Kathmandu distance – 1124 km
Delhi to Pokhara distance – 1049 km
Delhi to Sunauli border distance – 860 km
Overall, prepare to invest 20-30 hours in this journey.
Delhi to Gorakhpur by train or bus
From Delhi to Gorakhpur (Uttar Pradesh) you can reach by train. It starts from NDLS train station (the closest metro station is New Delhi, yellow line). I would suggest going with express train options, where the journey length is around 13 hours.It takes time to understand how to travel by train in India. You can book the train ticket through IRCTC or Cleartrip website/app. For IRCTC registration, you will require Indian or foreign mobile number and a card. Though I travel usually by sleeper, I recommend 3rd AC class if you are a solo woman new to India.
3rd AC costs around 1100 INR (~17 USD) depending on the train. There is a budget sleeper class (SC) option that comes around 400 INR, however, wouldn't suggest traveling in SC in East of India, especially if you are a solo woman.
Travel tip: I would advise booking train that reaches Gorakhpur between 6 am – 8 am in the morning. In this case, you will be able to reach Nepalese border by noon and take the bus to Pokhara/Kathmandu/Chitwan the same day. All the buses that start from Nepalese border after 3 pm, irrespective of the starting time, reach the final destination by 6 am next morning.
Tip for a woman traveler: If you need, use the washroom in the train before you exit in Gorakhpur. On the train station, women washrooms happen to be closed. I spent a good half an hour asking advice from several locals in Hindi about nearest washrooms. All of them were redirecting me to the station, where it was closed that day. I'm sure you will be able to find options in the city at a distance from the station, however, I don't think you would like to spend your time this way.
Food tip: there is a budget canteen just in the building of the train station, where I had food. It gave me credibility, because of the 3 factors:
Aunty cook was working in the cook hat and was surrounded by clean dishes
There were many people eating
There were foreigners (many foreigners are quite picky about the places to eat to avoid food issues)
I've ordered a great lunch: some fried sabji (vegetables), parantha (Indian bread) and lassi (sweet curd) and it all came for 40 INR (~ 0.60 $) or so. After Delhi prices, it seemed to be almost free.
There is also an option B: you can order your food through an APP like Travel Khana, which caters food from good city cafes to your train seat. They have cash on delivery option, however, you might require an Indian number to place your order.
Place your order at least 1 hour before reaching a certain train station and it will be delivered to you just in time. I've used their service several times. They track all the trains by PNR number and send you messages in case your train is delayed.
You can also reach from Delhi to Gorakhpur by bus. The ticket cost starts at 950 INR (~15 USD) and the journey is around 12-15 hours. Honestly, I don't recommend going by bus for many reasons. The main one is the roads in some parts of the east of Uttar Pradesh state, which your back will remember for a long time.
Gorakhpur to Sunauli border
From Gorakhpur train station till Nepalese border you will meet tens of people trying to sell you unnecessary services. Beware of scam! There are several ways to reach to Sunauli: Jeep, taxi, bus. I would suggest taking a simple public bus. They start every 30 min from the bus station which is 5 min walking distance from the train station. The distance from Gorakhpur to Sunauli border is 95km. The price of the ticket is 90 INR (~1.5 USD).  The journey is around 3-3.5 hours.
Travel tip: There will be people approaching you and selling tickets to a super comfortable bus with extra features that will take you directly to Nepal. Some of them are scam. You will not be able to avoid crossing the border. Moreover, after crossing the border you will get much better prices.
Crossing Sunauli border to Belahiya
These are just two border points, Indian and Nepalese accordingly. Once you reach the Indian border parking by bus, you will see plenty of cars, trucks, people, and dusty roads. There will be many rickshaw drivers that will try to capitalize on your confusion and offer you a ride directly to Nepal.
Some will tell, it's a 2-3 km distance and you might get lost on the road. They will ask 300 to 500 INR. Technically, they ask five times more than the cost of your 3-hr journey to Sunauli. In reality, there are around 500 meters to Indian passport checking office from the bus parking on a straight road. There is just one direction so there is no way, you will get lost. Thus, you can easily reach by foot. 
Travel tip: There will be several people approaching you to change money to Nepalese rupees for a super high commission. There are two ways of dealing with this issue: 1. Exchange money in Gorakhpur for a decent rate. 2. Take out money from ATM in Gorakhpur, 2000- 3000 INR (~30-45 USD) in 100 rupee notes or less. It will suffice till you reach some city in Nepal.
Note: After demonetization in India in November 2017, the new notes of 500 and 2000 INR were declared illegal in Nepal. You might use only small Indian notes in Nepal. Carry USD or ATM card to be on the safer side. Both will work in Nepal.Food tip: If you didn't grab food in Gorakhpur, avoid buying food in Sunauli. In one hour or so you will finish with the document check and you will have several good food options on Nepalese side. 
Nepal Travel Visa at the land border
If you are a foreigner in India on a business visa or you hold other recent long-term Indian visas in your passport, I strongly advise registering in FRRO in the city of your residence. At the Indian border point, officers might ask for registration. There are cases when foreigners travel every half a year to different countries of the Indian subcontinent to avoid registration. To escape unnecessary problems and delays at the Indian side of the border, register in advance, moreover, it's free.
Once you are done with passport check on the Indian border, walk around 200 meters till you reach the gate.
Belahiya (Nepal)
Just on the right of the road gates, you will see the passport checkpoint Nepalese visa is the smoothest experience I've ever had. You fill in the form on spot, select how long you wish to be in Nepal (2 weeks, 1 month, 2 months, 3 months), pay and get a stamp. Carry a passport size photo with you if you need a visa.
If you get a 1-month tourist visa, it can be extended in Nepal in Pokhara or Kathmandu for an additional price. As a rule, no one will challenge you with questions what you are going to visit, where you are going to stay, etc.
Tourism is a very important industry for Nepal, thus you will meet many people connected to the hospitality industry who will try to make your stay better. On the border you will hear from the officer a smiling "Welcome to Nepal" and you are free to go.
Visa tip: Carry with you US dollars (30 to 100 depending on the length of stay) to pay for Nepalese visa. If you are an Indian citizen, you don't require a visa to enter Nepal. You just have to carry a valid ID proof with you.
Note: Citizens of Nigeria, Ghana, Zimbabwe, Swaziland, Cameroon, Somalia, Liberia, Ethiopia, Iraq, Palestine, and Afghanistan need to apply for Nepali visa at their home countries as they can't be granted visa on arrival in Nepal.
There are 100 meters more from the border to the bus station with nice food options. In one of the cafes, I already had a tasty Nepalese dinner. They can also pack to go if you wish. In Nepal many people, in fact, everyone I met, speaks Hindi. English is not that spread among locals except the hospitality industry workers. If you have a basic Hindi knowledge, you are good to choose any offbeat route.
There is a big bus station at Bhairawa. Nevertheless, you will get offers from the bus station near the border for Chitwan/Pokhara/Kathmandu. I've taken a ticket for the local bus to Pokhara from the bus station near the border for 600 NPR (~6 USD). Excluding an odd stay in the bus from 12 am to 3.30 am in the middle of nowhere, it was a nice ride.
Roughly, my overall cost of the trip from Delhi to Pokhara by road was 1800 INR(~25 USD) excluding visa and food. This is the cheapest way to get to Nepal I might think of. At 5 a.m. in the morning, I was in Pokhara.
Welcome to Nepal! You will Love it!
A few experiences to consider in Nepal: