Uttar Pradesh is one of the underrated states in India from the touristic point of view. Agra keeps topping the popular list due to Taj Mahal and quite a few people move beyond to explore other cities of UP. Lucknow, also known as the Golden City of the East, is one of the oldest cities of India appointed as an Uttar Pradesh capital.
I accidentally happened to visit this city and fell in love with its history and architectural monuments. Somehow it represents a combination of old reflected in Imambara and Residency monuments and contemporary reflected in the atmosphere of Ambedkar Memorial. It was an unplanned one day trip to Lucknow with my host family.
If you are in the Eastern part of India and plan a trip to this city, here is a list of places to visit in Lucknow in one day.
Bara Imambara
Built by the ruler Asaf-Ud-Daula, this complex includes the main hall, mosque, labyrinth and bowli (an ancient step well with running water). Lucknow old constructions reflect Mughal architecture and style. Take an audio/real guide with you to get a deeper insight into each part of the complex.
Bara Imambara ticket price and timings:
Ticket cost: 50 INR – Indian, 500 INR – foreigner. This price comes as the package that includes several monuments. You can pay separately for each, though I think it's a nice deal.
Working hours: 6 AM – 6 PM
Duration: around one hour (suggested by most guides). It took me almost two hours: there are many corridors, breathtaking city views from the roof and other parts of the complex worth exploring.
Bara Imambara is one of the most impressive monuments I've visited in North India. A few hundred meters from it there is Rumi Darwaza. It is another architectural masterpiece that marks the beginning of the old city.
Traveling in Uttar Pradesh? Check out Sarnath – one of the most important Buddhist pilgrimage sites in the world. 
The Residency in Lucknow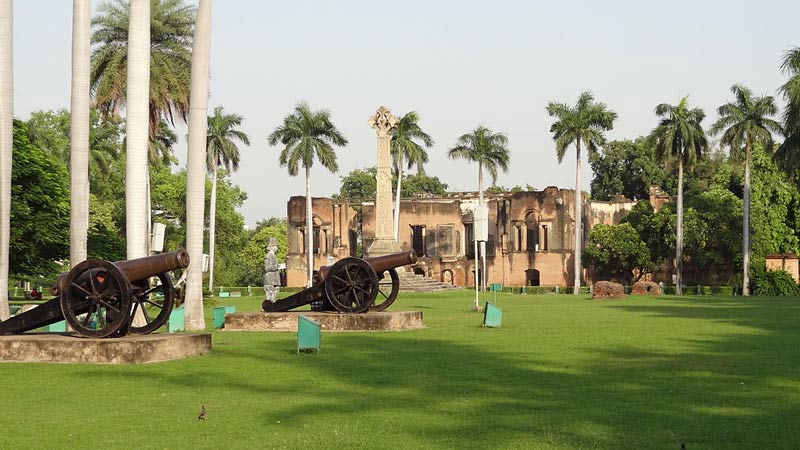 If you are a fan of ruins, this is a site for you. It's a historical monument dating back to 1770s when the capital shifted from Faizabad to Lucknow.  The residency was built to host British residents stationed in that area. The complex consists of several houses, banquet hall, mosque, museum, lawns and main building of residency itself.
Residency ticket price and timings:
Ticket cost: 15 INR for Indians, 300 INR for foreigners.
Working hours: 10 AM to 5 PM
Duration: 2 hours
Take a lunch break. Lucknow is a great destination for foodies, especially in non-vegetarian options: kebabs, kachoris, biryani, breads, combos – just think of an option. Don't forget to try local sweets and paan. You can find plenty of options in the area of Chowk Market.
Chowk Market
After lunch, you can make a visit to the Chowk market. It is one of the top places to shop in Lucknow whether you are looking for souvenirs or you would like to improve your bargaining skills. If you are a shopaholic, then you might need 2-3 hours to roam around.
I'm personally a great fan of local markets as they give a great feel of Indian buzz and culture. They teach you a lot about trade and human behavior.
Ambedkar Memorial
This is a grand monument dedicated to all those who have devoted their lives to social justice, equality and humanity. The entrance is guarded by 62 stone elephants that lead you to a huge walking area and a museum. I felt I could just sit and watch the site vies for hours. It's a very clean place filled with peaceful atmosphere.
I would suggest visiting it around 4-5 PM. In this case, you will catch the park view in the daylight and see the evening panorama with lights.
Ambedkar memorial ticket price and timings:
Ticket cost: 10 INR
Working hours: 11 AM to 8 PM
Remember that all the monuments have one day off that is Monday, as a rule.
Lucknow travel tips and resources:
Lucknow is a green city with many parks and green spaces. Even if you visit the famous architectural monuments, you will find green areas there as well.
Best time to visit Lucknow is from November till March. Besides this time frame, it's super hot. January nights are quite chilly. Read more details what is it like to travel in India in different seasons.
There are several Universities & colleges in Lucknow, hence the vibe of the city is dynamic. Despite people I met are nice and helpful, everyone dresses modestly (comparing to Mumbai or other coastal places in West India).  Check out my guide for what to wear in India to feel comfortable and culturally accepted.

PIN me 😉

Beyond metro (that has a limited scope), Lucknow public transport is quite confusing (for outsiders) and auto-wallas do charge often arm and leg if you are a foreigner. If you are traveling not alone, auto/taxi is the optimal way to commute and cover most of the places within one day. Check out Indian transportation guide and local companies that make commuting better.
If you have extra time, there is also Chota Imambara, Art Galery and Lucknow Railway station. This is one of the busiest stations in North India and it looks like a monument itself.
If you are game for shopping, Lucknow has a special area for both brand seekers and market fans – Hazratganj. It is located in the heart of the city.
Overall: If you are an architecture and history fan or a foodie willing to discover new tastes, you will love this city. If you have been to Lucknow, what other tips would you suggest?