Dzukou Valley is one of the gems in North-East India on the border of two states – Manipur and Nagaland. Despite it is a less explored area in India and there is a lack of information about this region, there is a huge scope for independent travelers to enjoy the untouched nature there. In this post, I will share with you how to do Dzukou Valley trek by yourself and here are the specific points I will focus on:
When to visit Dzukou Valley?
How many days Dzukou Valley trek takes?
Where to start Dzukou Valley trek?
How to reach Dzukou Valley from Kohima?
What are Dzukou Valley trails like?
Dzukou Valley trek from Viswema
Dzukou Valley accommodation
Food during the trek
Is it safe to trek Dzukou Valley solo?
Dzukou valley trek cost
Dzukou valley in winter
What to pack for Dzukou Valley trek?
When to visit Dzukou Valley?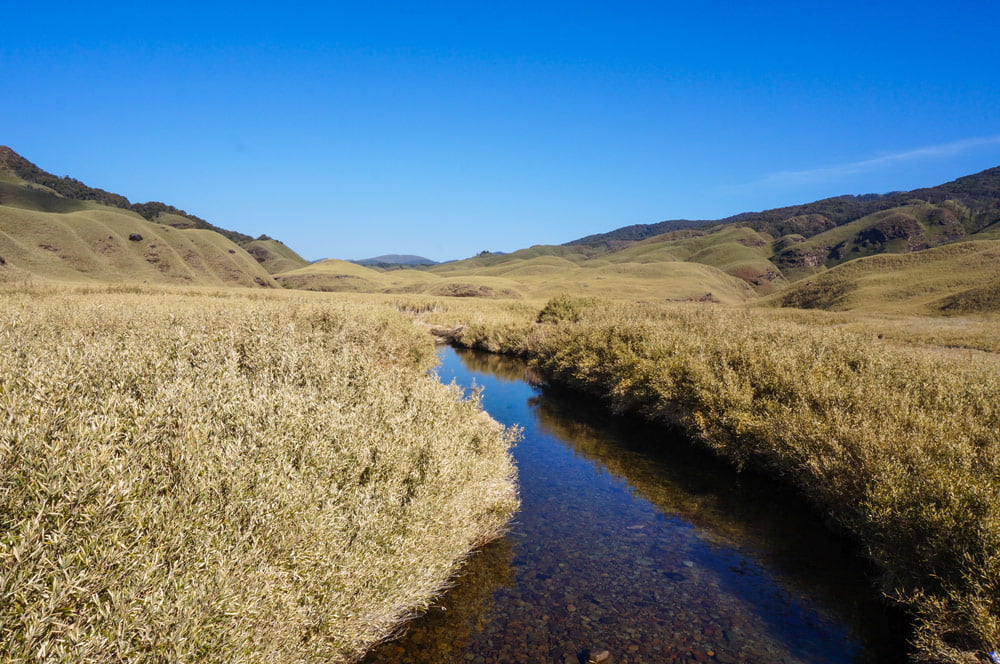 Dzukou Valley is also known as the Valley of Flowers of North-East. If you would like to see the flowers blossoming the best time to visit Dzukou Valley is from mid-June until August. There is a Dzukou lily that grows only in this area. Nevertheless, this time coincides with the monsoon season, so the trail will be slippery and you might encounter leeches.
The valley is a feast for eyes throughout the year. There are the travelers who trek Dzukou Valley in December after Nagaland famous Hornbill festival. Though winter is a low season to visit the valley, there are some definite pros to do so. We will look into Dzukou Valley in winters a bit later in the post.
Read also: Best time to visit India depending on itinerary
How many days is Dzukou Valley trek?
Dzukou valley trek is roughly 15-20 km one way, depending on the route and it can take 2-3 days. It is possible to reach Dzukou Valley on the first day. Meet the sunrise next morning and explore the valley – there are several streams, caves and of course picturesque views. On the third day, you can trek back from Dzukou Valley to the town. If you are fit and feel you can make 30 km in two days – it is tiring, but possible.
Though the altitude of Dzukou Valley is 2438m, you don't really feel any side effects of this gain (e.g. weakness) that normally comes with acclimatization in the hilly areas.
Where to start Dzukou Valley trek?
While there is a road to Dzukou Valley from Manipur from Senapati district, the main route to the valley is still from Nagaland. There are two villages in Nagaland you can start the trek from: Viswema and Zakhama (pronounced Jakhama). All the local people will recommend you starting from Viswema. I wouldn't call it an easy route, but even if trekking is not your thing, it's do-able without preparation.
There is also an important point – you have to reach Viswema or Zakhama from your base stay. There is one Airbnb homestay in Viswema which costs 33 EUR/night. I talked to several shopkeepers in Viswema, and they were not aware of any other accommodation options coming up in those villages.
There are several homestays in Kigwema village (5 km from Zakhama and 11 from Viswema). In my opinion, unless you don't stay in the villages where the trekking route starts, the most practical decision is to start from Kohima itself. Kohima is 15 km from Zakhama and 22.5 km from Viswema and there are plenty of accommodation options.
Side-note: do experience Naga villages, but take your time to explore the village beyond a brief stay.
How to reach Viswema and Zakhama from Kohima?
There are shared yellow sumos, that start from Kohima here (25.656408, 94.099104). If you start from any part of Kohima by bus, ask them to drop you at the AOC Bus Stand near petrol pump (25.653284, 94.099152). The cost from Kohima to Viswema is 50 INR and to Zakhama 40 INR.
Sumo cars leave once all seats are filled and the journey takes 40 min to 1 hour depending on the traffic. Roads are good. Tell the driver where you want to go as there are many sumos that cross Viswema and Zakhama on the way to the neighboring villages. Also, ask the driver to drop you at the start of the trek or near the entrance to Viswema Village.
What are Dzukou Valley trails like?
To be honest, whichever path you will take the road is quite monotonous till you enter the valley. Afterward, it's jaw-dropping, but the hardest and the longest climb is before the valley. Unlike Anapurna Circuit trek where you see breathtaking views all along the way, here you just have to make it through bad roads to see the hidden beauty.
Whether you start from Viswema or Zakhama, there are a few km of pebble car road that can kill your feet if you are not in the right footwear. Then there is a steep climb on stairs that reminded me the route to Sarangkot from Pokhara by foot. Afterward, you will enter the valley and will have a few km walk through the jungle surrounded by green hills.
Dzukou Valley from Viswema with time
There is different information about km length of the trek online. Unless you have an app, it's hard to estimate the length of the trail as it is not on google maps. I'm an average walker who does 5-10 min breaks every one hour of walk. Here is how much time it took me to climb to Dzukou Valley:
Pebble road – 2.5 hours walk. You can talk to local taxi to drop you till the stairs. The car will cost 1000 INR, but if you are traveling in a group, you can share the ride. Also, there is constantly some construction going on the road, so some cars are going up and down. You can try to hail/ask them for a lift for a better price.
Steep stairs – 1-hour climb. Some sources claim it's only 1 km, but the stairs are steep and you are already tired after walking on the car road, so this takes an effort.
Straight walk through the jungle – 1.5 hours. This is the easiest part, though sometimes the grass is so high that you can't see anything beyond.
Overall it takes 5 hours of a moderate walk with short hourly breaks. I started from Kohima quite late (~9 a.m. from the guest house, 10.45 a.m. Sumo station) with a thought to stay in Viswema or around.
Once I reached Viswema, all the locals were very confident that I'm gonna make it and suggested to go to Dzukou same day. I started trek at 11.30 a.m and reached to the guest house at 4.15 p.m. By 5 p.m. it became pitch dark.
I recommend starting from your guesthouse in Kohima no later than 8 a.m. and if your budget permits, take a taxi to the Sumo stand from the guesthouse. It took me quite a lot of time to go to the bus station, wait for the bus, walk to the AOC stand before I started the journey to Viswema.
Once you are in the guest house in Dzukou valley, you can plan a visit to the valley next morning. It takes around 45 minutes to descend to the valley and 1.5 hours to climb back. Also, you need at least 2 hours to explore the beautiful sceneries of the rolling hills in the valley as that is the whole reason for this trek. Other than that there are several caves and a few river/streams.
Dzukou valley accommodation
For the moment, there is just one guest house in Dzukou Valley (25.561223, 94.079647) and it is quite basic. There are two dormitories and five "VIP" rooms with scary graffiti on the walls. In a private room, you get an attached washroom, though you need to walk to the stream to bring water for using a washroom.
The dorm place costs 50 INR and the private room bed 150 INR per person or 300 INR per room. The private room has two wooden beds and dorm has no furniture.
According to Avi (one of the guesthouse keepers), Dzukou Valley guest house is open throughout the year. There are two people consistently staying there as they never know when the trekkers might come. Though, I still recommend double-checking this in the off-season with the villagers before the climb.
There is one more guesthouse under construction on the way from Viswema (25.542813, 94.09957). Also, there are many metal sheet DIY huts on the way, where, I suppose, the workers live, but in extreme cases, you can hide from the rain there.
Camping in Dzukou valley
There are some trekkers who come with their tents and put their base in the valley itself. There are a few caves and an open space in the valley as well. By the old garbage trail (really, people???) near the caves, I could say it's a popular spot.
If you are interested in camping, you can buy wooden logs for cooking and warming purposes from the guest house for 10 INR per piece.
Food in Dzukou valley
The only food point in the valley is the guest house. They have a kitchen, where they serve basic food – tea, rice, potatoes, dal. They charge 200 INR per person, the portions are big.
I strongly recommend taking water with you from Kohima or whatever your base is. I've taken 2 liters, though I ran short of it next morning. Don't know on which point it went wrong, but I had a huge stomach problem after return (and I suspect it was water).
In low season (not July-September and December) you will only get tea in the morning. So bring your own snacks and food for other meals except for dinners and lunches.
Is it safe to trek Dzukou Valley solo?
As a person who walked most of the days in Annapurna Circuit solo, I would not recommend going to Dzukou valley alone. Firstly, in winter months, except December, sometimes you can be trekking all by yourself. According to Avi, there were no visitors for two weeks before me. There is also no phone or internet connection on the road, so if anything – you are completely on your own. The path is safe, but for your peace of mind, it's good to have a company around. I'm happy I had a friend joining me for this trek.
Dzukou valley trek cost
The overall cost of trekking in Dzukou Valley came almost to 1000 INR for two days and one night for me. Below are the costs for different services, so you can calculate your budget.
Cost of visiting Dzukou Valley
There is an entrance fee of 50 INR for Indians and 100 INR for foreigners. You pay it in the guest house once irrespective of your length of stay.
Transport from Kohima to Viswema 50 INR – one way
Dzukou accommodation 50-150 INR/day
Dinner 200 INR
Tea/coffee – 20 INR/cup
Blankets, pillow, foam sheet (they call it mattress) – 50 INR/per piece (

so, if you are taking a pillow and 2 blankets it's 150 INR

). If you don't have a sleeping bag, you might need around five blankets in winter. Take advice from the guest housekeepers, they will tell you how many they use and the numbers are pretty accurate.
Dzukou valley in winter
There are certain benefits of visiting Dzukou Valley in winters. For instance, there are few visitors (except December) – just you and nature. You can see the frost in the valley and ice on the rivers which is a magnificent site. You can form a more personal rapport with guesthouse keepers – they are nice people who shared their local apple cider and didn't mind me staying in the warm kitchen while talking about Naga culture and what not. I don't think this might be a scenario if there are 100 other backpackers.
From the other side, you have to be ready that it gets really cold. During the daytime, the weather is very pleasant till the sun is up. Once the sun rolls behind the hills, there is a scary whistling wind, it's getting freezing everywhere and it takes a long time to warm up and sleep. Nevertheless, there is the starriest sky I've ever seen. I thought, nothing can beat the Thar Desert, but Dzukou Valley just made it.
What to pack for Dzukou Valley trek?
Now that you made up till here (and hope it means you got convinced to visit Dzukou Valley), here are some suggestions what to take with you. I strongly recommend packing as light as possible, nevertheless, don't miss the following things:
Torch – there are solar powered lights outside of the guest house, but inside the homes and the area between the dorm and private rooms is pitch dark. Whether you have a super performant phone battery and torch there or a separate one, take it with you.
Raincoat – even outside the monsoon season it rains occasionally in the valley. It was raining for an hour on my way back and my coat became handy.
Gloves – if you travel in the winter season, they are helpful in the evenings.
Snacks – in offseason you can count only on lunches and dinners in the guest house. Bring everything else according to your necessity.
Water – quality bottled water is always a good thing
Garbage bag – to take everything you produce back to the city
Warm clothes – it's a hilly area, so nights are chilly throughout the year and freezing in winters when the temperature drops way below 0.
Sleeping bag if you have one – the "sleeping kit" of the guest-house might not be up to your expectations.
Power bank – there are no charging points in the valley. Should you need to charge anything – do it in advance.
Last tips:
Internet & connectivity. Once you enter the valley, there is no network coverage. You will be out of reach till you exit the valley.
Plan smart. If you trek in the peak season (summer) avoid weekends. According to Avi (guest-house keeper), the maximum number of people hosted in the guesthouse were 200 per night in July. They have only a few houses and resources are limited.
Indians, you need Inner Line Permit to travel in Nagaland. You can get it in Dimapur or Kohima Deputy Commissioner Office depending on your first stop.
As per several sources, foreigners need to register in police office within 24 hours after arrival to Nagaland. With my law-abidance, I've spent a half day by being redirected from one place to another. If you decide to register, you need to head to SP Office, there is a department for foreigners here (25.663807, 94.098737). The police officer told me that I'm the first foreigner they've seen in a few months since normally the guest house is submitting info about the foreigners in Nagaland online. Go figure out who is right 😀
If you feel you are in a great shape and willing to take Zakhama route on the way back, it starts from here (25.557649, 94.083434) with a board the Alternate trek route – if you descend. To ascend, ask the driver to drop you at Zakhama starting point, it's just near the road.
The last taxi from Viswema to Kohima according to the drivers is at 4 p.m. I took one at 4.30 p.m, but I wouldn't take chance.
Whatever garbage you produce in the valley, keep it in a bag and take it back to Viswema or another base. The guesthouse keepers installed the bins on the trail. Let's help them keep the valley clean!
Dzukou valley trip is one of the highlights of North-East. If you are into active traveling style, don't miss it!
Have you been to Dzukou Valley or do you know other similar scenic treks? What would you recommend?