Once I have confessed that Himalaya has stolen my heart. Nevertheless, all my life I've been dreaming to live closer to the sea except… I can't stand hot weather. But this doesn't mean that the idea of living near the Nordic Sea will excite me…
There is a certain beauty in places that have a balance in temperature, climate and other factors that give you a different sea experience. The time when you don't need AC or warm clothes. Though I've written earlier a comprehensive post about exploring Rhodes Island by yourself, in this post I'd like to focus on benefits of visiting Rhodes in May as it's a debatable topic. I've listed pros, cons and other factors that influenced my experience in one way or another.
Pros of visiting Rhodes in May
Despite many tourist guides write that Rhodes season is from April to November, it doesn't get comfortable to swim until early May. Since it is the most Southern Island of Greece, the summer comes here a bit earlier.
1. The weather in Rhodes in May is divine
May is a time when you can feel already summer in the air, though mornings and evenings are still very fresh and breezy as in spring. I liked that I could comfortably stay on the beach till 11.30 a.m. During lunch hours I didn't need to hide under the AC, thus I could take a walk down the streets of the town. After 3 p.m. it was again getting comfortable to be at the beach.
It totally changed the concept of sea holiday for me since it wasn't the usual beach-hotel-beach schedule. It was more culturally enriching, active and exploring. In the evenings I needed a hoodie, yet it was not that cold which pushes people inside their homes. You can see both visitors and locals sitting near the homes or walking down the streets embracing the crisp evening air.
At the same time, it is comfortable to sleep at night without an AC or a heater. Mosquitos are yet to wake up in bulk, thus it's a time to open the door and enjoy a fresh sea breeze from the balcony.
2. Few people basically everywhere
You know those idyllic pictures of sunrises/sunsets in famous tourist spots in Greek islands without a crowd? I always thought that people are photoshopped from the photographs. Now I have a new theory – the clicks are taken during the low season.
In May, it almost feels you've got some beaches and sea to yourself. There is no morning quest of finding a spot to sit among hundreds or even thousands of people as during the high season. There is a space for lying, sitting, jogging, playing sports as even popular beaches are pretty much empty.
Moreover, the type of crowd traveling in low seasons is a bit different. There are still no students on vacation who are looking for loud parties, alcohol, and happening leisure lifestyle, no lazy package tourists filling the hotels and beaches. Most of the people I've met on my journey have been traveling independently to Rhodes annually because they enjoy the beauty of this island in spring.
3. Attractive prices and deals
Budget is still a key factor for many travelers, moreover if you come from a developing country. Since childhood, I used to categorize islands as a luxury destination which very few people have access to. It looks like it's more about a smart trip planning. You can experience even a popular island like Rhodes on a budget.
Flights: Ryanair has great deals if you purchase tickets 1 month+ in advance. I got a return ticket from continental Europe through Athens to Rhodes in 80 EUR (I still have a screenshot as I also didn't believe in it before I paid :D)
Accommodation: As the island is yet to receive the main wave of tourists, you will get plenty of discounts while booking. I've booked a studio apartment type in Blue waves and recommend them with all my heart if you are not into the all-inclusive tourism type. They are just 3 minutes walking distance from the beach in Faliraki.
The guesthouse is run by a family (who are really nice people and can guide you around!) and there is a small kitchen in each room with utensils, where you can make food if you need.
Food: Well, food in the cafes will be same price-wise, though in the local markets you will find very good deals for products.
Cultural stuff: anything about sightseeing tours, cultural programs, and other events is quite easy to negotiate. I got equipped with my knowledge and experience from bargaining in India. In Rhodes, most probably you will not get a discounted price, though the organizers will offer you possible add-ons. In the end, you kind of get more for the same price 🙂
4. Great time to travel in Rhodes and explore the places
Rhodes is much more than a beach destination. There are plenty of historical spots, bays, natural getaways that can form an active and diverse program for you. The good thing that the weather during the daytime is always comfortable and you can explore the island without heat and sweat.
By the way, if you decide to visit popular spots, they will be also pretty much empty, so you can see the island from the angle the locals look into it. If you visit Rhodes Old Town, you will see many local people sitting outside of their homes on the chairs and benches, which is a more rare sight during summers, due to a massive number of people crossing the street. So, low season is a way to experience the island from the local point of view as well.
Cons of visiting Rhodes in May
Despite I've talked to several people who have traveled to Rhodes in low season, I've personally found one but a significant con if you are not an English speaker.  If you are planning to take a tour around the island during a low season, it might be available only in English and maybe German.
Rhodes is filled with tour agencies working in different languages. In the high season, you can count on getting a tour in French, German, English, Russian, Polish – to name few. Since May is more of a preseason, the agencies run tours only in English.
Subjective points of visiting Rhodes in May
Here are a few points that you will face while visiting Rhodes in May, though they might not necessarily impact your experience.
1. Water temperature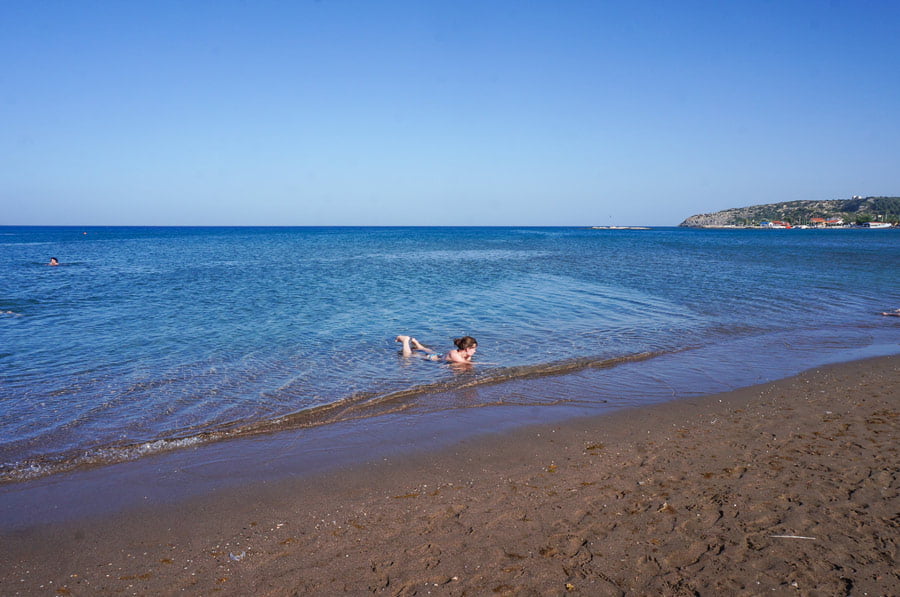 There are several threads on travel forums about the water temperature in May and whether you can swim or not. Consider that the Eastern part of the island is always warmer, while the western is always windy. I've been to several beaches and bays from Faliraki moving south and I found the water temperature very refreshing. According to an announcement on the boards it was 20-21 degrees, while the air was around 25-29 degrees.
The water reaches the maximum 26-27 degrees in August together with 35+ air temperatures. I can't judge the importance of five degrees while speaking about the water temperature, though I prefer May weather scenario any time over heat. It's true that there are few people swimming in the sea in May but it's because there are generally few people at the beach. Generally, the closer you get to June, the warmer hotter it gets.
2. Specific attractions will not be available in Rhodes in Spring
There are some seasonal attractions in Rhodes. For instance, their famous butterfly valley will be closed in May, because there are no butterflies at that time. I couldn't place this argument in cons since butterfly season is only in July and August. Same works for several seasonal fruits.
Rhodes in May vs October
May and October are usually considered the beginning and the end of the season, so these months will be the best value for money yet with fewer tourists around. May has the benefit of longer daylight, spring season in Greece which is followed by numerous flowers and tree blossom, the beginning of the season when the weather tends to get better and warmer. October has the benefit of sea temperature which got warm during hot summer months and slightly cheaper prices at the end of the season. Though the day will be significantly shorter and the weather will be transitioning to autumn and winter.
I hope this post gives a broad introduction to traveling in Rhodes during less popular months and helps you define whether this is an experience you are looking for.
What about you? Have you visited Rhodes in low-season months? What was your experience?