Last Updated on
South Asia has many common features, yet each country has its own peculiarities and culture. There are so many people who travel from India to Nepal by road, but there is almost none information about another interesting Indian neighbor – Bangladesh. Nevertheless, we are not scared to experiment if we don't find info on Google, are we? So I packed my stuff and headed to a new destination with no expectations of what is going to be like.
This post is about traveling from India to Bangladesh by road and vice-versa. Here are the specific points I will focus on:
Border crossing points between India and Bangladesh
India to Bangladesh by bus via Petrapole Benapole border
India to Bangladesh by train
Bangladesh visa on arrival at Benapole border
Last tips
Note: For the accurate information there are two currencies in the post INR (Indian Rupee) and Taka (Bangladesh currency). INR tends to fluctuate around 65 for 1 USD and Taka around 85 for 1 USD.
Border crossing points between India and Bangladesh
There are several official border points between India and Bangladesh. If you travel by train around Eastern Bangladesh, you will see the rail track going just near the border with Tripura(a state in India), so at some points, you are just 300 meters away from India. The borders are:
Petrapole – Benapole border connecting southern part of West Bengal(India) to Southern part of Bangladesh.
Dawki – Tamabil border connecting Meghalaya state(India) to North-East Bangladesh.
Agarthala – Akhaura border connecting Tripura state (India) to East Bangladesh.
Burimari border crossing connecting West Bengal (India) to North-West Bangladesh.
Sonamasjid border crossing that splits the ancient capital of Bengal and connects Bangladesh to West Bengal state (India).
Darshana – Gede border which Maitree Express train is crossing to West Bengal (India).
Note, if you need a visa to Bangladesh on arrival, you can only get it at the Petrapole-Benapole land border (and at the airport of course, but this post is about land border crossing).
India to Bangladesh by bus through Petrapole – Benapole border crossing
Bus is the most popular way to reach Bangladesh from India. There are two ways to go about it:
Take a direct bus from Kolkata to Dhaka
Take the bus from Kolkata to Petrapole (Indian border town)
If you are a Bangladesh citizen or have a Bangladesh visa in your passport, you can take a direct bus to Dhaka which will make your border crossing a bit more organized and faster. If you need Bangladesh visa, I strongly recommend taking ticket only till the border. The visa process can extend because of the bureaucracy and queue. The buses have a certain schedule to follow, so they might not wait long hours for one person.
I made a Google map with the most important cities mentioned in this post (marked with yellow stars) :

Where to get bus tickets to Bangladesh in Kolkata?
On Marquis Street in Kolkata, you will see several bus operators as the buses mostly leave from that street only. It is located in the famous Park Street area, close to Sudder Street.
Since most of the buses leave in the morning, it makes sense to stay in this area only to save time on commuting. There is accommodation for any budget there, though it's quite a hectic and noisy area. Somehow I could relate it to Paharganj in Delhi.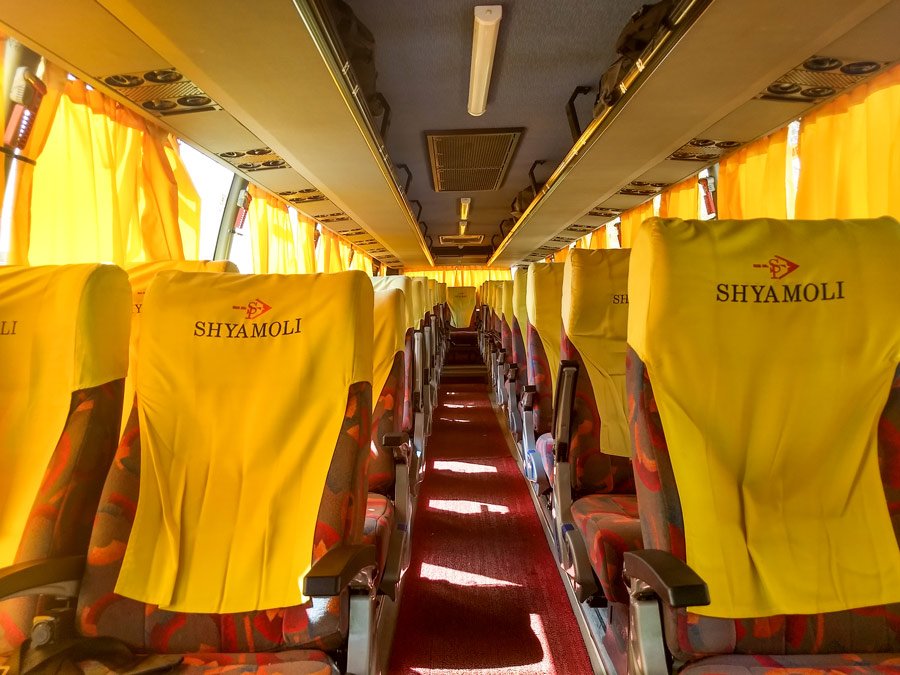 How much does it cost to go from India to Bangladesh by bus?
The most famous companies are Green Line bus and Shyamoli. There are also other vendors, though, as you can see, prices tend to be plus minus same.
Bus schedule and pricing with Shyamoli:
Kolkata to Benapole – 300 INR
Kolkata to Dhaka – 1400 INR
The first bus from Kolkata is at 5.30 a.m., the bus runs every three hours. The last bus is at 3 p.m.
Bus schedule and pricing with Green Line:
Kolkata to Benapole – 300 INR
Kolkata to Dhaka – 1500 INR
Bus schedule: 5.15 a.m., 6.30 a.m., 7 a.m., 12 p.m.
Both companies are good. I've chosen Green Line, though I've traveled a lot with Shyamoli around Bangladesh. My bus left from Kolkata from here (22.556541, 88.355842). It's near Green Line office.
All the passengers received a water bottle and a pack of cookies at the beginning of the journey.
How much time does it take to reach Bangladesh border from Kolkata?
It takes around 3-4 hours to reach Petrapole (Indian border town) from Kolkata. Everything depends on your starting time and traffic. Well, in my case, the tire got punctured, so the driving speed also became a factor. I found the road quite smooth from Kolkata till the border.
India to Bangladesh by train
Here are three ways you can go about it:
Take a direct train from Kolkata to Dhaka.
There is a train (Maitree express) connecting West Bengal (state in India) and Bangladesh. In Kolkata, you can buy tickets at the train station. Maitree Express goes from Kolkata to Dhaka on Monday, Tuesday, Friday, Saturday.
The train runs on Wednesdays, Fridays, Saturdays, and Sundays from Dhaka. Price for Maitree Express from Dhaka is 3400 Taka for personal cabin and 2500 Taka for AC chair cabin. If you know already that you will be going by train, I recommend buying tickets 2 weeks in advance. When I was at Kamalapur train station in Dhaka, the next available seats were after 10 days. There is a separate counter where is written in English – Dhaka to Kolkata.
Important note: This route is suitable only for people who have permission (e.g. Visa) to travel to both India and Bangladesh and don't need to open a Bangladesh visa at the border.
Interesting fact: there is also now a project happening that tries to connect North-East India to Kolkata through Bangladesh (YES, PLEASE, it takes at least 1.5 days to come from states like Mizoram(state in India) or Manipur(state in India) to Kolkata by road). The plan is to build a line that connects Agarthala (Tripura, India) with Akhaura at Bangladesh side. There are also a few other interesting road projects between India and Bangladesh that will come up within a few years.
Take a direct train from Kolkata to Khulna (City in Bangladesh).
In 2017 there was renewed the link between Khulna to Kolkata by Bandhan train. It takes around 4.5 hours and starts from Kolkata at 11.00 and from Khulna at 11.30. This train crosses Bangaon – Benapole border.
Take a train till the border
You can take a train from Kolkata to Bangaon station (the closest station to Petrapole – Benapole border). If you are starting from Bangladesh, the closest big station is Jessore(city in Bangladesh). Jessore is well connected with other places in Bangladesh. When I crossed the border by bus, I've seen several local trains going to Benapole in Bangladesh. Nevertheless, you have to find the schedule from local people.
In my opinion, it is an extra hassle to take a train from Kolkata to the border. Firstly, they run from Seldah station(Kolkata) and if you are not staying around the area, you need to wake up very early to reach there for the morning trains. Trains go almost every hour. If you have luggage you will have to take a personal auto from Bangaon (train station in India near the border) to Petrapole(Indian border town). Overall, you will save around 100 INR versus bus experience (300 INR by bus from Kolkata to Petrapole). If it's worth it or not, you have to decide.
At the same time, in my opinion, if you are in Chittagong (a city in Bangladesh) or other places, it really makes sense to go by train closer to Benapole (a border town in Bangladesh) border to avoid traffic jams.
Bangladesh visa on arrival at Benapole border
I read plenty of immigration stories and was quite stressed out when I came to the border. Summary:
The line is really long. I haven't seen this overloaded border ever, though I've traveled a lot by land. When police person saw my lost face, he redirected me to the running queue, allowing to jump the waiting. I was the only foreigner there and no one was minding. Just ask police people nicely and they will direct you.
The running queue is not the actual queue. Most of the people (to read hundreds) were waiting in a separate area under the roof.
The queue was really well organized. Whenever you are unclear, there will be plenty of people to direct you.
After TripAdvisor reviews, I was prepared for some challenging experience on Indian border. I've put up the best smile on my face and greeted the officer when my turn came. He asked me what my purpose of visit in Bangladesh was. I told I'm a tourist. He stamped my passport and told to visit India again (I will ;).
Bangladeshi officers were very friendly. The detailed procedure is below.
Foreign nationals from Europe, US, Canada and also countries that don't have Bangladesh Embassy can avail visa both at the airport and land border in Petrapole. Please call to Bangladesh Embassy and confirm if you can avail visa at the border.
Can I apply for Bangladesh visa in India?
Indians: yes. Moreover, despite the embassy website says you can do it only in Delhi, you can also file visa in the consulate in Mumbai and Kolkata. I personally know Indian friends who opened visa in Mumbai. Though, it takes longer. Note, there is an agreement between India and Bangladesh of 0 visa fee.
You can also hire an agent who will file visa for you for 1000-1500 INR commission.
Foreigner nationals besides Indians: If you belong to the category of people who can get a visa at the border, Bangladesh Embassy most probably will not entertain you, especially in Kolkata. This is understandable, once you see their queues, plus the process takes around one week.
How to get Bangladesh visa on arrival
Once a bus drops you at Petrapole station (Indian border city), keep walking straight till you see Indian border point at your right side. There are many police people, so you will not miss it. There is one convenient thing about this border. It's all interconnected. Means you don't need to walk and look for another border point. Just be patient and follow the queue.
As mentioned earlier, I was friendly with Indian officers, they were friendly to me. Note, I'm from a developing unknown country and I'm used to get always plenty of questions at the Embassies and borders. Attitude matters!
After this, there was a long line through several corridors and buildings to Bangladesh border. People started smiling and whispering ("Angreji, angreji"). If it's obvious you are a foreigner, you might attract attention, welcoming questions from different sides. People in Bangladesh are not habitual to tourists. Moreover, in the record books, I was the 92nd foreigner who received a visa at the land border during 2 months span.
Which documents do you need to get Bangladesh visa on arrival?
Hotel reservation. They asked me for it, but more as a formality to attach to a file to my application. I started in Khulna, so I made a reservation there. They are specifically interested in the first hotel where you will be staying.
Note: Tourism is not that much developed in Bangladesh and you can get just a handful of hotels on booking which are mid to upper-range. If you are planning to get a visa on arrival, it's hard to find a place where you can have free cancelation if you change your mind. I called to several hotels and made a reservation by phone. I saved the contact person and the number.
Return tickets from Bangladesh. I wasn't sure about time or my point of departure because it's quite challenging to plan your trip with lack of info. A travel agency from India helped me book a ticket that is valid for a certain time and you can cancel it/modify afterward. It is another document which was attached to my file with no questions.
Bank statement. I printed out my PayPal statement in Kolkata. It was another formality, though the officer was content I had everything he was asking for.
Application form. A visa officer will provide you with one at the border. It's quite standard (contacts, places you intend to visit, how much cash and card money you have, where you will stay, etc.)
Note: wait till the officer asks you for the documents before you hand them to him.
Bangladesh visa on arrival process
There is a counter for foreigners (Indians, you are also foreigners in Bangladesh) in the Immigration hall of Bangladesh. It's just near the entrance.
You get an arrival file there. You will be redirected to a table with visa applications. The application has general questions. In money point, it's good to indicate also ATM card.
After you fill up the application form and arrival file, you just need to wait. The visa officer will start filling in numerous forms from their part. After everything is completed you need to pay the visa fee.
Visa costs 50 USD for one month. You need to mention that you want a one-month visa. Once visa procedure is completed, you will have to put your bags through a scanner and you are free to go. Just outside of the customs there is a street with different travel agents from whom you can buy tickets to Khulna, Dhaka, Jessore.
I got a ticket for the non-AC bus from the Benapole (border town in Bangladesh) to Khulna (city in Bangladesh). Travel time is around three hours and the cost was 150 taka. You can also get a sim card in the same street.
At the Indian side, there are also plenty of travel agents in Petrapole (border town in India) from whom you can buy tickets to Kolkata.
Last tips
You can get a sim card after crossing Benapole border if you don't come with direct transport. The sim cost 300 Taka (of course it's too much, but if you need to be always connected like me – it's ok). It comes with 100 Taka talk time. You can activate additional internet connection in 80 Tk (1 GB) or 129 Taka (2 GB) valid 7 days. The sim card starts working instantly. They haven't asked for ID card or any documents. If you decide to buy a Sim card in a proper way in a city– it costs 50 Taka + add as much credit as you want. You need a copy of the passport.
Note, Indian visas are not available on the land borders. Unless you are a citizen of India, you need to have a valid Indian travel visa in your passport to come to India.
Take some snacks with you if you have certain food restrictions. After you cross the border you get several café options in Benapole. The food was delicious, though very oily and chili. I liked it, though my stomach couldn't stand it. Nevertheless, Indians and Bangladeshi were enjoying a lot.
It took me overall 1.40 hr to cross both Indian (~30min) and Bangladesh (~1 hour) border and it would be so much more if I didn't skip the queue.
While leaving Bangladesh you need to pay 500 Taka departure tax and 40.70 Taka to enter the border. Note, if you go by direct bus that will take you through the border, they might charge you an extra convenience fee as they have special arrangements with border people to fasten the process. It comes around 50 -150 Taka extra. You can also pay 500 Taka tax in advance in one of the branches of Sonali Bank. If you are planning to leave through another border than Petrapole-Benapole or Airports, you are advised to pay this tax in advance as you might not find the bank branches near some borders.
Yaaay! This post is stuffed with research and valuable information to make traveling transparent and easier. If you know about any changes with time, don't hesitate to get in touch 🙂
Have you done this journey? What else would you advise for land travelers?