There are many reasons you might need courier services during your trip to India. Whether you are a traveler with luggage limitations or you would like to send some souvenirs to your friends or relatives, I put this post to explain how shipping from India abroad works.
I would like to introduce you to the key market players in this field as well as share a step-by-step process for a better use of Indian post services. Please note, this post explains the shipping of non-commercial/personal goods which do not involve export/import procedures. Here you will find information about the following topics:
International courier services in India
How to send a parcel from India through Indian post (step by step)
Private international courier services in India
If you don't have budget restrictions and want to courier something from India fast, here are the popular international companies: DHL (aka Blue Dart in India), TNT and FedEx.
These services work just like anywhere else in the world. You bring your stuff, pay and the company takes care of everything. I used Blue Dart services a few times to ship to Europe and didn't face any issues.
These services are costly, but you get a guarantee of fast and timely delivery with less effort from your side. To be honest, I recommend these companies only for small light packages and in case of emergency.
The cheapest international shipping from India
That will be Indian post – it's a government service destined to be accessible for everyone. There are a few formality steps to consider for making your experience with Indian post better and more efficient. Shipping from India to USA and UK is the most streamlined, but other countries also pick up. As I sent stuff abroad from both North and South India, I will mention the differences in each step when applicable.
Find the nearest Indian post office and ask for the rates
Usually, each Indian city/town has several post offices. I recommend asking local people which offices ship internationally at your location. Some of them operate only with national orders and you don't want to stand in the queue to get disappointed afterward.
Note: I recommend doing international shipping from India only from big cities or towns. This way you will save some time on shipment and bureaucratic procedures.
The main goal at this stage is to find the right office and clarify with the rates. Indian post charges a base rate (e.g. for the first 5kg), then every few kilos extra cost insignificantly higher. E.g. 5-8kg will cost same +-200 INR.
Next category (8-15kg) will be more expensive, though overall price between 8 and 14kg will not differ that much. That's why it makes sense to ask rates before bringing your package. You might be able to send more for the same price. Why not to add a few more spices and snacks then?
Psst. If you are planning to shop some stuff for sending abroad, check my tips on bargaining and shopping in India.
How much does it cost to send a parcel from India?
Note, every country has its own rates. If you don't belong to the famous country (story of my life) or you are an Indian sending a parcel to an offbeat destination, insist that the post officers find rates for your destination (not for neighboring countries).
I sent a few parcels in the range of 10-15kg around 5000 INR (<69 USD) by a registered or speed post. Note, these both types of post provide you a tracking code. BUT, there needs to be a person to receive the parcel in the destination country.
If you are ready to wait (e.g. 1 month) and you are shipping stuff to a popular destination where the direct transport goes, the cost will be cheaper than mine and vice-versa. If you are game, play with the numbers on Indian post site to get an estimated price. The final price will be a bit on the upper side.
Ensure you don't send items prohibited by Indian customs
There is a long list of items you can't send through Indian post. Some of them are obvious (e.g. liquids or explosives), but a few important mentions.  You CAN'T send drugs (pills) from India and your passport. You can be jailed for the later.
If by chance you need to send your passport abroad, your best bet is going to Nepal or other neighboring countries (I'm telling you as a person who faced this issue). No sane post officer will accept your passport, because you put both yourself and him at risk. Maybe the situation will change with time.
Meanwhile check how to get from India to Nepal by road, just in case.
Note: even when you send allowed items, quantity matters. E.g. If you send 20 packets of Indian Dal or 30 Pashmina shawls it will not look genuine. Post officers advised me to keep 3 items per category (if they are new/packed): 3 Pashminas, 3 Dal, etc. Second-hand clothes – no problem.
For instance, I've sent 5 kg of Indian food & snacks itself, but since they were all different (namkeen, dosa base flower, spices) it was allowed. Your parcel should not look commercial (as if you are planning to resell).
Choose the post box/package
In South India, all the post offices I visited provided a branded Indian post box. It costs from 50 to 150 INR depending on the size. Unless you are into the DIY type of stuff, I recommend choosing the official box from the post office.
In North India (hello, Delhi), more often than not, you need to come with your own box. You can do it in south India as well upon necessity. Nevertheless, in both cases, you need to buy a white cloth to sew it around the box (after the content will be checked in the post office) to close branding or advertisement on the box if any.
Bring your stuff to the post office
At this stage, you just need to come with an open box/packet, because you need to present everything you are sending to the post representative and pack on spot.
It's really important to show every item (beyond clothes) to the post officer, unless you want your parcel to spend some quality time at the customs. If everything is in order, your box will be sealed by the post representative and/or sewed with white material by you if you have your own box.
Fill in mail forms at the post office
You need to write destination address on the box in the allocated space explained by the post officer (use a marker to make it big and visible). Leave a local contact number after the address as well. If there are any questions, they will call.
Note: if you are a foreigner, find a reliable person in India, whose address you can specify (preferably in the same city from where you are sending stuff). If the parcel will not be delivered to your destination for some reason, it will be returned to the Indian address mentioned there.
There is also a declaration form for the customs where you will need to name all the product categories you are sending, number of items as well as their estimated value. I would like to emphasize again: don't sneak or hide the items. Your main task is not to ship from the local post office, but to pass international customs.
If you have any doubts about a product, ask the post people. Also, ask them for the pen. They were not happy about my pen and made me refill the papers several times.
Submit the parcel to an Indian post officer
Hang on, we are almost over with the bureaucratic part! After all the details filled, the box was sealed and packed, you will need to weight it again near the relevant counter in the office and pay accordingly. The post office will take your parcel, fill in all the details in their database.
You need to carry any document that confirms your identity. Note, if you are a foreigner mentioning a residential address in India (not a hotel, hostel, etc.) where you don't stay, the post office might request ID card of a concerned local person living at that address.
You should receive two things from this activity:
Tracking number of the parcel (please take picture of it and store in several places if you lose the paper). Otherwise, you will not be able to know where your parcel is :).
Bill with the name of the post office where you submitted the parcel.
In some offices, these details are combined, but you need to check, that there is a specified sum of money you paid and the tracking number.
Are you worried about the budget? Check out a breakdown of the costs of travel in India, to plan your trip better.
Track your parcel through Indian post
You can track the post while it is in India on the Indian post website. Once the parcel leaves India you will need to track it on the post website of your destination as it will be their responsibility to report the updates (at least this is how it worked in several destinations in Europe).
Other information about shipping from India abroad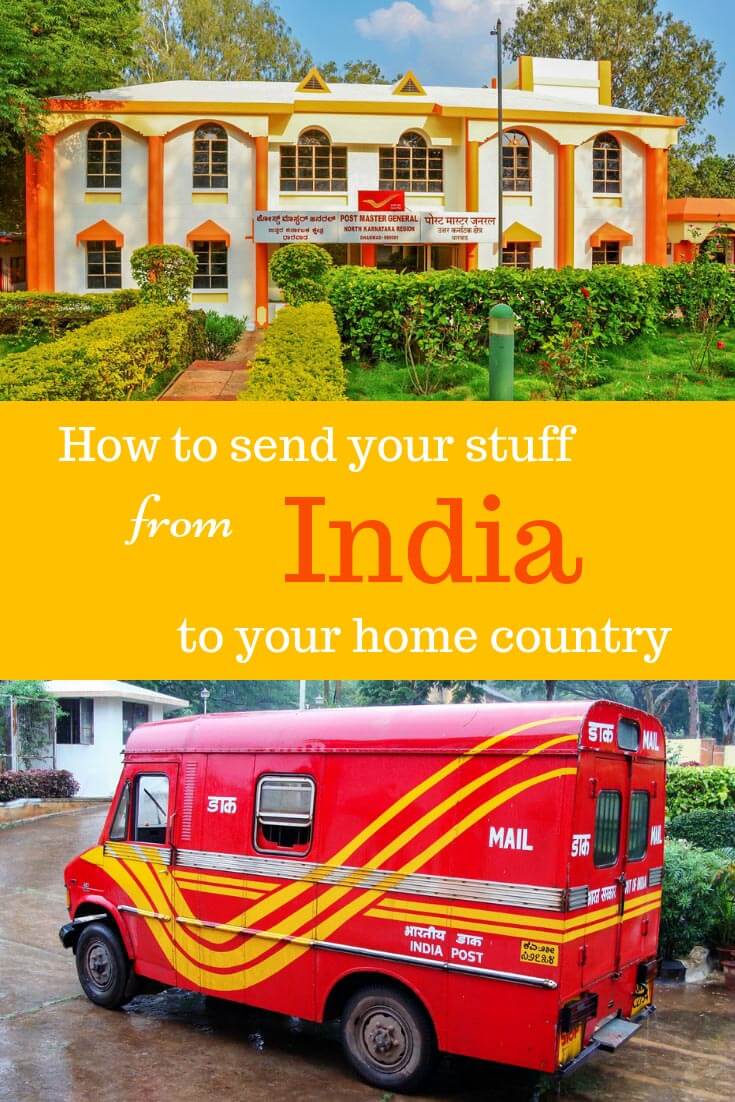 You have to read the customs information about the destination where you send a parcel. Once the parcel cleared Indian customs and sent the item abroad, it's not their problem anymore if it gets stuck at other customs.
I strongly NOT recommend sending valuable items and precious stones. Many of these are allowed, but each package has a value limit (depending on the country). All my packages were checked and repacked at the customs. You don't want to lose your sleep on trying luck.
Receive a parcel at your destination
Yaay! That happy moment when you receive a mail from 1000s km far. The post offices in my country usually deliver a note to the home address that a parcel has arrived. This step you should find out in your destination.
Hope this blog gave you an idea what to expect from shipping goods from India abroad. If you had a similar experience in the past, how did it work out for you?