Cost of travel in India is a matter of perspective. Some explore the country on 1500 INR a day (~20 USD) and call it budget backpacking, other under 600 INR (~8 USD). Some people wouldn't mind spending over 10k INR (~150 USD) per day for a high-end experience – and India has many unique experiences to offer.
To embrace different budgets and perspectives, I connected to over 50 travelers from different countries with their own travel preferences.
In this post, I would like to give you an overview of different types of travel in India, how your experience will look like (so you can set realistic expectations) within the given budget and what is an approximate breakdown of the travel expenses in India. For your convenience, here are the key questions I will write about further in this post:
Type of travelers in India
Travelers talk about the cost of travel in India
Factors that define your price range
Backpacking in India budget and what your experience will look like
Mid-range travel in India budget and how your experience will be
Luxury travel in India and what are its perks
Further read about the cost of travel in India
Type of travelers in India
Your definition of budget depends on your origin and lifestyle. After talking with other travelers, I have underlined the following main categories of travelers and daily budget range for each:
| | | | | |
| --- | --- | --- | --- | --- |
| Type of traveler | INR/ day | USD/ day | EURO/ day | GBP/ day |
| Backpacking minimalist | 600 – 1000 | 9-15 | 7.5 – 13 | 6.8 – 11.3 |
| Backpacker's comfort | 1000 – 2000 | 15-30 | 13 – 25 | 11.3 – 22.6 |
| Mid-range explorer | 2k-6k | 30-85 | 25 – 76 | 22.6 – 68 |
| Luxury enthusiast | 6k-10k+ | 85 – 145+ | 76 – 127 | 68 – 113+ |
Note: The prices in the table above are per person per day. For accuracy of the information and elimination of too many numbers, I will write all future costs in Indian Rupees only. At the moment of writing, 1 USD = 68 INR, 1 EUR = 79 INR, 1 GBP = 89 INR. Some numbers in the table above were rounded up during currency conversions (the cents part).
Travelers talk about the cost of travel in India
To give you a further insight into the variety of travelers exploring India and their view of the traveling budget, I'm quoting several people I've connected to:
"My budget always depends on the season and places I choose to explore. I've been on two long trips in Goa and Rajasthan with a friend. It came on average to 1000-1500 INR per person per day. I believe it's a required minimum for a comfortable travel in India on a budget. " Divyanka, India
"I and my friend traveled around North India for 1000 INR per person per day. There are budget accommodations, great food, fresh and cheap fruits and vegetables, though forts and monuments are quite expensive". Anna, Netherlands
"My budget was 20-25 USD (1400 – 1700 INR) per day and it seemed to be right. I mostly traveled by public transport, but I didn't find it uncomfortable. I visited quite a lot." Chris, USA
"My travel budget in India was 500 INR a day on average and I went almost everywhere. My accommodation is a combination of Couchsurfing and backpacker hostels. Sometimes BATI members host me. Taking public transport and eating from small roadside shops are also good budget-saving solutions ". Sarvarakshani, Sri Lanka
"I and my husband usually travel together. We are both working professionals limited in time so we often don't plan vacation according to the seasons. I would say, a couple needs 6k-8k INR per day in India if you plan to stay in a good hotel, experience signature cafes and restaurants of the destination. Overall, accommodation is a very important factor for us and we choose only good properties." Ayushi, India
Factors that significantly impact the cost of travel in India
As you can see, opinions from travelers differ. Also, I've taken quite a wide range for each traveler category (e.g. 600-2000 INR, 2k-5k INR/day, etc.) Let's look into key factors that significantly impact your daily travel costs in India.
Are you an AC or a non-AC person?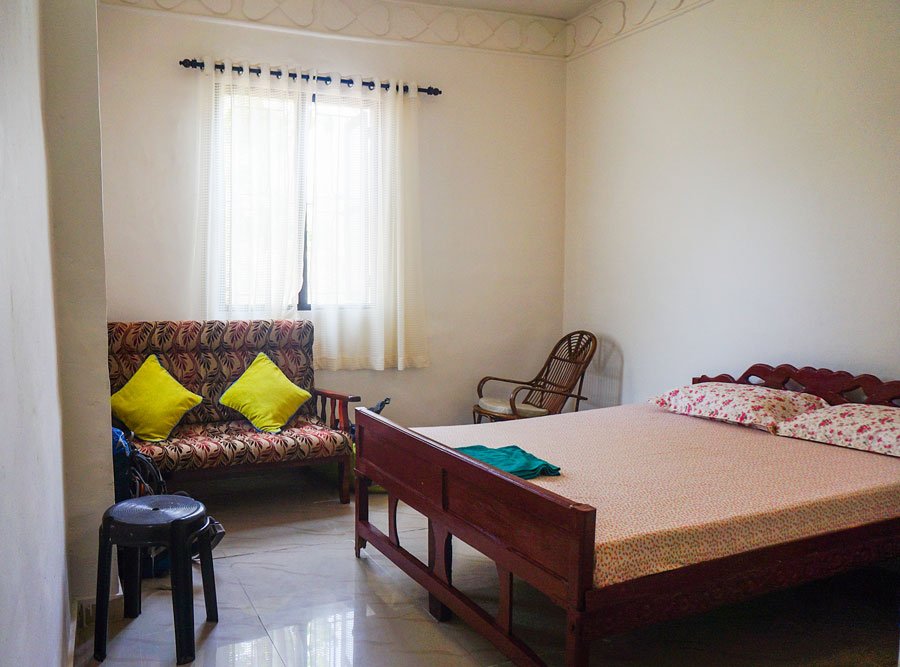 AC really adds up to your total costs be it accommodation, transport or restaurants. If you are a budget backpacker, you can expect paying at least 300/day for a bed in an AC dorm and minimum 600 INR/day for a basic guesthouse AC room.
For instance, I can't handle AC. I constantly catch cold because of AC and my Indian friends can't stop making fun of it. So, I specifically book rooms with no AC, take non-AC train tickets, ask all Ola/Uber drivers to turn it off while I'm inside the cab and keep my friends hot when I'm around (sorry – not sorry).
By the way, do you find that room for 600 INR in Varkala cute? AC equivalent will start from 1000 INR.
Cost of traveling in India differs from big cities to small towns
Delhi and Mumbai are expensive cities whether you are a local or a foreigner. I've met plenty of folks traveling there on 700 INR per person per day and then complaining how much they hate Delhi. Well, if you want a comfortable stay and experience big city life, you need to be ready to pay.
Often the amount you will spend per day traveling in Delhi or Mumbai can cover your 2-3 days in smaller towns like Kochi, Jaisalmer, Darjeeling, etc.
If you visit offbeat locations, your accommodation costs will decrease. At the same time, there might not be organized cab service (e.g. Ola/Uber), so you will need to hone your bargain skills and hope to get a good deal.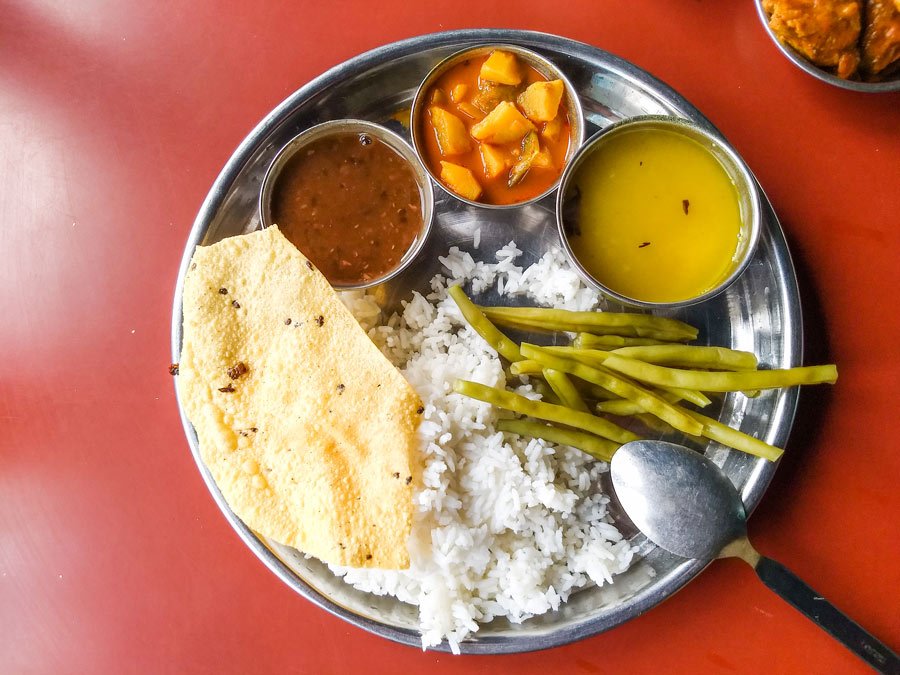 Are you traveling solo or with a friend/partner or with a family?
Overall, it's more expensive to travel solo, than with a friend/partner. You will very rarely encounter single rooms in Indian hotels, thus accommodation costs are almost the same for one and two people. Sometimes hotels do charge less from a solo traveler for the double room, but I rarely encountered it. Same works for local transport if you hire a personal auto or cab; it comes less for food and sometimes you can bargain better deals for two or more people.
If you travel as a family with kids in India, your costs will also increase. You might opt for a calmer locality outside of the common chaos. You will choose better places to eat. Outside of big Indian cities many restaurants and cafes open after 9-10 a.m. and work till 10-11 p.m. In this case, you need to think of hotels with a variety of good food options for breakfast. You might opt for hiring a personal car over choosing a crowded bus. These small details add up.
Style of travel in India
Are you a 'Do it Yourself' person or prefer a travel agency for help? Do you prefer heritage sites or offbeat locations? These small details impact the price-range a lot. E.g. offbeat locations are often low-priced or free. These are the breaking deal for foreigners, who have to pay 500 INR per famous heritage site.
Let's analyze each daily budget apart and see how your experience change depending on your daily travel budget in India.
How much does it cost to backpack India – budget traveler package
You might have noticed that I further split budget backpacker into two categories: backpacker minimalist (600-1000 INR/day) and backpacking comfort (1000-2000 INR/day).
While backpacker minimalist will need to compromise sometimes on the itinerary, places to stay and what to visit, with backpacking comfort budget you can travel on a budget anywhere in India without restrictions as such. To set your expectations real, here is how your travel experience will look like:
Cost of budget accommodation in India
Backpacker minimalist: You will be mainly staying in hostels (100-400 INR/per day) or budget non-AC guesthouse rooms (300-600 INR/per day). In guesthouses, you will be renting rooms with basic conditions (bed with thin mattress, fan, charging point, bucket hot water or geyser in some case, basic view from the window).
Note: You can get personal rooms for 100-150 INR/night with little to no conditions, questionable cleanliness standards, rent just extra matrasses in rooms with more people, stay in Ashrams, go for Couchsurfing. There are plenty of ways to save on accommodation, but in this post, I'm talking about common travel with basic comfort at least.
Backpacking comfort: You will stay in nice hostel chains (e.g. Zostel) in good locations, good budget guesthouses (500 – 700 INR/day) or rent basic AC guesthouse rooms (600-800 INR/per day).
Backpackers can significantly cut costs if they stay in a place for a longer period of time. For instance, if you know you will be doing yoga in Rishikesh for a month, why not to rent a room for 4-5k INR instead of paying a daily charge. If this destination is on your list, read my quick overview of interesting experiences in Rishikesh.
Personal experience: my best deal ever was in Jaipur (hostel, 75 INR/night low season), guesthouse in Jaisalmer (300 INR/room with hot water & Wi-Fi). When I'm on a budget, I try to integrate into 200-500 INR/stay if I'm traveling alone and in 600-1000 INR/per room whenever friends join me.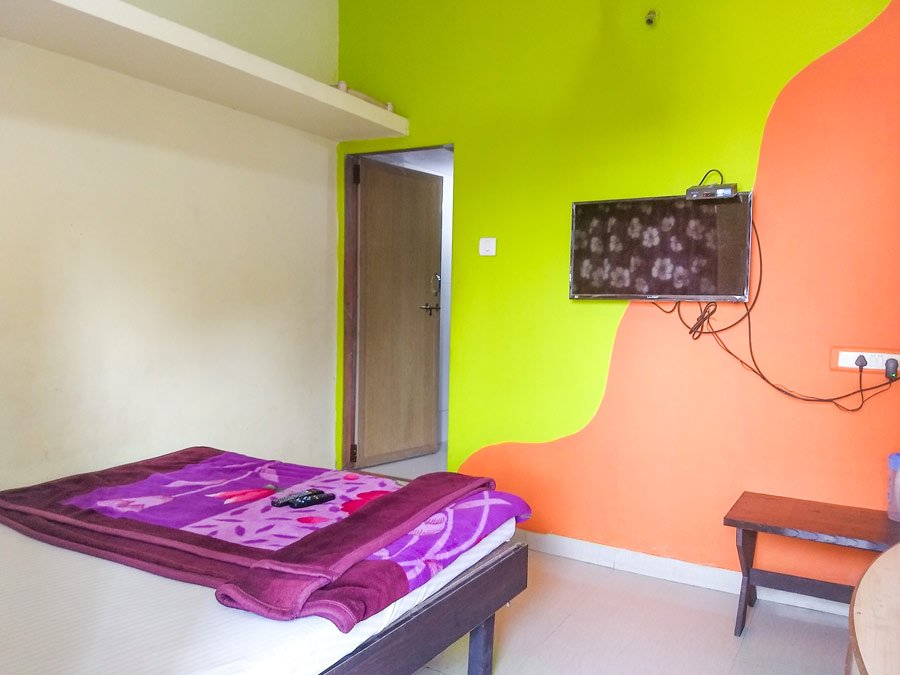 Tip: If you are traveling with someone, you can get better deals. In India, the main expense for budget travelers is accommodation. If you share it with your friends/partner, you can save quite a bit or reinvest in other experiences.
Where to look for budget accommodations in India?
If you are a foreigner, the best bet for you is checking platforms like Agoda, hostelworld, Booking. There will be always local options on spot, but many of them are not allowed to host foreigners because of C Form.
Most probably you will be able to find a few options on spot by yourself, but it will result in additional hassle and time. The guesthouse owners who deal with foreigners offer accommodations either on bus/train stations in popular tourist spots or place their properties on international platforms mentioned above.
If you are an Indian, you don't have restrictions on where to stay and you can find accommodation on spot if you don't mind walking around for a while. Otherwise, you can always use online platforms mentioned above.
Cost of budget food in India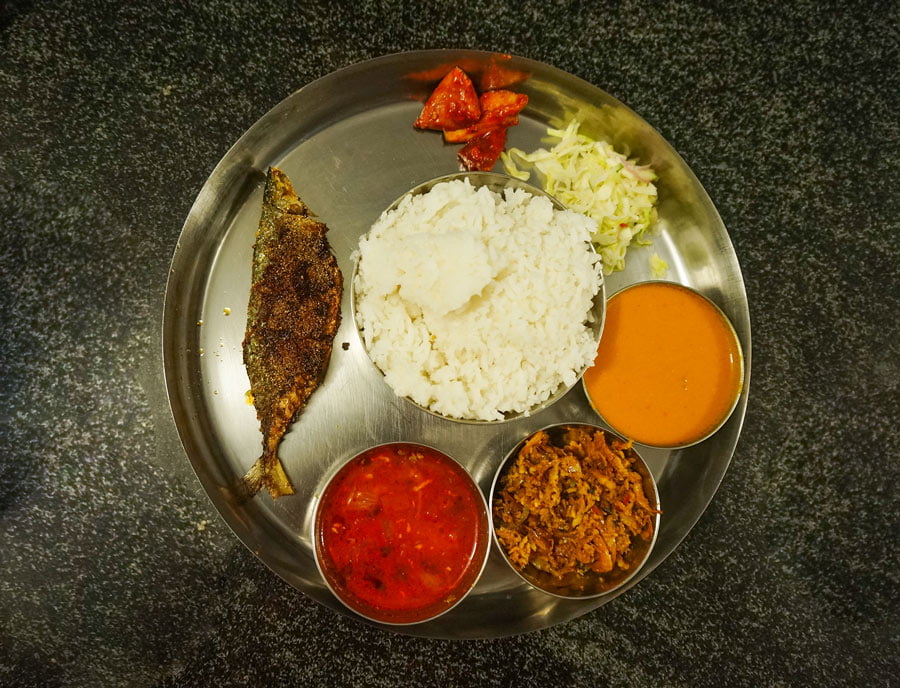 Within backpacker's budget, the best value for money is vegetarian food in local places (many foreigners call it "hole in the wall" but there are actually numerous great eateries in each city). Your food expense will typically be around 300 INR/day: breakfast 30-70 INR, lunch 100-150 INR, dinner 100-150 INR.
In India, you will find the same food for different budgets that cater to different categories of local people. For instance, you can get dosa (pancake) in South India for 50-70 INR from a budget café. You can buy dosa for 10 INR as well from an open food stall on the street. Same for parathas (type of bread) in North India.
Here are a few prices for common dishes to give you an idea:
Omelet from an open food stall – 20 – 30 INR
Fresh juice on the street – 30 INR/glass
Sugarcane juice – 10 INR/glass
A plate of momos from the street vendor (12 pcs) – 20 INR
Thali in a budget café (number of small dishes on a plate) – 70 – 150 INR
Chai from the street – 10 – 20 INR per glass/cup
Samosa/Pokoras – 10-50 INR
Bread-omelet – 20-30 INR/plate
Fried noodles/rice with vegetables in budget open café – 30 INR half plate
A liter of milk – 23 – 30 INR
Bread loaf – 20-30 INR
A liter of water – 20 INR; Refill – 5 INR on water spots or free in many cafes and hotels.
If you would like to try non-Indian dishes (e.g. pasta, pizza, etc.) or occasionally non-veg, you will need to upgrade your budget to "backpacking comfort". A few prices to give you an idea:
Half plate of butter chicken from a restaurant will typically cost 200-250 INR. I do not recommend eating non-veg from the streets unless you personally know about the quality of the place. Also, I suggest avoiding eating non-veg during Navratri (fast during spring and autumn) and 2-3 weeks after it.
A medium veg Domino's pizza would cost around 400-500 INR. They often run "buy one get one" offers, so you can get two in 550 INR or so together with GST tax. A plate of white-sauce pasta from a café will cost around 150-200 INR, as a rule.
India has a great variety of vegetarian options and I recommend sticking to local cuisine while in India unless you have certain allergies.
Tip: If you are a foodie, I recommend finding a friend for sharing. Portions are big huge in India. If you eat alone, you will mostly order one dish (and try to finish it at least). More people will give you exposure to more foods.
Saving tip: If you live in hostels, some of them (from my experience) allow you to use their kitchen. So if you live somewhere longer, just buy veggies and cook. My monthly food expense in Delhi (when I was eating vegetarian at home) was 5-6k INR.
Read also: how much to tip in India for different services and when you should NOT tip. 
Budget itinerary in India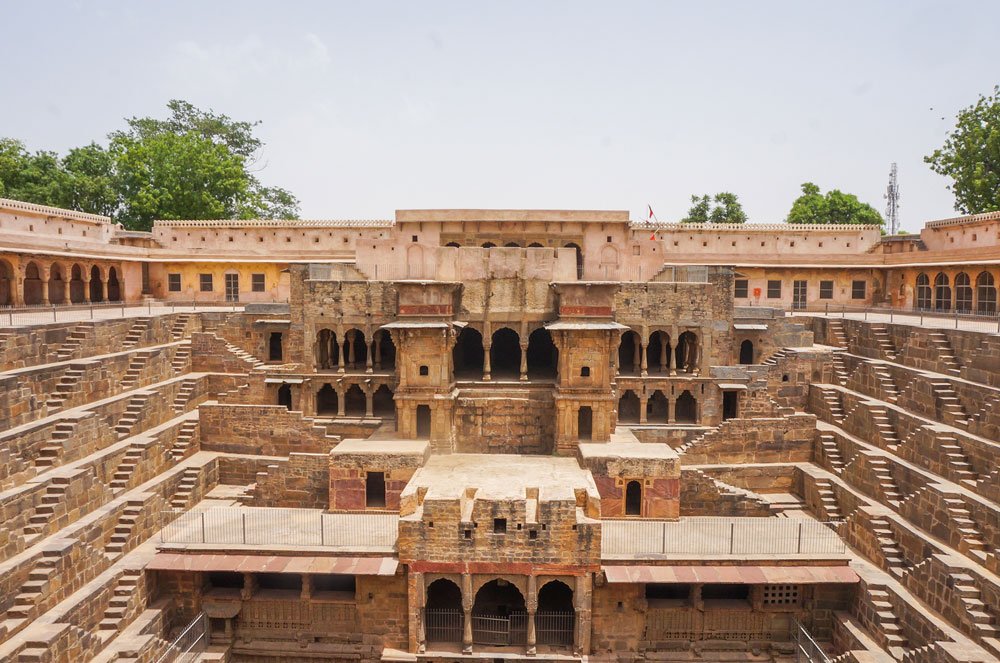 If your travel budget is within 1000 INR per day (solo), you will need to compromise with itinerary and mainly visit popular tourist cities and towns which cater to different budget categories. Alternatively, you can travel to many "expensive" destinations in low or offseason to further save. Here are a few suggestions for you:
Explore Royal Rajasthan (Jaipur – Pushkar – Jodhpur – Udaipur – Jaisalmer)
East of India (Varanasi – Kolkata-Darjeeling)
Budget Himalaya (Rishikesh, Haridwar, Dehradun, McLeodGanj)
South India (Alleppey, Kochi, Varkala, Kanyakumari)
Offbeat (you base yourself in one of the popular places mentioned above and make day trips to less-touristy villages/small towns around. They usually don't have double-pricing standards from my experience. At the same time, it's way easier to find accommodation in a popular place, especially if you are a foreigner).
I would not recommend going to upper Himalaya (e.g. Kashmir, Ladakh) or North-East if you are under 1000 INR. It is doable, but you will be missing out plenty of interesting quality experiences. It really makes a difference if you stay on a houseboat in Kashmir in a calm and scenic area for 1000 INR than see the road and another boat from your window for 300 INR.
If your daily backpacking budget in India is 1500-2000 INR I can't think of any itinerary limitations. There will be some places where you'll have to juggle with a budget if you need shopping for trekking or arrange a permit to go to remote areas. Overall, it's easy to backpack comfortably in India within this range.
Budget transport in India
Budget minimalist (<1000INR): Within this budget, the best choice is traveling by land transport: local government non-AC buses, sleeper class and 2nd Seater in trains. If you are familiar with train travel in India and don't mind crowded places, try unreserved coaches. You can cross just any distance in India within 60 INR (comfort not included), though I wouldn't recommend it during your first visit.
Within a town or a city, you will mainly commute by local non-AC buses, shared auto rickshaws or walk around if possible. Once in a while, you can take a personal auto rickshaw or cab, but these are rather exceptions than a norm.
Saving tip: hitchhiking is a thing, especially in the mountainous areas, but I wouldn't recommend doing it alone as a foreigner for several reasons. This is a different part of India worth-experiencing, but it is memorable because of meeting interesting people. For instance, I got a lift from a mountaineering teacher in Ladakh. I have never met people of this profile, that's why taking advantage of this encounter, I asked as many questions as I could to feed my curiosity. Nevertheless, if you get people who don't speak English, you will miss out on such experiences.
From the other side, you will also meet many local villagers talking in their own way. I would recommend trying hitchhiking only if you have a company, you are an experienced traveler in India and you had hitchhiking experience in the past and know how to do it.
Backpacker comfort (1k-2k INR/day): You can travel between the cities by 3rd AC trains and comfortable AC Volvo buses. If you plan your trip in advance, you can even get cheap flight tickets (I once booked Mumbai to Hyderabad for 1400 INR). Within a city, you will travel by public transport, but you can occasionally commute by personal auto (~10 INR/km) or an Ola/Uber cab.
Budget sightseeing in India
If you are an Indian or from one of the SAARC countries, you don't really have any restrictions on this point. If you are a foreigner, most of heritage sites in India use double-pricing policy. The ticket price is usually 500 INR per site which sounds exorbitant for budget travelers.
If you are a foreign minimalist backpacker (<1000 INR/day), you will be mostly skipping trendy palaces and forts except Taj Mahal. It's a very chaotic and crowded place that does not look that serene the way it is promoted, but you don't want to be challenged after your trip that you went to India and haven't been to Taj Mahal. Taj Mahal ticket costs 1000 INR.
Most probably you will visit a famous fort or a palace in each state to explore different architecture. Nevertheless, your main sightseeing will be focused on offbeat places – never fear, some less-known places are really jaw-dropping; museums – they are often overlooked, so you get reasonable ticket prices there (10-30 INR as a rule); beautiful natural sites; free tourist sights, fascinating temples and open public spaces.
Within overall budget 1500 INR/day or more during a few weeks, you can comfortably mix a few heritage sights per week with offbeat places.
Summary of a daily budget for backpackers in India
Costs\Nr of people
Minimalist
Comfort
Solo
Couple
Solo
Couple
Accommo-dation
150-300
300-600
300-800
600-1200
Food and drinks
300
500-600
300-500
500 – 600
City transport
50-100
100-200
100-200
200-300
Sightseeing
0-200
0-400
100-500
200-1000
Basic daily expenses
500-900
900 – 1.8k
800-2k
1.5k – 3.1k
Other popular costs:
Local intercity bus: 0.8 – 1.2 INR/km. This is my personal calculation from thousands of km on the road. The further you go, the cheaper it gets. E.g. Rishikesh – Dehradun, 43 km, 47 INR.
Autorickshaw: 18-25 INR base rate for first 2 km + ~10 INR for each additional km
General unreserved ticket: 60-65 INR for any distance
Sleeper train: 300 – 700 INR/ticket for 5 – 24 hours journey. There are more and less expensive options depending on the train and distance.
Overall backpacking Minimalist (600-1000 INR per person): I have added 100 INR per day in the final costs for occasional intercity trips once in a few days, some monthly expenses that are divided equally by days (e.g. Indian SIM Card – 200 INR/month for internet + calls), other unplanned expenses which you need to avoid by all means.
Personal experience: I would say, you need to be quite self-organized to backpack in India on a minimalist budget (especially as a foreigner). It mostly means saying no to hostel parties, skipping shopping, sometimes basing yourself longer in a place and making day getaways and walking. A lot of walking. When I was broke, I traveled India for 600-700 INR/day, including occasional expensive sightseeing. But I was tracking every single rupee spent in my excel spreadsheet.
Overall comfort backpacking (1000 – 2000 INR/day): I have added 200 INR per day in the final budget for intercity transport during occasional getaways, monthly expenses (e.g.SIM Card) and unexpected delays and cancelations in the plan. You typically travel within a range 1000-2000 INR/day with an average daily budget of 1500 INR. In addition to basic comfort stay and commuting, you can afford occasional shopping, bring some souvenirs home and explore more tourist sights.
If you are an Indian, you can manage in the lower end of the daily budget as you already know how things work in your country. If you are a foreigner staying in India less than one month, I recommend not to be a backpacking minimalist. Travel is about experience and India has a lot to offer.
If you are a long-term budget traveler, track your expenditure on accommodation/food/transport and save some daily money for experiences. Try to travel slow, stay and explore same town longer, manage within 700-800 INR/day and put at least 200 INR aside every day, that's 1400 INR per week, that's 5600 INR per month!! Then once in a while rent that houseboat in Kashmir, go for a Thar Desert safari, attend a cooking class, go for river-rafting and other unique experiences which will make even your budget journey unforgettable.
This chapter was long as it included plenty of budget saving tips and prices. Check also other useful in-depth resources for further reading at the end of the post.
Mid-range explorer travel budget in India
You have a strong value for money and mostly you don't mind paying a bit extra to try something new and add comfort to your travels. You have a budget range of 2000 INR – 6000 INR/day, but typically spend around 3k INR per person per day. What your experience will be like:
Cost of mid-range accommodation in India
As a mid-budget traveler, you have more options to choose from: proper AC and non-AC rooms in good guesthouses or hotels. Approximate range for accommodation is 1000 – 3000 INR per day with an average cost of 2k INR per room. The rooms will have hot water, TV, heater or additional blankets (in hill areas during the cold time).
Note: I rarely encountered single rooms in hotels in India, hence traveling with a friend or a partner comes almost for the same price.
Personal experience: when I intend to spend more than 1000 INR on accommodation, I rather choose an area where I'd like to stay and then look for options. Once you increase your accommodation budget over 600 INR/day, you get a significant upgrade – there adds up a TV, AC, toiletry, phone to connect to reception, café – where you can place a room order. 
You feel the difference that you are not a budget traveler. Nevertheless, if you take a hotel range from 1000 INR to 3000 INR per night, you will mostly get the same package under different branding. In 3k INR you will get flatter and upgraded TV, better furniture and interiors, more expensive toiletry, more varieties of food. In a nutshell, it will be still a similar package. If it doesn't make a big difference for you, I recommend staying in better areas, where you would like to explore places to save time on commuting.
Cost of food in common cafes and restaurants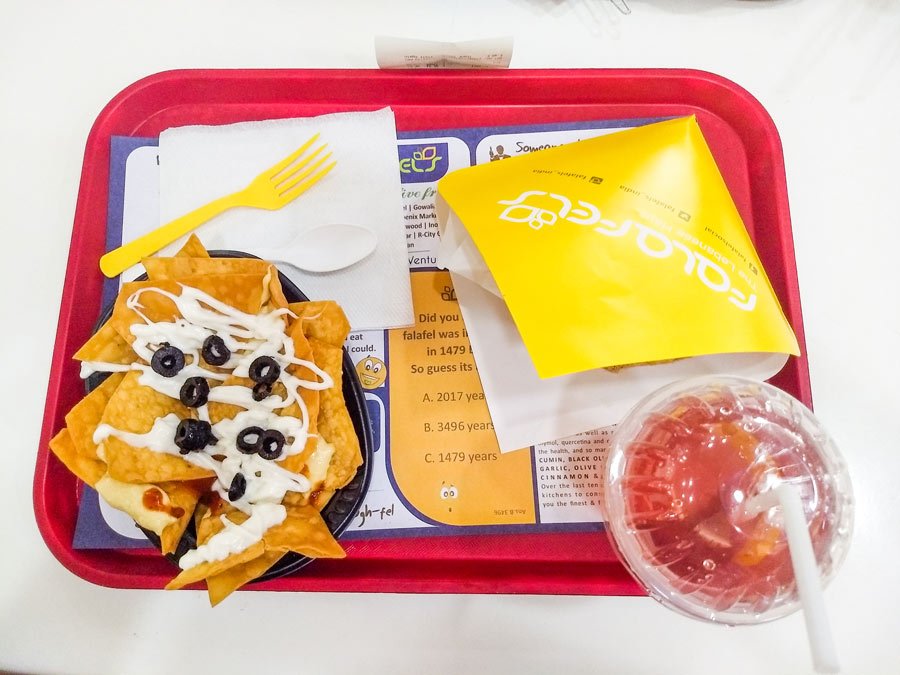 In terms of food, you might explore more dining options in cafes or restaurants with AC facilities and proper menus. Be it vegetarian or non-vegetarian, Indian or international cuisines, there are so many food varieties you can experiment with.
Talking about international cuisines, I found that many of them are adapted to the Indian market. Even the blandest food gains some spicy flavors. When I go out with friends to an AC cafe, I typically spend from 150 to 300 INR per meal. The smaller is the city, the cheaper are the prices. Overall, daily food costs come to 500-700 INR on average.
Cost of commuting with comfort in India
For mid-range travelers, I would recommend 3rd AC or AC Chair for trains, AC Volvo buses (1.5 -2 INR/km) and occasional economy flights if you book them in advance. In my opinion, 3rd AC is one of the best value classes for the trains – it is comfortable, yet comes at a cheaper price than 2nd or 1st AC.
Uber/Ola come very handy while commuting around. In Delhi, I recommend metro – it is amazing and really helps to escape heavy traffic. In tourist locations, you can consider hiring an auto (700-1000 INR) or a cab(1500 – 2000 INR) occasionally for the whole day to take you around. Yet, this will be rather an exception if you are traveling alone.
Some prices to give you an idea:
Delhi – Chandigarh AC bus – 260 km, 5 hr, 500 INR
Delhi – Dharamshala AC bus – 490 km, 10-11 hr, 700-900 INR
Bangalore – Delhi economy flight (in advance) – 2200 km, 2.5 hr, 3600 INR
Your travel style and itinerary in India with a mid-range budget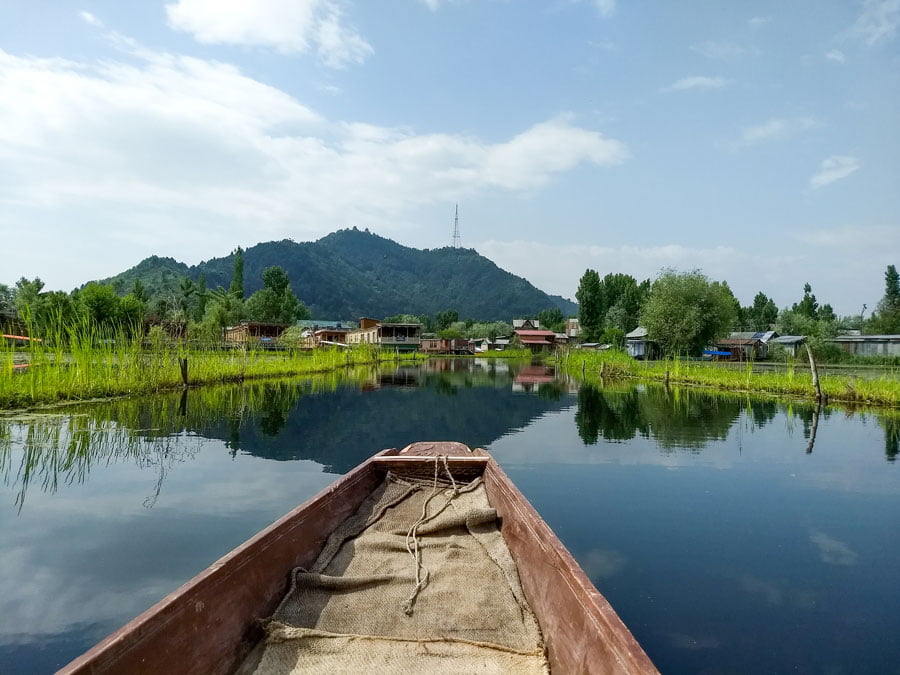 You won't have any restrictions in choosing places to visit, but you will be better off if you focus on one region (e.g. South India, North India, North-East India) to save on flights and travel mainly by land transport.
In addition to regular tourist sights, you can plan several (2-3) unique local experiences a week within your budget, like cooking class, Bollywood dancing class, a few hours food/city tour, adventurous activities (paragliding, river rafting, etc.). If you are a foreigner, you can visit way more heritage sites if you have a budget because of the double-pricing of the sights.
Summary of costs for mid-range travel budget in India
| | | |
| --- | --- | --- |
| Cost categories\ Nr of people | Solo | Couple |
| Accommodation | 1k-3k | 1.5k-3k |
| Food | 500-700 | 700 – 1000 |
| City transport | 400-1000 | 500-1000 |
| Sightseeing | 0-1000 | 0-1000 |
| | | |
| Overall daily budget* | 2k-6k | 2.7k-6k |
*Note this is a mean average. In some days you will spend more, in some less. Within this budget, you can afford occasional shopping. There are some mean intercity costs and daily miscellaneous expenses (you liked a scarf, nice coffee shop, that cool hand design – mehendi, etc.) included in the range. I've linked other in-depth posts to read on the topic in the last chapter.
Luxury enthusiast – perks of luxury travel in India
For you, sky is the limit and you really value time and experience. You are ready to pay extra to focus on the vacation itself rather than resolving its planning and operational side. Or, you might be traveling for business purpose and prefer planning your trip in a best way. You are ready to spend over 6000 INR per day and looking to explore the best what India hospitality sector has to offer!
Luxury accommodation in India
A common range for 4-star hotels is between 2500 INR to 4000 INR per night and 5-star usually costs 4500-7000 INR depending on the season and city. During offseason, you can find Radisson blue for 3-4k INR/night in smaller cities.
Read a review of Lakshman Sagar Royal Lodge by Lauren and Ben.
Personal experience: Once you pay for accommodation 4k+ INR per day, you feel another upgrade in the services. I haven't stayed in luxury hotels in India so far, but I've visited quite a few during lunches, conferences, and meetings. Even if you are not a luxury traveler, I encourage you to visit at least one hotel and maybe take a meal there. You will feel a huge contrast in the service level and attitude of the staff. Though they do offer more spacious rooms, impressive interiors, high-quality furniture, in my opinion, the main shift is in the service level.
A few interesting experiences:
Staying in a heritage hotel in India – there are some of the palaces converted into hotels (especially in Rajasthan) or heritage villas (especially in Kerala): Jai Mahal Palace in Jaipur, Lake Palace in Udaipur, Taj Mahal Palace in Mumbai – you name it. There are hundreds of similar properties all over India that cost between 3000 up to 50000 INR per night.
Renting a houseboat to explore the backwaters of Kerala. A typical houseboat will start at 6000 INR per day, but the price can hype well beyond 10k INR depending on the facilities. Ensure to negotiate a small boat ride as well to visit smaller canals, which are not accessible by huge houseboats.
Rent a private villa near the sea in Kerala, Karnataka, Goa, Tamil Nadu.
Stay at a tea plantation in Munnar, Ooty or neighboring places.
Visit some of the famous restaurants and food chains in India
Food is really affordable in India and caters to people from different budgets. Even if you choose only reputable and branded restaurants and chains you will be mainly landing into 300-500 INR per meal.
From my experience, the most expensive meal I've taken is Barbeque Nation. It's a buffet style meal charging anywhere from 500 to 900  INR depending on the deal and choices.
Same as with palace hotels, there are a lot of signature expensive dishes, but here I'm talking about common prices than exceptions.
Where your prices can rise? If you consume alcohol in bars/nightclubs it does add to the overall amount. Alcohol is expensive in India. I'm not an expert on this topic, just a general example. You can get a cheap beer from a beer&wine shop for 100 INR. If you buy same beer in the lounge or nightclub, there comes additional commission and price can reach 400-500 INR.
Travel without worries
When your daily budget is over 6k per day, you can go on a fully organized tour or hire a guide. A knowledgeable person is invaluable in understanding better this country and culture, especially if you are a foreigner. Nevertheless, read reviews carefully to understand the authenticity and goals of the tour.
The beauty of India is in its diversity – don't miss it especially if you are a foreigner. Some of my Indian friends do travel on a higher budget (5k+ per day), but they still take street food at times because it's yummy, go to free parks and shop at local markets. I've met some foreigners trying to stay away from such experiences. In many cases, media is at fault.
This is your call, but I would recommend getting deeper into the essence of the country. As a luxury traveler, you have a privilege to experience the extremes of the country and see that real India which has inspired thousands of novels and movies worldwide. It is a country that combines so many realities and each of them has its own beauty.
Useful resources to further read about the cost of travel in India
Whether you are a budget or a luxury traveler, you need to know the basics of how things work in India. Here you can find more in-depth articles to gain an insight:
As much as I love numbers, it was one of the most intense posts to write in order to give you more or less accurate figures. The costs are based on personal experience and suggestions of other travelers from different categories. I hope it will help you budget your trip to India better. If you have any suggestions or would like to share your experience, I'm eyes and ears open ;).
Also, if you find it useful and would like to see more of a budget/cost posts for different destinations, give me a shout somewhere! Thanks for making it till here!