Indian railways spread through some scenic parts of the country – hills, lakes, beaches, deserted lands, parks – you name it. Nevertheless, the purpose of a standard train journey in India is commuting. There are also three train tracks that were built for sightseeing purposes: Kalka-Shimla, Nilgiris and Darjeeling.
Though there are many more scenic journeys, the three mentioned above were included into Unesco Heritage sites. Today I'll focus on Ooty toy train and tell you how to better plan this experience – from booking tickets to some logistical aspects.
Note: the actual name of the city is Udagamandalam. It is presumed that the city was renamed to Ootacamund during the British rule and later shortened to Ooty. The city is still rather known as Ooty, widely advertised in the tourist circles under this name and even many local people call it this way.
It is important to know the real city names. In addition to this, if you book the tickets – Udagamandalam is the name of the destination you should be looking for.
Ooty toy train itinerary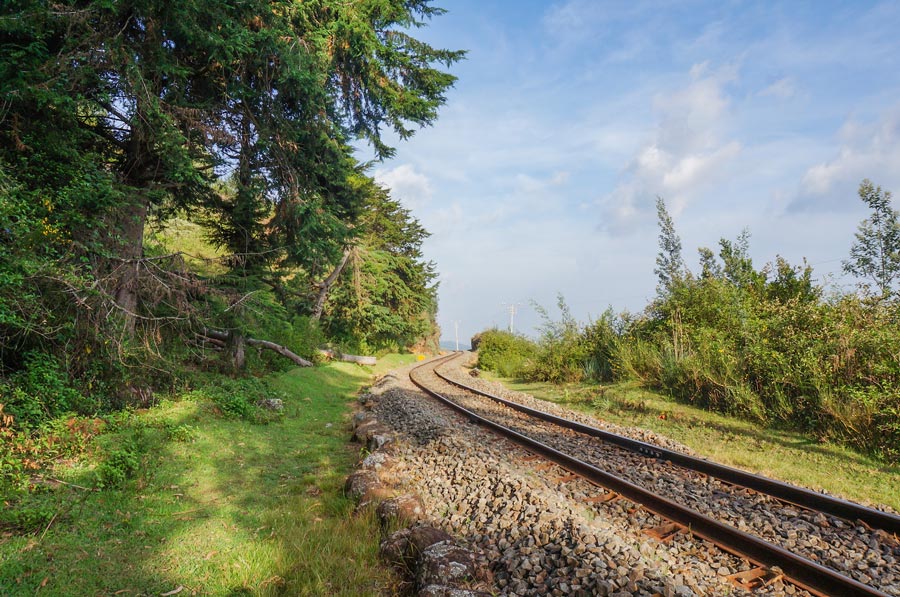 The idea to connect Mettupalayam(a town in Tamil Nadu) and Nilgiris dates back to 1854. Nevertheless, it took almost 50 years to build this route (a round of applause to bureaucratic laws that make everything longer).
The route from Mettupalayam to Udagamandalam (Ooty) is 45 km and takes roughly 3.5 hours to reach. The trek passes numerous bridges and tunnels, tea plantations and forest, hills and villages.
The route includes several stations: Ooty, Lovedale, Ketti, Aravankadu, Wellington, Coonoor, Hillgrove, Mettupalayam.
Ooty toy train booking
There is a daily train going from Mettupalayam to Ooty and back. Here is the schedule:
7.10 a.m. Mettupalayam – Ooty – MTP UAM PASSR(56136) – 5 hours
2.00 p.m. Ooty – Mettupalayam UAM MTP PASSR(56137) – 3.5 hours
There is an extra train that goes daily from Ooty to Coonoor (UAM ONR PASSR(56139)). See below the time schedule I clicked at Lovedale train station. Note, if you start from a different station, the timings will differ. I recommend checking IRCTC for the accuracy of the information.
Read also my detailed guide on how to travel by train in India
There is a hype with this train tickets and it is sometimes pre-booked one month in advance. If you are unsure about your travel plans and/or you haven't booked toy train tickets in advance, you can get them on spot.
The queues in Ooty are quite long. My neighbors decided to book at the station directly, they stayed half an hour in the queue. In Lovedale, there was no queue when I was buying tickets. BUT: you might not get a seat in the crowded day.
When I was buying, there were 4 empty seats in General coach. Note: no one can guarantee you a seat while buying a ticket.
Ooty train fare
The prices online and on spot will differ tremendously. E.g. if you book the ticket online, it means you are getting the seat. You can expect to pay 290 INR for the first class ticket from Ooty to Coonoor and 85 INR for a general.
Mettupalayam to Ooty train fare is 470 INR for first-class and 145 INR for second-sitting. I got the unreserved ticket for a general coach from Lovedale till Coonoor for 10 INR. The train just happened to have 4 empty seats, but that's not always the case.
If you don't have budget limitations and plan to buy tickets online, go for the first class. Consider that a big part of the crowd from the station will go to general class. First-class is not crowded hence more peaceful.
Where to start: Ooty or Metupalayam?
Depends on your itinerary and goal. Mettupalayam is well connected with other cities in Tamil Nadu. The closest city is Coimbatore, though there is also a train from Chennai. But, you will need to wake up early for the train (starts at 7.10 a.m.). If you are not starting directly from Mettupalayam, it takes time to reach this place. Consider waking up really early or taking a night train.
If you start from Ooty at 2 p.m. you will reach Mettupalayam before dark, but still, you will need to figure out with accommodation and transport.
There are people who do only stretch Metupalayam – Coonoor or Ooty – Coonoor. Then they come back the same day. In my opinion, it is a hectic plan to do Metupalayam – Ooty, and back and hardly makes sense. The train is really slow as its primary goal is recreational. You can do it way faster by other vehicles.
Other tips for riding Ooty toy train
If you are planning a trip to Ooty and riding a toy train, here are a few more details to consider:
I strongly recommend avoiding weekends and public holidays. You will be surprised how popular this experience is, especially during school vacation time (May-June).
Get some warm clothes with you. It's a hilly area, hence chilly throughout the year. Plus, windows of the train are opened so there will be extra wind despite slow speed.
Try to get the place near the window. If you get a standing place in the middle, you will need constantly to adjust in order to see something.
Ooty is crowded, noisy and chaotic (maybe because of its popularity). I recommend choosing places to stay way further from the central station/main roads and a happening part of the city unless you don't mind jams and honking.
Note, Tamil Nadu receives both south-west and north-east monsoon. Consider weather specifics, while planning your trip. Read also: best time to visit different parts of India.
Hope this post gives you a good idea what to expect from riding a train in Ooty. If you had this experience, share how it went 😉