Majuli is the biggest river island in the world – that's the USP that brought Majuli into Guinness Book. Nevertheless, there is much more behind this catchy line that makes this destination special.
Majuli island is shaped by the mighty Brahmaputra River in Assam. It takes almost an hour to cross such a wide river from one port to another on a ferry. It is both thrilling and exhilarating to witness tranquility and at times a strong flow of the river.
The access to so many water reserves has a huge impact on the agricultural nature of the island and the activity of its citizens. Nevertheless, the river flow and erosion have decreased the surface of the island almost twice in just last century.
Despite a growing number of visitors every year, Majuli is a niche destination which promotes responsible tourism to save the authenticity of the island.
In this post, I'd like to tell you more about Majuli river Island and how to plan your trip there. Here are the specific questions I will focus on:
What to do in Majuli?
Satras of Majuli and their aim?
How to get around Majuli river island?
Where to stay in Majuli?
How to reach Majuli from Guwahati?
Problems of Majuli island
Quick useful tips to plan your trip
What to do in Majuli?
Majuli is one of the destinations that are about natural ambiance and culture rather than a checklist of specific places to visit. Nevertheless, here are a few interesting things you can do on your trip to Majuli:
Visit Satras in Majuli
Majuli is one of the holy places of Vaishnavite religion and culture. Vaishnavite (in a simple language – the followers of Vishnu). Nevertheless, Satra is not only a religious institute, but also a center of traditional art and culture.
The first Satra in Majuli dates back to 15th century. A Satra usually has a big prayer hall with a shrine and a separate space with dormitories and basic facilities for monks.
Though there were built tens of other Satras throughout centuries, many of them were shifted to other locations due to monsoon floods and erosion of the island.
Nowadays, there are twenty-two Satras in Majuli. If you visit a few, you might notice, that students learn different arts and crafts there. Woodwork is very popular, hence in some Satras, you will see very detailed crafts made of wood. Monks were happy to share more about their work technique when I showed interest in their work.
Satras are spread out in the island, though there are a few famous ones: Auniati Satra, Kamalabari Satra, Garamurh Satra, Shamaguri Satra (famous for mask-making).
Looking for more places to learn about Indian culture, architecture, and religion? Check out Lepakshi – a village of great importance in the Ramayana epic.
Connect to local people
For me, Majuli represented life before Instagram filters came into place. People here are way simpler by heart, demonstrating kindness and patience in their actions. Many people are happy when you are interested in their occupations like wood carving, carpentry, farming, etc.
When I was walking along the streets, some local people were paying attention to me: "Come here and see what this guy is building from wood". Then I started asking questions in my broken Hindi and people were so keen to explain.
Be respectful and polite and you will discover a whole different culture and lifestyle of the island citizens.
Spend time with Nature in Majuli
Majuli island is very green with huge areas of wetlands where you can see at times animals and birds. The island has transformed into a green forest in the past 40 years. Jadav Payeng, one of the citizens of Majuli island has planted a tree every day for over 35 years. His initiative was followed by a few more local people.
Nowadays, you can see greenery everywhere you look inland. The forest size is almost twice as big as New York Central Park. Now this area is home to some wildlife animal species as well.
Majuli is also a place to watch birds. If you rent a bicycle, you can visit a few Beels (lake in Assamese) with migratory birds. Road to Veeraki Beel here (Coordinates: 26.939845, 94.138845).
The sunsets at Majuli are taken straight from a fairy-tale. While I couldn't help starring at fascinating sky color schemes and foggy extra effects of the evening nature, the localites seemed to be habitual with the views and not making a fuss about it.
Looking for more unusual landscapes in North-East? Trek Dzukou Valley!
How to get around in Majuli?
The ferries allow both passengers and vehicles (such as cycles – 10 INR/car-700 INR/bike). I highly recommend choosing a bicycle to explore this island in an eco-friendly way. There are roads everywhere and it is a pleasure to ride along the road with a field with cattle on one side and a village with homes on another side.
I've rented my bicycle just at the entrance to the main town here (26.944406, 94.164183), though you can get nice deals around the place you will be staying. The uncle who was repairing bicycles asked 100 INR for the whole day. Some people told there are cheaper options, though I don't bargain with farmers and hard labor people.
If you need to go fast and/or far somewhere, there are shared cars/autos/tempos that can take you to the main villages/points of the island. The journey costs anything between 20 to 40 INR depending on the final destination.
Some local people were offering me to rent a motor bike. You will have options for any taste of traveling.
Hotels in Majuli – where to stay?
Accommodation in Majuli is a more complicated question than it might seem. You can find the list of Government accommodations here. There are also a few private options about which I will talk later.
I chose Kamalabari Satra guesthouse as there was a person on a ferry who knew the owner. Plus, Satras are one of the highlights of the island I got interested in an experience of staying in Satra guesthouse.
It was a different experience, though not for every taste. Let me set your expectations right. This is a minimalist place with no distractions. In every room, there are two beds, a chair, and one charging point. There are rooms with attached washrooms as well as common washrooms on the floor.
There is no phone or internet connection inside the buildings of Kamalabari Satra. You can get a connection outside of the building though.
If you are looking for some time with yourself, it is a nice place to be. If you are a child of civilization who needs TV, Wi-Fi and other commodities, I would not recommend staying in this place as it might be frustrating for both you and the owner.
What I liked about Kamalabari Satra Guesthouse:
It is situated in a lush green area, not far from a small river. It's very peaceful and natural there.
It's a few meters away from one of the famous Satras of the island and you can get more insight about it here.
That's a place where you can focus on yourself and get away from distractions. Birds are chirping outside. Very peaceful.
Challenges I've encountered and what I didn't like:
Prices – they start selling the room on the picture for 1000 INR/night. The twin rooms were starting with 700 INR. I had budget limitations plus it seemed higher than Indian standards, thus I tried to strike a deal. It wasn't hard to get a smaller room for 500 INR if you stay several days.
A piece of advice: check out the room before checking in. I'm very particular about the cleanliness (pretty much the only expectation I have about the places I live in). Everyone has its own standards, thus it's good to check the place – then pay money.
If you are a foreigner, people don't speak English here. Unfortunately, my Hindi was not that advanced at the moment of visiting to ask everything I wanted to know.
There are two shops downstairs where you can buy snacks, though you have to go to the main street (~1.7km) to have some substantial food. In the guesthouse you can have a veg dinner at 20.30 hrs They serve a thali. If you have your vehicle, it's not a problem to go somewhere and eat.
Though it is a different experience living in a Satra Guesthouse, it is not for everyone. Pay attention to the points mentioned above if you decide to live there and set your expectations right.
If you are looking for a comfortable experience, I recommend considering private options. There are several bamboo hut type of accommodation, e.g. Yggdrasil. There are also proper lodges with TV & other commodities. One of the highest ranking accommodations is La Maison de Amanda.
I've checked three places to stay in Majuli during cycling and everyone started around 1000-2000 INR per night. I didn't move further with bargaining though.
Guwahati to Majuli – how to reach?
You can reach Majuli from several parts of Assam, though I will be focusing on Guwahati since it's a capital city and starting point of many visitors in North-East.
The itinerary will be the following: Guwahati -> Jorhat – > Nimati ghat -> Majuli. There are a few daily trains going from Guwahati to Jorhat, nevertheless, I recommend Shatabdi.
It starts at 6.30 a.m. and reaches Jorhat by 13.20 (if on time). Mine was late by 1 hour. Side note for foreign readers: Shatabdi and Rajdhani are THE most punctual trains in India. That journey broke my hopes in train planning (just kidding… or not).
On a positive note – Shatabdi is a fast train. There is one more night train that takes 10 hours to reach Jorhat. Shatabdi train till Jorhat 2S sitting ticket costs 175 INR and AC Coach ticket is 590 INR. There might be an insignificant seasonal difference in price, but you got the big picture.
Read also: Step-by-step guide to train travel in India
Bus stand in Jorhat is 1.5km away from the railway station. The autos will try to make money on you big time and tell how far and unreachable is a bus stand. You can expect to pay 50 INR/per person for a shared auto. I walked as I didn't have much luggage, though the walking path (in the proper sense) is missing for a part of the way.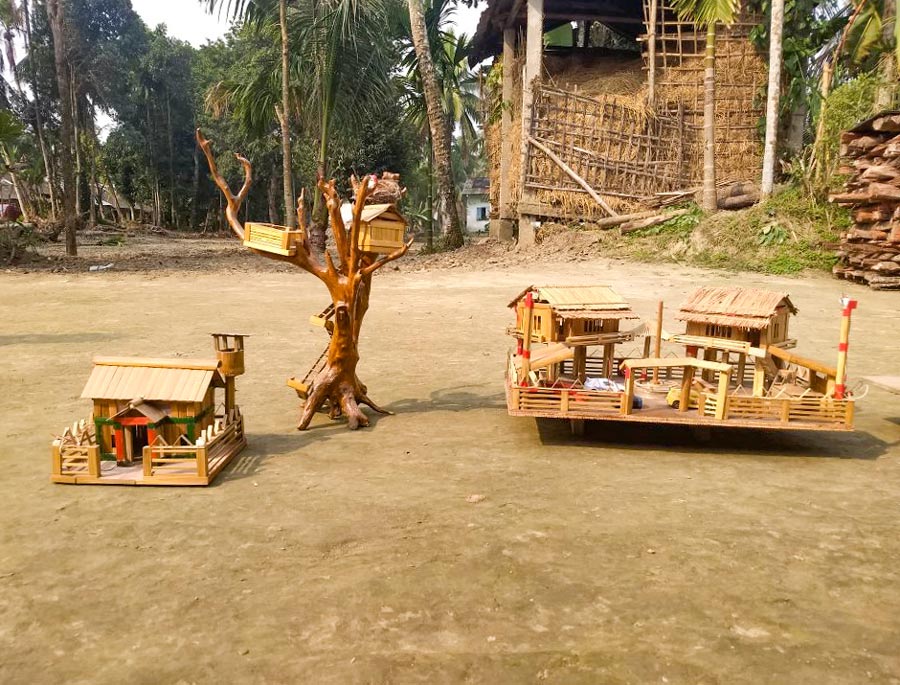 At the bus stand, you have to ask for shared auto/tempo till Nimati ghat (the port). The tempos start from the street outside of the bus stand. There is regular transport, I took one tempo from here (coordinates – 26.760024, 94.210629). It costs 30 INR.
There are two port stations you will be crossing on your way. Ask the driver to drop you at the port that goes to Majuli (last stop).
There are hourly ferries starting from the port. Ferry from Nimati ghat to Majuli costs 15 INR per person if you are a simple passenger. You can take as well bicycle/bike/car/etc on the ferry with you, but it comes for an additional price. According to the price board at the station, shipping a car costs 700 INR.
The journey takes around 1 hour as you will be crossing 12 km of Brahmaputra river. Initially, I was thinking the ferry was going along the river, but OMG, 12 km is the breadth of the river – it's so huge. So be patient. Along the journey, you will see a few deserted islands.
By following this schedule I reached from Guwahati to Majuli port by 16.30. From the port, you can take a shared tempo that will take you to Kamalabari. It costs 20-30 INR per person depending on your final stop.
Kamalabari is somewhat the start of the main part of the island. Please consult the local map picture I provided in this article for better orientation.
Problems of Majuli
Majuli is a fascinating place to visit, it looks so idyllic and different from the realities of modern civilization. Nevertheless, there are problems the island is facing and many visitors are not aware of these.
Outside of the inhabited area are white sands washed by the Brahmaputra river. While the white desert looks exhilarating and even fascinating, the river swallows the shores of the island every year. It is a high threat of the whole island existence in a few decades.
Talking about local people – now tourism opened as extra job opportunities, but overall the income of a regular citizen of the island (outside of the tourism industry) is low.
Don't underestimate the power of every person's actions. Remember, Jadav Payeng has transformed a desert island into the forest. You CAN make a difference as well. If you visit Majuli, here are several things you can help with:
Choose bicycle to commute – a bicycle is one of the main ways to commute among local people. I strongly suggest following this rule. The island is clean and you don't see too many cars usually unless this is shared transport or construction works.
Keep plastic with you – Majuli island doesn't have resources to recycle or remove garbage. Keep one water bottle and refill it in the guesthouse, cafes/restaurants. Whatever biscuits and other stuff you buy, take the package with you from the island. When I was riding to Majuli, I was surprised I haven't seen any plastic in the Brahmaputra or at the shores of the island, so keep it this way.
You will see every day people clean spaces around their homes and cafes, there is no litter along the roads. This detail does make an island special.
Buy local stuff – farming is one of the livelihoods of the local people. Give preference to local food and products rather than junk from the shops. Also, if you are planning to bring some souvenirs, there is an abundance of arts and crafts to choose from.
Spread the word – local people are happy to see the visitors and share their lifestyle. Come to Majuli not only for the name of biggest River Island but to discover its unique culture and people. Share your experience and maybe other people from your circle will be interested to help this island.
Other useful tips for Majuli travel plan:
Carry enough cash with you just in case. I've checked three ATMs in Majuli and they were not working :(.
Whichever local cafes I've visited, I liked the food served there. Price overview: Half-chowmein veg – 20 INR, Veg Thali – 60 INR, Fish fry – 40-50 INR, Paratha with Achaar and Sabji – 40 INR. Some cafes are made out of bamboo and look like artisan huts. In many places you come, they first ask: "Meetha khaug hai" (would you like sweets?).
Consider that sunrise in winter is around 5.50 a.m. and about 5.30 pm it's pitch dark. There are no lights beyond the Main Streets of each village, so carry the torch if you plan to come back later.
Interested to know more about the island? Google might not be very helpful, though you can find a few small books about Majuli at the island itself. I bought two as memory and didn't regret. They cost 100-150 INR each.
Majuli leaves a special impact. It's one of the places that hasn't been "spoiled" by mass tourism so far. It is a raw India which TVs don't show. Would you like to visit it?