Have you ever dreamt of visiting an island? Moreover, in one of the countries with the world famous heritage sites, rich culture and cuisine? That was my Greek dream. In school, I've read several books about mythology, ancient civilizations, the trade in Balkans – but it is a totally different feeling when you personally walk through the narrow streets with white houses, savor moussaka in one of the traditional villages or talk to the local citizens about their occupations and lives. This post will be an introduction to Rhodes – one of the biggest and fascinating islands in Greece. Here are the questions I will focus on:
When to visit Rhodes and how long to stay?
Rhodes is one of the most southern Greek islands with a mild climate all around the year. In winters, the temperatures might drop to 12 C (53.6 F) making January the coldest month of the year.
Best time to visit Rhodes is from early April to late November. The swimming season in Rhodes commonly starts in May and lasts until late October with a tourist peak in July-August.
The island has many experiences to offer beyond fabulous beaches even if you decide to visit it not in the summertime. If you are interested in exploring historical & natural sites of Rhodes, spring and autumn months will be your best bet. Starting with late May the air temperatures are rising and reaching the peak (up to 40 C according to locals) late summer. I'm not a fan of hot weather and air conditioners, thus I prefer visiting Rhodes in May or early Autumn.
The length of stay depends on your interests as you can find what to do in Rhodes whether you come for a few days or for a few weeks. I would suggest spending at least one week here to have a general feel of the island.
How to reach Rhodes?
You can reach the island by plane, ferry or high-speed boat. There are ferries departing daily from Piraeus port (near Athens) and reach Rhodes in 13-20 hours. If you are planning to travel during the summer season, the price comes around 50-60 EUR one way.
Since Rhodes is relatively far from Greek mainland I highly recommend choosing flight. There are regular flights available from various Greek cities as well as charter flights from many European countries (e.g. Germany, UK, Russia, Italy, etc.).
I found a Ryanair return flight from Athens to Rhodes for 37 EUR four months before the trip. Duration of the flight – 50 minutes.
Where to stay in Rhodes: East or West?
Rhodes is surrounded by two seas – warm and calm Mediterranean Sea from the east, breezy and cool Aegean Sea from the west. The western part has mostly pebble beaches and the eastern part is sandy or mixed as a rule.
The western beaches are popular among surfers due to the constant winds and waves of the Aegean Sea. Mediterranean part is calmer and great for swimming. This is one of the reasons the Eastern part is popular among tourists, has more hotels and activities there.
Popular beaches in the Western part of Rhodes: Elli(near Rhodes town), Ixia, Ialissos. In the Eastern part: Faliraki, Ladiko, Afandou, Tsambika, Lindos.
I've chosen Faliraki as a base and I'm very happy about this decision. Faliraki is a village 12 km southeast from the Rhodes main town. It is well connected by the bus network with other places in Rhodes.
Faliraki has several kilometers long sandy beach with crystal clean water. It is considered one of the best beaches in Greece. The village has numerous places to shop/eat/hang out during day and night. It is close to many sightseeing places in the North-East of the island.
Another popular choice among tourists on the Eastern side is Lindos.  I've visited several beaches around the island and there were a few people coming from other parts of the island to swim in Faliraki.
The island is 77 km from North to South and 34 km from Extreme East to West. That being said, you can always reach any beach within minutes irrespective of your location.
How to travel around Rhodes island?
Rhodes has a good connection between the towns and villages of the island. You can travel around by bus, taxi, car or take a tour. Let's look into details:
By bus. In Rhodes town, there are 2 bus terminals 200 meters from each other. One is R.O.D.A. that caters to the western part of the island, another one is K.T.E.L. that serves the eastern part. If you want to reach from the eastern part to the western, you will have to do it through Rhodes town. All the destinations within the same part of the island can be reached without crossing the main town. Check out the bus schedule.
There are bus stations every 500 meters and the cost of a trip can be from 2.40 EUR if it's a few kilometers journey up to 9 EUR if you need to cross the island from the extreme North to the extreme South. You can buy tickets from the terminal if you start in Rhodes or from the driver.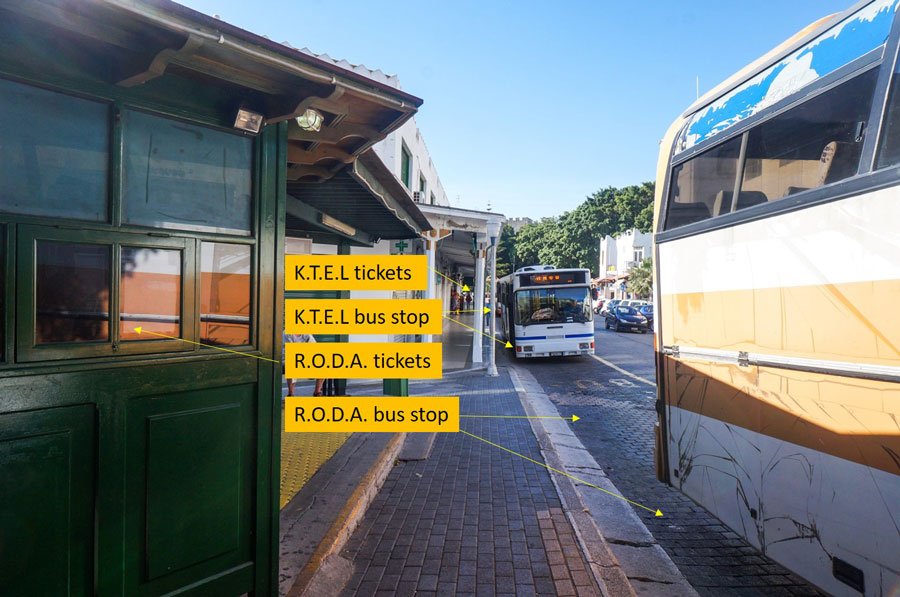 By taxi. Taxi services are pretty expensive. It comes around 1.3 EUR/km around the island and 0.74 EUR/km for the city area. Better confirm the rates on the spot, because there might be add-ons for the luggage, appointment, airport, timings, etc. ASK FOR A RECEIPT at the end of your journey.
Rent a car/bike. There are numerous vehicle rental points around the island and if you have a driving license, this is a great time to use it. The prices start from 15 EUR/day for a bike and 30 EUR/day for a car.
You can also hire a driver if you don't have a license. On the spot, you will see quite a few ads of such service.
Take a tour. I was surprised to see how much tourism in Greece is a personalized experience. There are tour companies catering to any needs – from personal tour to group tours, from beach hopping to historical tours, from hourly tours to whole day excursions. In the peak season in summer, the tours are available in various languages: German, French, Polish, Russian, English – you name it.
I had an impression that the island is especially popular among Germans, Brits, and Russians. These three languages are widely spoken around the island, in some shops even the products are listed in foreign languages.
Rhodes Airport to Faliraki – how to reach?
You can reach from the airport by taxi, car or bus. There is a car hire just outside the airport building. You can ask about the taxis in the information support of the airport. There are regular buses from the airport to the town of Rhodes. One ticket costs 2.50 EUR and it takes around half an hour to reach. Check the schedule from the airport to Rhodes town.
As written above, you can reach almost any place around the island from Rhodes town. You need to buy a K.T.E.L ticket to Faliraki. There are regular buses and the ticket costs 2.40 EUR. Check the bus schedule from Rhodes to Faliraki.
Places to visit in Rhodes and itinerary
The island has plenty of sightseeing and activities for different taste: history & heritage, beaches & bays, adventurous sports, natural getaways and so on. Here are some experiences I recommend during your stay:
Explore the history through the streets of Rhodes Old Town
Take a walk through the old streets of the town, go through the Street of Knights leading to the famous Palace of Grand Masters, look at the town from the top of the wall. What's interesting, that there are still around 8000 people living in the walled city of Rhodes. When the weather is cooler, the locals sit on the chairs outside of their houses and chat. I imagine it feels like your home in a museum. Do you think you could live like this?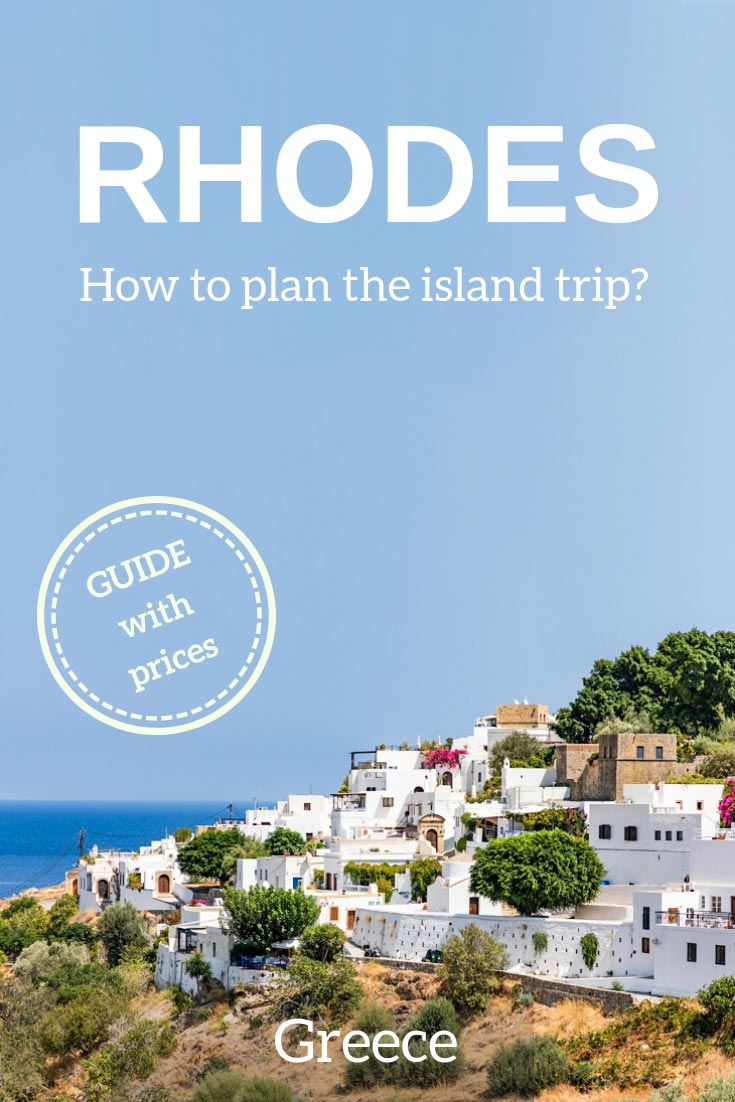 After the old town, you can exit the walled city to the port and take a walk to the fort accompanied by the sea winds. There are hundreds of yachts and ships in the port waiting to explore the sea. Despite the number of vehicles, you can see the bottom of the sea at any point of time – the water is so clean!
From the port, you can take a walk near the sea towards the clock tower. All the places above are close to each other. I spent around 6 hours of enjoyable walk around this place, but you need to reserve more if you plan to visit the Aquarium or do shopping.
Visit breathtaking panoramic points in Rhodes
The views have so concentrated and bright colors that it feels sometimes they are photoshopped. Take a ride to the Filerimos to see the biggest cross in the world and a mesmerizing panorama opening behind it.  Drive further along the western coast to reach a picturesque castle of Monolithos. It is possible to visit the castle as well, though there are only ruins left and you will be able to climb only by foot. You could as well see the panorama with the castle from the viewpoint above.
When you are on the Eastern side, visit a Tsambika hill with 307 steps to the Church and picturesque views at every turn. Not far from it there is a Lindos town, but we will take a moment to discuss it later.
See the meeting point of two seas at Prasonisi
This is one of the most interesting natural wonders of the island and among those, I've seen in general. There is a road splitting the two seas which you can see from April until November. In the winter period, the seas cover it and form two independent islands. Whenever you walk on that road, you can see the Aegean sea with waves from one side and calm Mediterranean sea from the other.
Lindos
Lindos is one of the biggest towns of Rhodes and you can easily spend a half day or more here to explore the white city with its narrow streets, historical sites, and beautiful beaches. You can climb to the Acropolis to visit the ancient ruins and see the view of the city from above or go through one of the panorama platforms outside of the city.
Go local at the village of Embonas
This is the highest village of the island highlight at the altitude of 850 meters above the sea. Here you can see and taste many local products like wines, jams, sweets; find out more about handmade goods and how they are made and look at the life in a traditional Greek village. I find it interesting from a cultural point of view. If you are doing an island tour and you are interested in the local culture, Embonas is a nice destination for this. Moreover, it's not that popular among tourists comparing to the beach cities, so the village keeps its authenticity. Here I also tried the best homemade Moussaka(see more details in food).
Swim at different bays and beaches in Rhodes
I recommend exploring what the island has to offer and going beyond the hotel beach. There are so many great beaches and bays nearby. Visit the sandy beaches of Faliraki and Tsambika, move along the shore and you might discover both famous and less touristy places near the sea. There is also a nude beach not far from Faliraki.
Explore the bays of St. Paul and Anthony Quinn. The latest was a place of shooting a movie.
What I have missed and wished to visit are the seven springs. According to the legend, if you go through the narrow tunnel you will either get a younger look or will purify from your sins. I was mainly interested in this place as a natural site, but as I mentioned previously, it's quite tough to cover the whole island in one go. You will have to compromise. I've met also quite a few people complimenting Aqua Park in Faliraki. Though I'm not a fan of such activities, you might want to check it out.
If I were to plan a trip to Rhodes again, I would probably mix active/passive days and make somewhat the following plan:
Day 1 – exploring the local place where you stay
Day 2 – Island tour by bus/car
Day 3 – Relaxed day, visiting a Bay
Day 4 – Rhodes town
Day 5 – Relaxed stay at your village/town base
Day 6 – 7 springs & Lindos: history & beaches
Day 7 – Relaxed stay at your village/town base
If you are planning to have a rich nightlife with sleepless nights, the above plan might be hectic. From the other side, the plan is quite comfortable even if you need to work remotely 6 hours/day.
Is it worth taking an island tour in Rhodes?
Before coming to Rhodes, I knew that I wanted to visit the western part of the island and Prasonisi (the place where two seas meet). I calculated the return ticket to Prasonisi would cost me 18 EUR by regular bus from Rhodes town and at least 15 EUR more to visit the western side of the island.
The island tour costs around 35-40 EUR depending on the company. It starts at 8.00 and ends by 18.00.  In my case, the whole tour came almost for a price of two places I wished to visit and it sounded reasonable to take it.
What does Rhodes island tour include?
Basically, you move around the whole coastal part of the island with a few stops. I've asked 8 different agencies about the details and all of them had the same itinerary with minor iterations:
Rhodes town overview – you will move through the
Filerimos – a stop here for 1.5 hr. It's more than enough to visit the panoramic viewpoint and a church.
Valley of butterflies – this is interchangeable with Filerimos since you can see the butterflies only in July-August.
Siana – a stop here for half an hour.
Embonas – we had a "bonus spot" of local wine and products degustation on the hill, but I'm not sure if it's a part of each tour. It was around half an hour. Afterward, we drove up to the hill, had lunch in a traditional village and 1-hour free time.
Monolithos – 20 minutes panoramic view
Prasonisi – 45 minutes free time stop + 15 minutes panoramic view stop on the hill
Lindos – 20 minutes panoramic view
Faliraki – that was the start and end point for us. Depending on your location the sequence of places might be different
You will also see the overview of Ialissos and Kamiros from the bus. I found the program interesting and well organized. If you have this general island overview, you can decide to which places you would like to allocate more time later on during your stay.
Of course, none of the tours can really cover all the places of the island in one day – because they are too many (see the point above).
In my opinion, if you are a family/group of friends (>2 people) – renting a car would be much cheaper (prices start at 30 EUR/day) than taking an island tour, but it might be quite tiring to drive on the serpentine roads the whole day.
What to pack for Rhodes?
In addition to your standard packing list, I would strongly encourage you to take care of the following:
Mosquito repellent – mosquitos are growing in numbers the warmer it gets. You can choose one of the solutions on spot or take with you if it's compact
Sun cream – there are plenty of sun creams with different SPFs on the sport, but they are more expensive as usual.
Adapters – check the information about charging points in Greece.
Warm hoody – it might get chilly in the evenings depending on the month.
Greek food to try at Rhodes Island
Greek food is a perfect combination of olives, vegetables, and cheese. As a matter of fact, it is a country of olive everything – olive bread, olive oil, olive salad.
There are several common dishes with Eastern European cuisine. If you are new to the Balkan area, I suggest to start with a Greek plate – it was invented for people who don't know what to choose and includes small portions of several dishes in one. The one I tried cost 11 EUR and included the following:
Dolmathakia
Stuffed Tomato/Pepper
Moussaka
Beans
Souvlaki
Gyro meat
Fresh vegetables
Though the cafe owners were swearing it was one portion, I confidently shared half of it. My all-time favorite is Moussaka and the way it's made differs depending on the area. The best one I tried was in Embona village baked in the pottery plate. From snacks, Tzatziki is also something special.
Souvenirs to buy in Rhodes
If this is your first encounter with Greece, here are a few very touristic ideas how people take Greece to their homes with them:
Olive oil – In Rhodes, I've seen different varieties of olive oil (with herbs, spices, etc) in several shops. There are even 100 ml options if you travel with a carry-on. It's not that common in the continental part of Greece.
Everything else from oil – there are plenty of cosmetics and other products made from olives or olive oil.
Sweets – there are different varieties of sweets with most popular baklava and lokum. Be smart about choosing sweets. Though I loved lokum, apparently it is not that transportable and can transform into the mix. I've packed some 8 varieties in one box and put them in the personal bag so they are not pressed by other stuff and anyway I came with a stick mix.
Herbs & spices –  what I liked, that some of the spices are grouped by national dishes: e.g. Moussaka mix, Souvlaki mix, etc.
Clothes – as in many other countries, there is a souvenir clothes' line with slogans "I love Rhodes/Greece", maps, flags, etc.
Jewelry – you can find anything from regular jewelry to interesting thematic one like Ancient Greece (with pieces in form of exterior ornaments), traditional etc.
Magnets
Other useful information about Rhodes travel
Though it seems I have already crossed the word limit of this guide, there are few more details left I wish to share about Rhodes:
It is multilingual – though Greek is an official language on the island, many local people working in the hospitality sector are speaking several languages due to the importance of tourism. You can hear German, English and Russian spoken around quite often.
Greece country is a very photogenic country. There is a perfect combination of scenery and blue. All you need is just choosing the shooting point.
Smiling & nice people – Maybe it's the excess of the sun, but people are friendly, emotional&loud while talking and smiling a lot.
All beaches are free. In Rhodes, all beaches are public, even if there are hotels nearby. This means, if you feel like exploring the beaches of the island, you don't have to worry about restrictions.  The only exception will be Kalithea Springs because of the hot springs there.
Family-friendly –  that's a bold statement for a person without kids, though I have seen an excess of families with kids, more than anywhere before.
Vegetarian – most of the traditional main dishes contain meat, fish or sea products. Nevertheless, there are a few vegetarian cafes and every place I've been to had a decent variety of salads and a few dishes without meat.  If you don't mind cooking, I suggest renting an accommodation with a kitchen facility. Fruits and vegetables come at a very affordable price.
WiFi – all the cafes I've been to had a decent internet connection. I haven't seen any opened networks I could catch on the streets unlike e-Estonia with one of the greatest public internet access I've seen so far.
You can reach from Faliraki to Anthony Quinn Bay by foot. If you are habitual to walking and the weather is nice, Anthony Quinn Bay is just 3.5 km (~40 minutes walk) from Faliraki. There will be taxis, buses and other means of transport, but if don't mind walking through a pine road, consider going by foot.
I think it's the second biggest post after things to know before arrival in India. Nevertheless, I've tried to put up the most important information about the island that can help you plan a trip to Rhodes yourself. If you have other questions or you would to add something else to this post, drop a comment or a PM – I will be happy to share more info!