Lund is one of the oldest towns in Sweden. Located in Skane province in South of Sweden, it is known mainly as the education center. It is home to one of the leading Universities in the Nordic region.
If you visit Lund as a traveler, you might find it as another charming and laid-back town. Nevertheless, living in Lund is a totally different experience. I've met quite a few local citizens who love this town (excluding weather, but about it later).
"At the beginning, I thought it will be hard to get used to a small town, but then I fell in love with Lund. It's so safe, well connected, people in the neighborhood are friendly and share a feeling of community, what do you need more?"Anna (living in Lund since 2000)
If you are looking to slow back and relax from big city life, it's the right destination. If you are on a short visit to South Sweden, you can explore Lund in one day. Whatever is your purpose of Lund visit, here is my overview of the town and how I would plan a trip there.
Places to visit in Lund
There are centuries of history in Lund shared between Denmark and Sweden. Lund was founded in 990 by the Danish Royal Command. Due to its favorable geographical position, Lund served for the King as a base. That time the modern Skane County was part of Denmark.
Nowadays, Lund is a scientific & educational center that combines both modern technology and old architecture. Here are some interesting experiences from my perspective that you can add to your trip:
Kulturen Museum
If you are interested to dive into the history and ambiance of Lund and Skane region during a few centuries, I strongly recommend visiting Kulturen. It is an impressive interactive open-air museum that showcases the history and life in Lund from the Middle Ages up to the mid of 20th century.
Kulturen was opened back in 1892 and nowadays it's spread through two blocks in the city center. Here you can literally visit homes of people that belonged to different classes and times. The exhibition has interiors and sounds that create a real feeling of entering a different era.
There are also a few indoor exhibitions that showcase design, folk art, science and culture of the area. The smart exhibition planning kept me interested and connected at any point of time.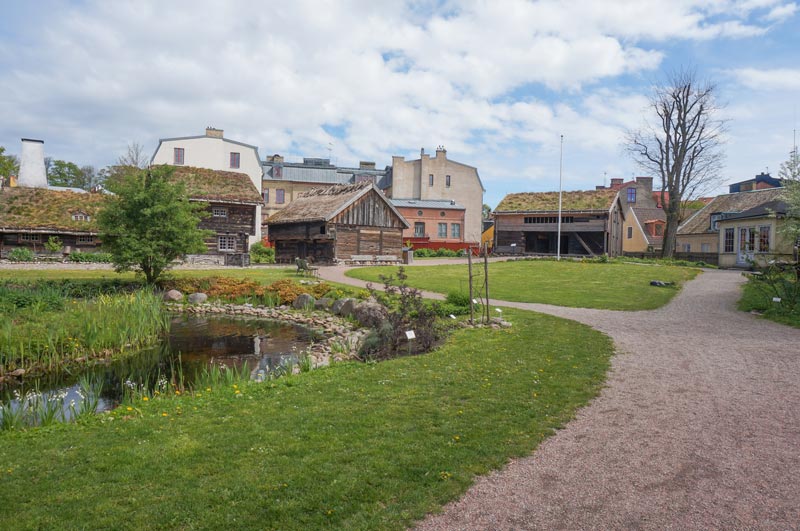 How much time you need: I recommend reserving 2-4 hours for a visit if you are planning to explore exhibitions and enter houses from different times. There is a ton of information, presented in an interesting way. If you are visiting with kids, there is an area for kids' activities.
Ticket cost: 90 SEK adults during the offseason, 130 SEK adults during high season. Everyone under the age of 18 years – 0 SEK. Students – 65 SEK during high season and 45 SEK during the offseason. Once you purchase the ticket, it's valid the whole day.
How to reach: Just in the heart of the Old Town. 5 minutes' walk from Lund Cathedral.
Explore Lund Old Town
Lund has quite a small Old town, which you can explore within 1 hour or so. The town has mainly cobblestone streets with access for cyclists and pedestrians. Here are a few highlights of the Old town:
Stortorget
One of the main squares in Lund, which literally translates "Big Square". There is a Townhall there and benches if you would like to rest. During big celebrations (e.g. Easter, Christmas), the Stortorget gets a themed decoration.
Hokeriet
It's the oldest grocery shop in Lund in the building from the 19th century. It has traditional interiors, you can buy here some local products, crafts, sweets, and souvenirs. It is one block uphill from Kulturen museum.
Lund Cathedral
Lund Cathedral became one of the most visited churches in Sweden. Every year, over 700,000 people visit it. There are several historical objects in Cathedral like an astronomical clock from the 15th century that was used to calculate date and time.
Cathedral itself dates back to 1145 and some parts of the building have been preserved in its original state. You can see its twin towers almost from every elevated viewpoint in the city.
There is no entrance fee and the Cathedral is open from 8 am to 6 pm daily. From mid-June to mid-August they are offering free guided tours.
Looking to explore other Old Towns in Skane? Check out my quick guide to Malmo – the 3rd largest city in Sweden.
Explore Lund University town
Lund Unversity is the second-oldest university in Sweden after Uppsala. Since Lund is mainly known as a University town, there is a significant percentage of the population there who is either studying or working at the university.
You don't need to be either one to explore the University town. The main building is not far from the Cathedral. On 1st May annually, there is a choir performance there.
If you walk two blocks uphill, there is a University Library, which you can enter as long as you keep silence. As I used to work in the education sector, I personally find interesting visiting Universities and exploring how people learn. There is no entrance fee or permit required.
Do you like interesting Educational institutions? Read about my visit to a sustainable school in Himalaya that works with alternative energy and teaches life skills.
Take a walk in Botanical Garden on a sunny day
Located just in the middle of the town, Botanical Garden has over 7000 species of plants. Beyond its biodiversity, the garden becomes a lively place during the late spring and summer months. Though the weather is moody in Sweden, during sunny days you can see many young people sunbathing there.
During May the garden is especially beautiful with blossoming Magnolias and tulips.
How much time you need: basically, it's a park. I would reserve a minimum half an hour if you are interested to walk around and explore plants.
Ticket cost: Free
Where to eat in Lund?
Saluhallen – it is a food hall just in the heart of the Old Town activating since 1909. There are several restaurant brands under one roof selling everything from fast food to fish & cheese shops. There are meals from several cuisines including traditional Swedish. Note, Saluhallen doesn't work on Sundays, though some restaurants might be open.
If you are into Italian and Vegan, I recommend a lovely café near Botulfsplatsen – Hoppipolla. They have healthy salads, soups, subs, homey & colorful interiors, and welcoming hosts.
Botulfsplatsen – it is the city center and a happening area, where you will find transport, cafes & restaurants for any taste and budget. Overall, there are many cafes within the area of the Old Town as well.
Useful tips for planning a trip to Lund
You can explore the main places in Lund in one day. Though the main tourist attractions are within a walking distance in the city center, you can purchase a 24-hour bus card if you plan to travel more. Consider though, that buses go around the city center and sometimes it is much faster to reach somewhere on foot.
Lund is a green city with numerous parks. The biggest park is Stadsparken – it has a lake, a big playground for kids and a few fountains.
How to get to Lund? Lund is 15 minutes away from Malmo by train and 1 hour away from Copenhagen train station. Lund is well connected with other places in Skane as well as big Swedish cities by road transport. I recommend downloading Skanetrafiken app for planning your commute. Read also: Copenhagen to Malmo by road.
If you are planning to visit Skane, hope this post will help you to add Lund to your itinerary. If you know additional information that can help others travel better, feel free to share!