Almost everyone knows about Copenhagen whether for its colorful harbor Nyhavn, a little mermaid or childhood stories by Hans Christian Anderson. Nevertheless, many people haven't even heard about the neighboring Malmo which is just across the bridge from Copenhagen.
Malmo is a fun place for a day trip as it has history, architecture, nature, museums, cute Old Town, beach, and hygge cafes waiting to warm you up during moody weather.
I've visited Malmo a couple of times, so I had that buffer to explore a few unusual things and "make mistakes". Here is how I would plan a trip to Malmo if I had just one day. A side note, if you are new on this blog – I have an active style of traveling with an interest in architecture, culture, and nature.
If you are planning to spend lots of time outdoors enjoying nature and explore the streets, the best time to visit Malmo will be late spring and summer from the weather perspective.
Places to visit in Malmo in 1 day
If you have only one day, I would split time between Malmo Old town, Malmo Hus and chilling on a beach (during nice weather). I would start from Malmo Hus area if you are planning to visit the castle and then continue with the Old town in the second part of the day (as it doesn't have closing hours as such).
Malmo Hus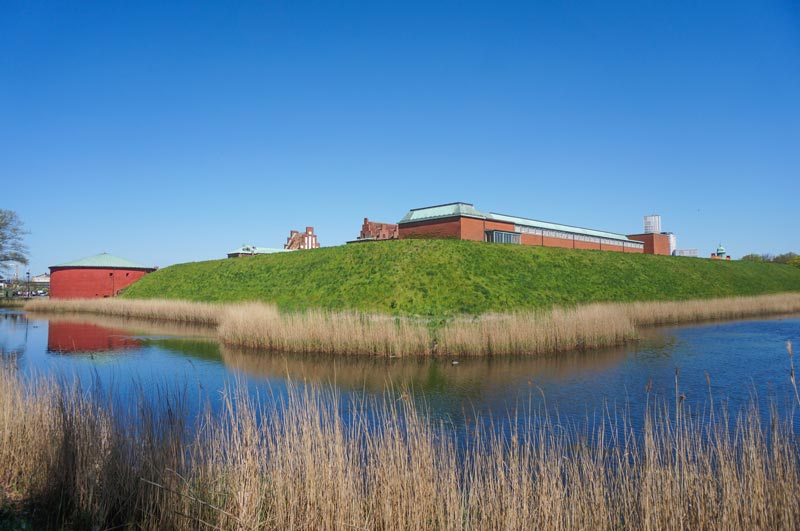 Malmo Castle is one of the key destinations in the city for history and culture lovers. It hosts a few museums including Art, Natural History, City Museum – you name it. You can expect to spend in the castle territory for around 2 hours.
Working hours: open daily from 10 a.m. to 5 p.m. Closed on some public holidays like New Year, Christmas, etc. Double check if traveling during the holiday season.
King's park (Kungsparken) and Castle Garden (Slottstradgarden)
Just near the castle, there are two lovely parks (when the weather is nice). You can find here a pond, a canal and a traditional Dutch windmill (Slottsmollan). The parks are connected that's why I put them under one point.
Ribersborg Beach
At a walking distance from Malmo Hus, there is a big sandy beach with a pier, an open-air Swedish bath, and a restaurant. During warm days (as much as it's applicable to the region), you can see even people sunbathing and swimming.
From here you can see the view of Copenhagen and Oresund Bridge that connects Denmark and Sweden. From here you can see also Turning Torso view. In fact, you can see it from many places in the Malmo Hus area.
Just a side fact, Turning Torso is the highest building in Scandinavia since 2005 till now (at the moment of writing). It is 190 meters tall.
If you want to see Torso from a nearby distance, you can visit Vastra Hamnen (Western Harbour) district. In addition to Turning Torso, it is a revamped neighborhood with modern architecture.
Though you can watch the Torso from the ground, the visitors are not allowed inside (if you were planning to see the city from above). On the other hand, there is one of the biggest skateboard parks in Europe, so it's a happening area with lots of youth!
Malmo Old town
Malmo Old town streets look so neat and colorful as if they have just been restored. While exploring the streets, pay attention to unusual monuments (like Optimistic Orchestra).
Stortorget
Translated as a "Big Square" it is the main square in Malmo, just a walking distance from the Train Central Station. Here you will see many historical buildings, including City Hall, the old pharmacy (Apoteket Lejonet). You will see as well the monument to Swedish King Karl X Gustav.
Lilla Torg
Translated as "Little Square" is a smaller and cozier square with colorful houses, cute cafes and cobblestone streets. You can stumble upon a few traditional shops here selling wooden shoes, souvenirs. There are also "hidden" yards which can lead you to less crowded streets of the Old town.
Saint Peter's Church (Sankt Petri Kyrka)
Located just a block away from Stortorget, the Church dates back to the 14th century. It has a free entrance, but be respectful and keep silence. When I was visiting, there were open Organ (musical instrument) masterclasses the whole week.
Are you visiting Skane and love culture and cute Old Town streets? Check out my quick guide to Lund – a charming town just 15 minutes away from Malmo C by train.
How to reach Malmo?
Malmo has its own airport if you choose to arrive directly. Alternatively, it has a great connection with other places in Sweden and Copenhagen – the capital of Denmark. In fact, Copenhagen is just 35 minutes away from Malmo by train.
It is easy to buy a ticket even if you don't have local cash (foreign credit cards are widely accepted, though in some places they asked for your ID). Sometimes, they check IDs as well at the border after crossing the bridge.
Read also: Guide to getting from Copenhagen to Malmo by road
Places in Malmo I would reconsider
There are a few places I've visited because they were recommended on popular travel websites. These might be interesting things to do in Malmo if you plan them right. Here are my reviews:
Malmo Chocolate Factory (or rather a museum)
In many places, it is advertised as a Malmo chocolate factory, while in fact, it's a 2 room museum located in the building of a former factory.
It is still interesting to find out about the history of the chocolate factory, how the chocolate is produced and even try a few samples of the local products. Nevertheless, the factory itself shifted to a different area and it is not open to visitors.
Here you will also find a shop with chocolate products (if you are into sweets). As long as you set the right expectations, you will enjoy the experience.
They have guided tours at 11 a.m. and 1 p.m. If you decide to visit, the Chocolate Museum is around 10-minute walk from Triangeln train station.
Folkets Park
Basically, it's an amusement park with open-air events and concerts. I guess it is more of a seasonal place and/or it becomes happening on the day of events. It might be a lovely place during summers, but if you go offseason, it looks a bit abandoned with a few people around.
Other useful tips for planning a trip to Malmo
If you are spending more time in Skane, I strongly recommend downloading Skanetraffiken app. Here you will find all the transport and the best way to reach to different places within the city and in the province as well. You can book tickets using a foreign credit card and a foreign SIM card (there are some limitations for SIM card usage, but I couldn't find a list by calling support or research. You can call them and double check your country. If you are staying in Sweden longer, you can consider buying a local SIM card).
If you are planning to visit mainly Malmo Hus and Old Town, you can commute mainly by foot and/or hire a bike. These points are within the walking area. If you are planning to visit other places, it might make sense to take a daily bus ticket to save time. Note, if you are taking a 24-hour ticket from Copenhagen to Malmo, most probably it will be valid for local buses as well. Double check it at the station when you arrive.
If you have budget restrictions, I recommend taking lunch/food in the Old Town (vs near Malmo Hus area). In Old Town, you will find both cafes, street food, restaurants for different budgets.
The only regret I do have is missing Technology & Maritime Museum. Unfortunately, it was on the restoration during my visits. It was highly recommended by many visitors.
If you are not planning to enter the castle, maybe it makes sense to start with the Old Town and in the second part visit parks and if the weather allows watching a scenic sunset near the Baltic Sea.
Hope this post will help you plan a trip in Malmo. What about you? Did you have a chance to visit Malmo? Are there any other useful tips you would like to share?