Every country has a different "tipping culture". If you come from the USA you might be habitual to tip for everything, while many European countries might pay just the amount in the bill. Tipping in India is a bit more complex topic – let's look into it.
To begin with, there are no tipping standards in India. To make it even more confusing for you, if you talk to an Indian, to a foreign traveler, to an expat, to a luxury and to a budget traveler, you will most probably get completely opposite information on gratuity in India.
Here comes the diversity argument. India is a country of contrasts with a huge gap between rich and poor. What I found interesting from personal experience, even in tipping, there is a strange tendency to pay extra for the middle class to upper range travel activities rather than to emerging straits. 
It is more common to tip for service in expensive hotels (>3000 INR/night) rather than budget guesthouses (<500 INR/night). I happened to witness people leaving tips in famous restaurant chains, but in a few years in India, I haven't seen people tipping for street food.
How much to tip in India?
If you are here for a short answer, you are good to go with 5-10% tipping whenever you like the service. Here is a list of most popular services:
Food: 10% for bills under 1000 INR, 5% when the total cost is over 1000 INR
City Taxis/short rides: not common during card payment, leaving small change for cash payment.
Autos: Please don't tip unless you know the charging standards. Most probably you are already overcharged.
Day tour drivers: 100-300 INR per day
Personalized services: if you are going to a non-branded saloon, you get delivery of products to your home (and delivery fee is not included) and other similar services, you can plan 5% tip or 20-50 INR to delivery person depending on the number of items.
Luggage carry: 20-50 INR per bag.
If you are interested to know more about this topic, scenarios, and a piece of advice on how NOT to tip in India, keep reading.
Tipping for food in India
As mentioned previously, the more expensive is the restaurant, the better is its chance to get tips. In popular tourist places and big cities, you will often see service charge included in the bill. It looks like a "mandatory tip", but I've seen it only in mid-range plus restaurants.
Usually, in your final bill will be included food prices (which you see in the menu), GST (standard tax) and sometimes service charge (don't confuse with service tax which is taken by government). If a service charge is included in the bill, it means tipping is not expected.
If you enjoyed the service and the charge was not included in the bill, you can tip 10% for bills under 1000 INR and 5% for sums over 1000 INR.
Let's go into another extreme – street food. Street food stalls are making money because of speed and quantity. In popular street food places in big cities, you are lucky if you get more than 2 seconds of the seller's attention. Usually, there will be a few more people handing him money simultaneously.
In my experience, I haven't seen people tipping for street food unfortunately.
Read also: Decoding food in India.
Tipping for taxis in India and autos
If you are using taxi apps like OLA or UBER, you will be mostly paying through an app or giving cash on the spot. Indians sometimes ask the drivers to keep the small change if they pay by cash. Generally speaking (after talking to people from different backgrounds), tipping in city taxes are not common (comparing to other areas of life).
Side story: once my bus got late and I was arriving in the city at a really odd hour (around 12 a.m.). The Uber driver took me to a guest house and waited 10 min in the car till someone opens a door. I didn't ask him to wait, but it was a nice gesture since I was the only person in the empty street. This is one of the cases, where a person provided the service above expectations, so it was appropriate to tip.
If you are new to India, here is a short information point: OLA and UBER came to the market to resolve all that price nonsense dictated by autos. If you are a foreigner (especially white), you can expect to be heavily overcharged. A regular price for an auto ride should be around 25-30 INR for first 2 km and then 9-12 INR per km depending on the state.
Read also: Transport in India or how to navigate efficiently in chaos.
Tipping to drivers on day tours in India
Unlike during short rides in city taxis or autos, if you hired a driver to take you around the city for a day, tipping will be expected here. As a matter of fact, a good driver can share some insider tips about the place, advise a restaurant to eat and take you to some points you might have missed.
If you liked the service, consider tipping 200-300 INR for a full day.
Note: whether you take a driver through a tour company or an independent individual, you are not supposed to cover food, stay and other personal expenses. These costs are included already in the service, as a rule. Discuss this point in advance to be sure.
Heey! Are you planning a trip to India? Take a look at my long comprehensive India travel guide that will help you prepare and set expectations correctly.
Don't accept unexpected help
Sometimes people can approach you if you look lost and offer to guide you somewhere. This happens a lot in big cities, for example, Delhi.
Be careful when someone offers you help in tourist places. For instance, I started seeing more often foreigners in Connaught Place (CP) in Delhi who avoid all type of advice from the locals.
It happened to me in several tourist cities. While looking at the map, someone approached me and offered help with directions. I kindly declined and told I will figure out myself. Then a person tells that they are going in the same direction I need anyway, so we can go those hundred meters together.
Once we reached to the destination, a person asked for a tip. This is a very unfortunate case and it might occur only in super touristy destinations. For every case like this, I have hundreds positive, helpful suggestions from local people that led to interesting experiences.
This is a very subtle scheme. More obvious cases occur on train/bus stations when porters approach and grab your bags (sometimes without your consent and sometimes in a regular outfit without uniform). They will expect 50 INR per bag or so. If you are not ready to pay, don't accept their help.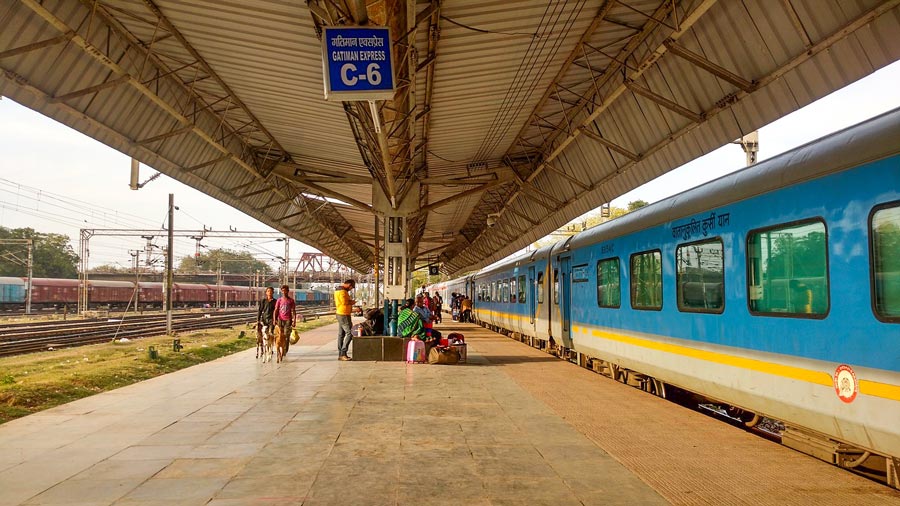 When you should NOT tip in India?
If you are a foreigner visiting India for the first time, I recommend respecting local rules and standards. You will face numerous situations of social injustice, but there are many cases when you SHOULD NOT tip.
While it might seem that you are helping a person, in fact, there might be negative consequences of this behavior.
For starters, in very touristy places, visitors are expected to tip no matter what. Some services are degrading in quality because service providers are getting paid extra in any case.
Secondly, tourism in popular places in India often favors foreigners over local tourists, assuming that foreigners have more money to "leave". It is discrimination and just wrong (not even mentioning how money Indians leave in the tourist Industry).
Unfortunately, if you have white skin, often people would expect you to have a lot of money. Coming from a developing nation, that was my struggle for the first half a year in India till I figured how to deal in such situations.
Here are a few cases, where you should not tip.
Do NOT tip in advance to cross the rules
You might face the situations when someone asks you tips in advance to help you get access to the spaces where visitors are not allowed or to cut the queue, etc. Offering money to cross the rules is classified as bribing.
If access to certain places is not allowed for the visitors, it means you SHOULD NOT go there.
Do not tip in India for the sake of tipping
I strongly discourage you to tip "by default". The "just one dollar" attitude has its consequences which you will not face if you are on a short tour, but others will.
By tipping, you are encouraging a person to continue the quality of service they provided. If the service was bad, a hotel or a restaurant will downgrade the standards.
Do not tip out of pity
In India, you will face some hard social contrasts, especially in big cities. You will see poor people living on the streets and making their ends meet as they can.
It is natural to feel sad for these people, but donating them money will not improve their life long-term. Moreover, it might potentially transform some into beggars. Why would you work and figure out life if you can get "free money".
The reason the Indian economy is developing fast because Indian people are very entrepreneurial and a bigger part of the country is actively participating in the goods, services and money exchange.
Secondly, tipping out of pity is also a hit on self-esteem. You want to get a bonus for being good in your area of activity, not because you look pity.
Do NOT give money in India to beggars
If you are traveling to popular places in India, there is a little chance you will escape begging. It is a problem in India which unfortunately is "supported" by some foreigners donating money. Child begging is an acute issue.
There is no scarcity of jobs & opportunities in India. Everyone who is healthy and capable to work can earn money. Putting everything in perspective: imagine a crowded street with cycle rickshaws working in the heat, vegetable seller pulling a cart, cleaner swiping the street near the shop and plenty of other workers doing hard work.
A beggar comes to you and asks for money. Would you support him, considering tens of other hard-working people at the street are watching?
Do NOT tip autos unless they go by meter or charge fairly
In some areas of South Delhi, where many foreigners live, autos wouldn't charge me less than 200 for 2 km. Side note, I got fit by walking a lot. And many foreigners will pay this price because for someone it's "just 3 dollars". Spoiler alert: first 2 km shouldn't cost more than 30 INR.
If you are tipping an auto driver for cheating, you are encouraging this behavior.
The only exception I know so far is Mumbai. It's the city, where everyone will go by meter without any need to bargain or ask the price. From my experience, many auto drivers were even refusing to keep the change. They told that it's their responsibility to follow the law. Sounds surreal?
Other useful tips for tipping in India
Always keep small cash notes for tipping. Even if you pay by card in a hotel or to a tour company, you never know how money are split and whether they reach the final person who provided the service to you.
Locally, you will often hear the word "baksheesh". It is an act of asking money, however, it can be used for tipping, bribing and begging.
If you are new to India, give yourself a few days and pay attention to people behavior around. You will figure out your way to tip with time.
If you are currently planning a budget for your trip, read also about the costs of traveling in India. 
I encourage you to tip if you really liked the service.
Hope I should not be the person warning you that tipping and police don't stand together in one context. Just don't break the rules and you will not get into troubles. It's fairly easy.
Behave regularly while tipping and try not to attract others attention to the process. Tip culture differs from place to place, so you are interested that a person who provided a service to you gets the money, not the corporate brand where this person works.
This post is based on my experience of living in India filtered through my background of a person coming from the developing world. I hope it gave you a different perspective on tipping in India.
What about you? Do you tip for travel services you are using?