Copenhagen – a cultural capital that combines design, innovation, fairy tales and quality of lifestyle (here comes a remark about Danish people who are some of the happiest on the planet). The city is stuffed with interesting experiences! Nevertheless, even one day in Copenhagen can give you a taste of Danish capital in gastronomic, cultural and other senses.
Things to do in Copenhagen in one day
As a rule, if I have one day in any destination, I try to get a general feel of the city putting the accent on neighborhoods rather than entering tourist sites.
Copenhagen Free Walking Tour
I joined the tour led by Copenhagen Free Walking Tours. They offer different tours from Grand city Tour that is 3 hours long to small tours to Pub Crawls. Some of the tours are available in Spanish too. I stumbled upon the guides occasionally while they were waiting for the group to gather.
During the waiting time, the guides were doing small talk and sharing interesting personal stories of living in Copenhagen. That was engaging so I decided to stay.
Should you join the Copenhagen tour?
Depends on your goals. If you choose a Grand tour, consider, it takes around 3 hours (together with a break for snacks). Nevertheless, you will cross some of the key tourist points in the Old Town including Christiansborg Palace, Amalienborg, Nyhavn, a few squares and famous streets with some insights about the architecture.
The information is presented in an entertaining way. I was in Copenhagen on super windy weather (when you are ready to do anything to extend your stay in a café). Our guide, Daniel, kept the whole group focused due to his funny at times and interesting fact-based discussion about Copenhagen. Personally, I found the information useful, that's why included the tour here.
Overall, you will learn lots of interesting and curious information about the city and get broad cultural information about the country, its history, politics and other areas of development. But since it's a walking tour, it will focus mainly on one area of the city (mainly because of the human walking speed).
If you are looking forward to learning and hearing a lot, walking tour is a great option. If you are looking to see/visit maximum places in a limited number of hours, you will need to speed up and commute in a different way.
Do you like architecture and history? Then I wouldn't miss a trip to Lund (Sweden), where you can visit an open-air museum Kulturen and explore interiors & exteriors of houses of different social classes in several centuries time. Moreover, Lund is just half an hour away from Copenhagen by train.
Note: This post contains some affiliate links. If you purchase something using the link, I might or might not get a commission at no extra cost to you. Thank you for reading this blog!
Other tours in Copenhagen for a city overview:
Here are other tours to explore Copenhagen from a different angle:
Nyhavn
This is that famous harbor you see in all the pictures of Copenhagen and to be honest, one of the main highlights of the city, in my opinion.
Back to history: Copenhagen was originally a fishing village known for the trade. Back in the 12th century, it was known as Køpmannæhafn or "merchant's harbor". Centuries later its name transformed into København or Copenhagen in the English version.
Nowadays, it's one of the colorful areas filled with cafes, restaurants and of course boats. Food is definitely overpriced here, but the setting is special. During nice weather, you can see some musicians performing (I couldn't help listening to oboe player), someone is painting. Overall, the atmosphere gave me the vibe of St Petersburg's Nevsky Prospect.
Kastellet
After Nyhavn, you can walk till Kastellet – it's one of the best-preserved fortresses in Northern Europe. Historically, it used to be part of the defense of Copenhagen against Sweden, UK, Germany. Nowadays, it is a well-maintained complex with a park, canals, church, bastions, windmill, and a few other buildings.
Take a walk through Stroget
It is one of the longest pedestrian streets in Europe, which also happens to be one of the biggest shopping streets. You can find here everything from top brands to local souvenir stalls. I couldn't miss the Lego Store – they have big constructions which were made by the team working in the shop. You even might be lucky to see a sales consultant building a new structure. Isn't it a cool job to have for a while?
Places I would reconsider visiting in Copenhagen
I would reconsider visiting little mermaid unless you are in that area – despite being a famous Hans Christian Anderson character and one of the top places mentioned by online guides, it has as well made to the ranking of most disappointing landmarks (I also didn't know such ranking exists).
Amaliensborg palace
There is a big round square with four equal buildings. One of them is open to visitors. There are two floors, one of them has royal rooms behind the glass. Somehow the visit was shorter than expected when looking at the palace from outside. It took around 20 minutes to explore the part open for tourists. Plus, the administration asked visitors to leave all the bags in lockers, don't know why. The ticket costs 95 DKK that is roughly 15 USD.
I would definitely visit the square. You can also see the changing of guards at noon, walk till Frederick's Church and spend some time in silence after walking through hustling streets of Old Town. While the palace looks grand from outside, I didn't connect to the palace interiors. Maybe it's a gap of expectations that were formed by tens of palaces I've visited before or missed the guided tour which will shed light and share more information than available in public access.
If you are looking for a palace experience, look maybe into Rosenborg or Christiansborg palace in Copenhagen.
A few packing essentials for Copenhagen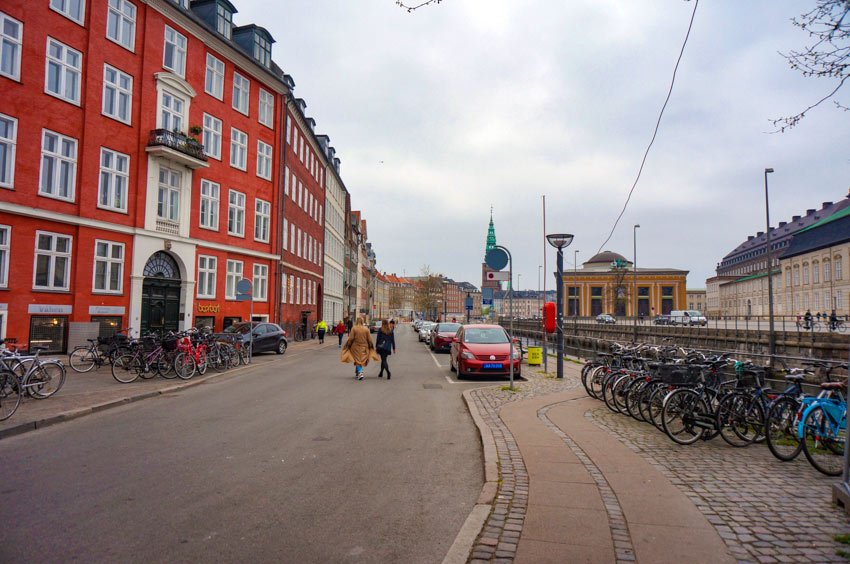 The weather is quite moody in Scandinavian countries overall. A sunny morning can be suddenly changed by rough wind and rain with a sun afterward. So take warm clothes for any season you go. I'm not going to name all the clothes list since it depends on your style. But here are a few things you will find useful:
Food in Copenhagen
Copenhagen is definitely one of the top destinations for foodies. Be it street delights or high-end restaurants, the city got you covered. Side fact, two of the top five restaurants in the world are based in Copenhagen.
There is one more interesting concept I'd like to share with you. Let me introduce you to "Hygge" that might totally define your trip to Copenhagen. Hygge is a symbol of cozy mood/feeling or environment. Think of drinking hot chocolate in a cozy café while it's rainy outside or warm scarves and hats in cute prints protecting you from winds. It might be anything that made a gloomy day warmer and colorful.
There are so many cute cafes in Copenhagen, which you will explore if the weather gets moody. Even in the old town itself, you will find everything from international cuisines to local ones.
Denmark is famous for Smørrebrød – buttered rye bread that comes with different spreads and toppings. Though there are many varieties, if you take proportions, it's a mostly non-vegetarian dish with a few veg options. It's quite filling though. If you are a person, who would like to have options for any taste in one place, check out Boltens – It's a food court where you find many cuisines including Danish one. There are several floors of food from juices & salads to heavy fast food. It's near Nyhavn.
Nyhavn has many atmospheric cafes and food places. Spending some time in the colorful harbor is an experience itself. After Nyhavn, I walked till Kastellet and there is a small cute café for coffee and sweats break (Kafferiet).
How to explore Copenhagen?
Hop On Hop Off by bus in Copenhagen – visit key tourist places at your own pace by open-air bus. Boat sightseeing also included and the major plus is ticket validity of 48 hours.
Daily card – let's think about the value of this offer. The card costs roughly 60 USD. If you are not planning to enter many tourist sites, it might not be the best investment. However, it's also important to remember, that public transport is also included in the cost of the card. If you are planning to commute by public transport and visit a few sites, you might consider getting a daily card.
Copenhagen by bicycle – you can explore the city by electric bicycle. There is a local bike-sharing company that comes with a GPS system – Bycyklen. You can rent one of their bikes from a docking station, explore the city and get it to the docking station.
Useful resources for planning Copenhagen trip:
I realize that my post is more personalized and reflects my way of travel. If you are looking for more general advice about Danish capital and detailed information for planning your trip, here are a few resources:
Other tips to plan a one-day trip to Copenhagen: