Local markets in India are one of the most authentic experiences. The sounds, crowds, materials, artisans and fine stories are combined in one place giving the feel of the country. I have attended several sales workshops in Europe, though I keep recommending traditional markets in India for a practical experience.
You will learn the finest moves of customer care from people who haven't graduated from top Universities, but they know how to charm you. It's all about storytelling, where you actually feel being part of the action. In addition to this, Indian local markets might give you a better understanding of the country, than sightseeing tours that are often polished according to the tourist needs.
There are different types of markets in India for street shopping. Few markets have existed for a long time, reflecting an aura of history in the atmosphere. In this post, I will write about some themed markets of India, that present something different and unique. They are spread all over the country thus it's easy to add a few to the itinerary during your trip to India.
Dadar Flower Market, Mumbai
It is also known as a Phool Gully (Flower Road). Flower Market in Mumbai is popular for a huge flower collection from common species to rare ones. This is the place to go if you want to begin your day with the aroma of flowers. If you are in Mumbai, visit Phool gully once early in the morning to see flowers all around you.
The market opens as early as 5:30 AM and retailers buy out most of the stuff by 11 AM. Price wise, you can buy flowers here at least twice cheaper than from the retailer in the city. This place is also an interesting spot for nature photography lovers. Despite the beautiful flower surroundings, the rush and madness of Mumbai will also be at its best here.
Planning to visit Mumbai? Read also how to ride Mumbai local train.
Johari Bazaar, Jaipur
This market is catching the attention of visitors with stones and fabrics. Johari Bazaar means Jeweler's Market, thus you will find here hundreds of shops selling thousands of varieties of precious & semi-precious jewels, gems, and stones. Most of the stones are cut and polished here by local artisans.
This market is also famous for Kundan jewelry which requires a lot of skills and craftsmanship. Johari Bazaar can also attract you with its sarees, especially with golden thread work. Johari Bazaar is surrounded by many traditional markets like Bapu Bazaar and Nehru Bazaar. These are famous for leather products (shoes, bags & purses), clothes, utensils that give a taste of Rajasthani culture.
Looking for more authentic experiences near Jaipur? Check out Chand Baori – the biggest step well.
Mahidharpura Diamond Market, Surat
Would you like to see how casual & cool one can be while handling millions of rupees? Then visit this market in Surat.  You will see here people selling and buying diamonds every day like we buy groceries.
It's typical to find groups of experts standing on the road with diamonds in their hands discussing price, quality, and source of the diamonds. As it's a local market, you will see people carrying a chunk of cash for future purchases. Do bargain to get better deals.
Kannauj Perfume Market, Kannauj
Kannauj is a small town on the banks of river Ganga. Some people call it a perfume capital of India because it has been the center for producing natural fragrant oils (attar) with its traditional methods for thousands of years. The scent of oil has entered almost every space in the town.
The market has more than 650 varieties of the fragrant oils. They are all natural without any alcohol content. These oils are sold all over India for tourists since many cosmetical products and perfumes use fragrant oils as a base. Indians as top-notch sellers know what you want before you figure out that.
In addition to the regular collection of oils, some sellers have produced analogies for famous brands. E.g. Givenchy X series oil, Nina Ricci and what not. Some shop owners will offer you several options of oil depending on your brand of perfume.
We all know big brands don't share their recipes, though I have to admit some perfume manufacturers in India got really close to the originals. If you decide to visit the town of Kannauj, it is just 80 km from Kanpur, Uttar Pradesh. These oils as well are exported to different countries all around the world.
Laad Bazaar, Hyderabad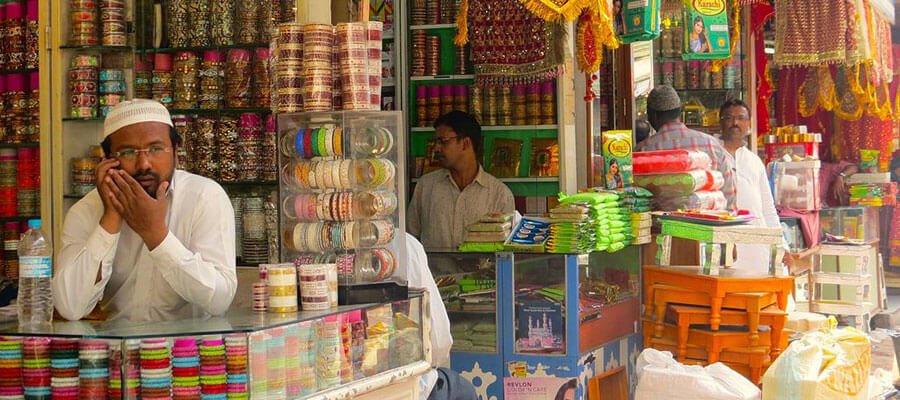 This market is popular for bangles. It is also called Choodi Bazaar. It is located on one of the four roads leading to the famous Charminar in Hyderabad. Besides bangles, you will also find semi-precious stones & jewelry here.Hone your bargaining skills before buying anything. (Bargaining tip for beginners – drop price at least 50% of what has been asked. After getting some experience you will know whether to make an offer of 20% or 50% off. Sellers always put prices much higher as they expect people to negotiate).
Ima market, Imphal
This market concept is very unique since it is run and managed by women. This is the place where men can't seek employment or entrepreneurship, though they are welcomed to come as customers.Ima Keithel means Mother's Market. Though you will find numerous markets of this type around Manipur state, Imphal has the biggest one. The market is more than 100 years old, and it is a platform to provide jobs and entrepreneurship opportunities for women.
There are many sellers who pass their shop license from generation to generation. You will find all the items here, ranging from food to local handicraft and bamboo products.
Looking to buy some new outfits? Read also: What to wear in India? 
Flea markets, Goa
Goa is not only about beaches. There are plenty of cultural experiences and sightseeing. Flea markets give a possibility to feel the local life of Goa. Anjuna Wednesday flea market is the most famous of all. You can find here both Indians and foreigners selling handicrafts, jewelry, books, spices, etc.
Arpora Night Market, which is held every Saturday from 6 pm to midnight presents local and international designers displaying their clothes and accessories. Saturday's Calangute Bazaar and The Mackies on the banks of river Baga can also provide you with great deals if you are ready to bargain hard.
Looking for more places in Goa beyond beaches? Check out architecture and cultural places in central Goa.
Khari Baoli, Delhi
Are you a fan of spicy Indian cuisine? Then pay a visit to Khari Baoli, Asia's largest wholesale spice market. You will find all kinds of spices, nuts, herbs and food products like rice and tea there.
The market has been operating since the 17th century and has been a tourist attraction for a long time. Khari Baoli Market is situated in Old Delhi near the Red Fort area. You will most probably do sightseeing in that area so if you are a spice lover, pay a visit here too.
I strongly recommend carrying a handkerchief and the glasses when you are visiting the "chili lane" because the air becomes unbreathable and spicy there.
Looking for more unusual experiences? Check out Delhi offbeat places.
Chandni Chowk, Delhi
This place without any doubt is the most famous of all markets in India. It is the largest wholesale market where you can find everything. There is a saying among local people: "If you can't find something in Chandni Chowk, it doesn't exist".
It is famous for its Cloth Market, Dariba – Silver & Gold Jewellery market, and for its amazing street food like Paranthe Wali Gali, jalebi wala and many other places. This market exists since the 17th century. It is in the Old Part of Delhi which you will most probably visit. Due to the fact that it's huge and overcrowded, I would advise being cautious about your stuff.
Chor Bazaar Mumbai, Maharashtra 
It is literally translated as the market of thieves, but actually, it is one of the largest flea markets in India. The original name was Shor (Noisy) Market, but it is said the name had changed due to the influence of the British, who used to speak Hindi and pronounce Shor as Chor.
Eventually, stolen items started finding their way here and a popular legend says if you lose something you can buy it back from Chor Bazaar. It is famous for its collection of antique items and second-hand products. Chor Bazaar is quite famous among the tourists and as in any other big market bargaining is a must here.
It is famous for its collection of antique items and second-hand products. Chor Bazaar is quite famous among the tourists. As in any other big market, bargaining is a must here.
Looking to learn more about Mumbai city and its development? Visit Raj Bhavan Mumbai.
Lakkar Bazaar, Shimla
If you are looking for wooden handicrafts, jewelry or souvenirs, Lakkar Bazaar (wood market) in Shimla is the place to be. Toys made of wood are especially famous along with the wooden walking sticks.Lakkar Bazaar is situated near the ridge in Shimla and it showcases the different types of wood found in the state of Himachal Pradesh. You will also find shops selling woolens and Kullu shawls which are also very famous.
Floating vegetable market, Srinagar
Most probably you won't buy vegetables as a tourist unless you are staying in an Airbnb rental with kitchen facility. Still, this market is worth a visit as it is one of its kind in India. The floating vegetable market at Srinagar's Dal Lake is a major tourist attraction with the serene lake with lotus plants.
The vegetable vendors are here at wee hours from 5 AM to 7 AM on their traditional Kashmiri boats, called Shikaras. To make it more interesting for tourists, many shikaras are now selling saffron, wood carvings and various items of tourist interest.
Planning to visit Srinagar? Read also how to choose a houseboat in Kashmir.
If you have visited any of these markets or would like to add another market to this collection, I will be more than happy to hear from you. Wish you a great local experience!