India can be very confusing especially when it comes to a situation involving crowds. There are so many types of transport in India, but it is not always a case of showing up and getting the ticket.
Many people will try selling a service to you if it is highly evident you are a foreigner and lacking knowledge about local reality. It might feel overwhelming especially in big cities.
In this post, I want to share with you different ways to commute in India, local companies in this sector, approximate fares (where applicable) and what to avoid while planning your trip. I hope this will save your time and effort during travel in India. Here are the specific questions:
Air transport in India
Rail transport in India: trains and metro
Road transport in India: buses, taxis, cars, rickshaws, bikes
Public transport in India
Air transport in India
Air travel is the most streamlined and easiest way to get around India. It operates just like anywhere else in the world. Almost.
India currently has over 120 airports. As passenger traffic is continuously increasing, India plans to build 100 more airports around the country within upcoming 10-15 years.
Budget travel is booming. If you book tickets in advance, you can find really cheap fares (e.g. Mumbai – Hyderabad 1200 INR, Bangalore – Delhi – 3k INR, etc.) on budget airlines. Despite I'm in favor of road transport whenever possible, overall, it does make sense to fly between long distance cities (to save 2-3 days inside the train).
Airport tip: You are not allowed in the airport without a ticket. You can accompany your friends till the airport doors, but the guards will not let you further unless you have booked a flight.
Second rule: once you entered the airport – you can't exit it. You need a special permission from the check-in counter from the airline (they will not issue it unless there is an emergency or cancelation). In big cities, this procedure becomes really complicated because of the crowds so think twice if you took everything before you enter the airport. These measures help with security, crowd management, and check-ups.
Cultural check: Light traveling is not a popular concept in India. It comes from a packing culture, space-consuming local attires, addiction to home food and many other factors. Hence, you will find domestic airlines with various luggage allowances. Even Air Asia has an exception for the Indian market and allows free check-in luggage. Otherwise, this air company wouldn't be competitive and many Indians will not book flights with it.
Also read: How to search for cheap flights?
Rail transport in India
India has an amazing railway network that literally connects the whole country except mountain areas. Never fear, there is a project to build a network in the mountains too. I would like to give you an introduction to both national train travel as well as city rail networks (e.g. metro, local trains, etc.).
Trains in India
Train network in India is managed by IRCTC corporation. There is a vast coverage, different classes and facilities, but train travel might be a confusing experience for the first-comers.
Before the journey: Since IRCTC website was updated in 2018, you can now search trains at the platform without logging in. Alternatively, you can look for options at Cleartrip website.
In my opinion, a train is a great option for journeys under 24 hours. Some of the distances within India last 2-3 days by train and this might be rather a stressful experience. For longer journeys consider a flight or split the trip into a few days while visiting destinations on the way.
I strongly recommend booking tickets at least one week before the journey, unless you are traveling around big holidays – Holi, Diwali, New Year. Remember the Indian population – now imagine this number of people booking the tickets to visit their families on holidays. If you are a foreigner, you can avail tourist quota at the stations of many tourist cities.
During the journey: Consider that trains do get late (sometimes by many hours). Take Kerala for example. Sometimes there is just one track connecting many places in the state. Hence, if one train is late, all the trains after it get late too because the track is going in the same direction.
To avoid unnecessary frustrations, check the train reviews online and use train apps to track the train during the journey. Some apps give you live updates. It also helps to know when you need to get off as no one announces the stations.
Read more: Guide to train travel in India – everything about train classes, quotas, how to book tickets, when to travel and other train tips.
Metro in India
Metro is one of the best types of urban road transport in India. Currently, it is operational in 10 Indian cities: Delhi – NCR, Mumbai, Bengaluru, Kolkata, Chennai, Jaipur, Hyderabad, Lucknow, Kochi and Gurugram.
Kolkata has the oldest metro service in India, while Delhi is a benchmark of the metro system in the world. Hope I'm not the only one getting goosebumps seeing exciting Delhi metro expansion projects.
India is a digital country, so you can expect local transport apps. For instance, DMRC app is a life-changing solution for Delhi – it gives you all information about routes, nearest tourist attractions to the metro stations, fares and other useful tips. You can also find information about buses connecting to the stations.
Mumbai has a small metro line, but it has a huge local train network coverage which can take you almost everywhere in the city and its suburbs.
Consider that some metro systems have an "airport type" security – e.g. scanning bag, security check. Also, there are often separate spaces (queues, coaches) for women, where men are not allowed. In rest, metros work as in any other country.
Also read: Guide to riding Mumbai Local
Other rail transport in India
There is some rail transport which I didn't know where to classify. For instance, there is still a functioning tram in Kolkata. Indian Government plans to invest money in its modernization.
Also, there are UNESCO Heritage toy trains in India, for instance, in Darjeeling, Shimla or Ooty. It's a slow scenic ride through the mountains, valleys and tunnels.
These are more of a tourist attraction than a mode of transportation. I do recommend experiencing one of these rides however. Take a look at my guide to Ooty toy train.
Road transport in India
India has the second largest road network in the world. According to statistics, roughly 80% of passenger traffic travels by road. As much as people joked about bumpy roads in India, the situation has totally changed in the past few years.
There were so many highways built making commuting between neighboring cities seamless and fast. Here are a few national as well as urban types of transport you can use to travel by road in India.
Buses in India
Intercity buses in India: there are private and government buses in India. Private you can find on RedBus.in and state buses you can search at Bus India or on individual transport websites of each state (e.g. Karnataka buses, Rajasthan bus network, etc.)
Government buses can be either very cheap if it's a local non-AC simple bus or very expensive – if it's AC bus with comfortable seats. If you travel by local non-AC bus 100 INR (~1.5 USD) can take you really far in India. The average cost is 0.8 – 1.2 INR per km. The longer is the distance, the cheaper are tickets.
There is also a concept of sleeper buses which are quite popular for night journeys. They are managed by private companies as a rule.
State buses you can book directly at the stations, they circulate regularly especially between popular destinations. Private Volvo buses you need to book at least one day before the journey.
Urban transport in India
Each metro city provides tiers of bus services for different budget categories: non-AC bus, AC bus.
Tip: I wouldn't suggest using buses in metro cities of India unless there are no other options. The traffic in big cities is insane, and sometimes commuting from one part of the city to another can take you a few hours. I'm talking as a person who lived in a few major Indian cities.
Taxis in India
If you are flexible with the budget, one of the best and comfortable modes of transport in India will be organized taxi companies. There are many established companies in the Taxi industry, like Ola Cabs, Uber, Meru, Mega Cabs.
Ola and Uber are the biggest players in the market in all India taxi service. I gave my preference initially to Ola as this is a local company with clear knowledge about Indian market requirements. It was quite often ahead of Uber with its offerings, prices, and packages.
After the market was established, Ola has increased its prices a bit, thus both companies have the same costs overall. Talking about user experience – I find Uber a bit ahead with the customer service and individual approach.
Let's talk about packages. Both companies have car options for any budget. I do like that they offer a bike taxi and shared car rides (gives a possibility to share ride and costs with other passengers).
Bike taxi is a thing in South Asia. It's versatile and seems to be the best solution in high traffic. Try both, it's just a matter of preference.
Besides the companies in the radio taxi industry, there are independent taxis on Indian city roads. In some cities like Mumbai and Kolkata you can catch them on the road, while in other places, you will have to register your cab in advance.
Read also: Tipping in India in different situations: how much to tip and when. 
Rickshaw in India
Rickshaws bring authenticity to the transport system in India and at the same time create huge traffic jams because of the unorganized moving. Currently, there the following types of rickshaws:
Hand-pulled rickshaw – when a man pulls by hands a rickshaw with one passenger. This rickshaw type was widely spread in Asia in the 19th century, though even nowadays it exists in Kolkata. There was an attempt to ban this rickshaw in 2006 for inhuman working conditions, though no real measure have been taken till now.
Cycle rickshaw – a 3-wheeler cycle with a driver pedaling in front. These rickshaws are helpful when you need to get somewhere inside the yards.
India is a country that was initially created for cars. There are exceptions like Chandigarh, several cities in North-East, though walking is not a common way to commute in India. There is less or no space for pedestrians, thus even for short distances, people take cycle rickshaws. I haven't seen any in South or West India to be honest, but these are quite popular in the North India.
Personal remark: I got to know that many rickshaw wallas became drivers by choice(if I may call it a choice): either one of their elder family members was a driver and next generation inherited the profession or they've chosen it by themselves. Although I feel pity for working conditions of these people, I have an immense respect for each one of them as they work hard every day to earn instead of begging, stealing and cheating on the streets.  These people come to big cities from the villages to earn more money in order to sustain their families and give basic education to their children. Most of these drivers speak only a local language of the state, where they work.   
Auto rickshaw is a noisy CNG-based three wheeler rickshaw normally of green, yellow or black color with no doors and a comfortable sitting capacity for two people (not comfortably we've done seven). There is a standardized rate for such rickshaws in Mumbai and according to the law, you can demand Delhi auto drivers to go by meter. Most of them speak or understand basic English. The auto rickshaw price in India can vary from 8 to 12 INR per km depending on the city. In some of the cities, the cab with AC will almost cost the same price as auto.
Shared Auto is a bigger CNG vehicle that normally connects cities with suburbs.  This auto has a huge passenger capacity. This is one of the cheapest yet extreme ways to commute.
Electric auto rickshaws is an electric vehicle for 6 people (as a rule). It started gaining popularity since 2014. Whenever it's available I recommend this type for commuting to/from the station as it's silent, eco-friendly, fast and cheap.
Car transport in India
Car rental has recently become popular due to the convenience of this service. ZoomCar and Revv are the transport companies in India revolutionizing this space.
If you are a group of people who are planning to stay at least three days in the same city, the car rental can cost you around INR 4250 (~65 USD) for 72 hrs (additional costs will apply for petrol). If there are long distances between the places you would like to visit, this will be a nice and comfortable option. The main question is if you dare to drive on the Indian roads.
India is a country with a left side driving system, same as UK. Before hiring a car, check up your city for the following: traffic jam spots and parking facility at and close to popular tourist spots. Other than that consider maddening rush that challenges driving skills of any foreigner.
Bike rental in India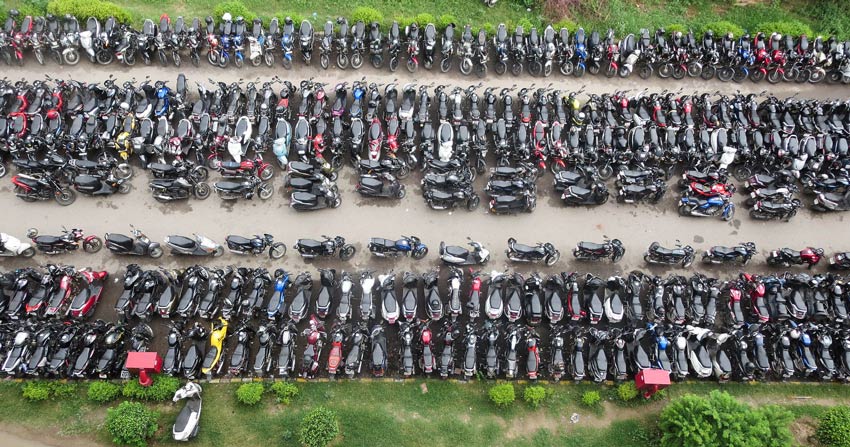 Bikes and Super bikes are also available in Indian cities for rent. Though bike rental was always present in India, some companies have organized the sector and standardized the prices so that you don't feel cheated.
If you are in the Northern part of India, check out Wheelstreet & Stoneheadbikes for their both normal and Superbike offerings. In the southern part of India Wickedride has stronger influence with the Superbike offerings. For people looking for two wheeler on rent in Goa, RentABike caters only for them.
Planning a trip to India? Check out my India travel guide for first-timers 😉
Public transport in India
The transport system in India is catering to millions of people daily. Mumbai local train only transports 8m people daily. Think of it as a population of New York (almost).
If you have been on this blog for a while, you might have noticed that I encourage people to use public transport and I have written many step-by-step transport guides on the same: Mahabaleshwar, Ladakh, Kashmir, Karnataka – you name it.
Though there are many more companies and transportation types in addition to the ones mentioned in this post, but the information in this post will cover a good 95% of commuting cases in India.
What about you? How do you prefer to commute in India? What other tips you would advise for better travel around India?